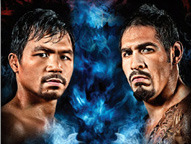 Pacman vs. Margarito - HBO-PPV


Weekends on which the best pound-for-pound boxer fights are always special. Saturday is no different and it speaks to the import and personality of Manny Pacquiao that he overshadows every other boxing event. Take David Haye's defense of his portion of the world heavyweight title, for instance. Outside of England, it is receiving little press, while Pacquiao was featured with President Barack Obama on "60 Minutes." The heavyweight division is weak and the titles have become fractionalized to the point where only one nation cares about a heavyweight champion making a title defense. No matter, the Pacquiao – Antonio Margarito fight deserves the lion's share of publicity, since it is a dangerous defense for Pacquiao. The HBO "24/7" series has made that abundantly clear to the paying public. That brings me to the price of this PPV. Is it me or is the $64.95 (for HD) price tag more than usual? Are they gouging the public to fund the "24/7" series that is intended to act as an infomercial for the event? Shouldn't it be the other way around, with the "24/7" series attracting extra viewers that should decrease the asking price? Just had to get that off my chest.

As usual, with PPVs featuring one of boxing's brightest stars, little effort has been put into the undercard. Though, I must state, it is stronger than past PPVs featuring the likes of Pacquiao, Oscar De La Hoya, and miles better than Floyd Mayweather undercards. Guillermo Rigondeaux has a chance to elevate himself from and ESPN2 to HBO-level attraction, while Brandon Rios should sustain his meteoric rise after his thumping of Anthony Peterson. Mike Jones is the X-factor as an African American on a PPV geared toward Hispanic audiences. This gives him a chance to capture much-needed name recognition with a lights-out win over proven brawler Jesus Soto Karass and sets him up as a future foe for Hispanic hotshots. All-in-all, a solid card but still not worth the exorbitant price tag unless shared by hosting a party where at least two other friends chip in to bring the asking price down to 20 bucks a piece.

FREE £25 BOXING BET

At Cowboys Stadium, Dallas, TX
(PPV) Manny Pacquiao (51-3-2) vs. Antonio Margarito (38-6)
(The Ring magazine #1 Pound-for-Pound/# 2 welterweight vs. unranked)
(WBC junior middleweight belt)
(PPV) Guillermo Rigondeaux (6-0) vs. Ricardo Cordoba (37-2-2)
(The Ring magazine unranked junior featherweight vs. #5)
(PPV) Brandon Rios (25-0-1) vs. Omri Lowther (14-2)
(The Ring magazine #5 Lightweight vs. Unranked)
(PPV) Mike Jones (22-0) vs. Jesus Soto Karass (24-4-3)

Omri Lowther – How often do we see it in boxing? The guy who loses a televised fight is rewarded for failure with a lucrative fight because he's proven himself competent but beatable. In his last fight, Omri Lowther was comprehensively outboxed, losing every round on two scorecards, by Philly's Henry Lundy and is compensated with an opportunity on a huge stage. Meanwhile, Henry Lundy has to pay a 50-buck PPV fee to see the stage he should be on! Lowther is a transplanted American (from Georgia) fighting out of Canada for the past two years and built up a 14-1 record against below-par opposition before Lundy blew him out. Was originally trained by Johnny Gant, who coaches Paul Williams, putting together a very good amateur career, finishing second at the U.S. championships and placed a respectable third at the National Golden Gloves. Was signed by Goossen-Tutor Promotions out of the amateurs but that did not work out with most of his fights in California lost on ESPN2 undercards. Did not face someone with a winning record until his tenth bout, which he subsequently lost by a wide margin. Ran off five wins, one against capable 18-1 Argentine Juan Batista, before again showing his limitations in the loss to Lundy on new home turf in Canada. Against Lundy, Lowther failed to impress in any area and did not exactly go down swinging in exciting fashion. Tried to work his jab and combinations but when faced with someone as speedy, lacked offensive imagination. Did some good things on defense, maintaining space and picking off punches, but concentrated on it to the detriment of his offense. Has said the right things about the loss. "A boxer learns a lot in defeat and I am now a better fighter. That defeat showed me how not to lose again." That choice could be taken away from him by the hyper-aggressive Rios, who will give Lowther the fight-or-flight option for a few rounds before tracking down his prey.

Brandon Rios – Unlike his opponent, "Bam Bam" Rios earned this spotlight by destroying (and ultimately winning by DQ) fellow prospect Anthony Peterson two months ago. Unfortunately, his appearances on HBO's "24/7" and YouTube interviews, show him to be less personable and appealing outside the ring. Rios is another well-respected Oxnard product, who has fully made the transition from amateur star to full-fledged title prospect. Much of this can be attributed to trainer and former world titlist Robert Garcia, who is gaining a great reputation within the sport. Rios began boxing at age eight, with reportedly 400 amateur bouts and two national titles, becoming an Olympic alternate. As a pro, Rios has had a couple of split decisions go his way, mostly because his combinations are eye-catching and produce a solid pop. I saw Rios' fight against Carlos Guevara in person and expected more of his promised hand speed. I did not get the feel of a surefire future champion from Rios but his opponent was not the type to bring out the best in fighters. His last two TV appearances showed a much-improved fighter, with Rios blasting East Coast prospect Jorge Teron before Anthony Peterson. Rios put punches together well, a result of sparring with champions like Marco Antonio Barrera and goes to the body consistently. Is still only 24 years old, and his vast improvement in his last two fights gives fans hope he can become a star. More seasoning will bring increased accuracy to his hooks as well. Physically, is a strong kid and I like his aggressiveness when Rios finds a positive rhythm. In the Teron fight, Rios pressed and blitzed a surprised foe, working combinations from body to head with equal zest. Against Peterson, Rios' intelligent aggression left no room for escape and his punches landed with such accuracy that he could not be countered. Says of his fighting style, "I'm very aggressive; I like to come forward a lot. I've always been like that - I like to put a lot of pressure on my opponent," but understands he needs to continuously improve. "I'm learning boxing now. I'm learning both styles - when I need to fight, I'll fight. When I need to box, I'll box." In his last fight, Rios went from prospect to contender in a span of seven rounds, now he has to learn to maintain high expectations against an opponent who demands less of him.

Verdict – I picked against Rios when he challenged Lamont Peterson and learned my lesson. I think Rios was bored before his recent step up in competition and is the type of person who elevates his game to what is put before him. The fear is Lowther brings out the worst in Rios, so it is up to Roberto Garcia to find a mental gas pedal to push. That could come in the form of the 60,000+ live audience and Rios will destroy Lowther, using underrated feet to cut off the ring and trap Lowther. Rios will eat some punches- always does- but overwhelm Lowther with pressure to the body and accurate punches to the head. This one is over by the sixth round, with Lowther handed a loss via three-knockdown rule.

Jesus Soto-Karass - Lanky Mexican is a big welterweight with lots of physical presence and if Soto-Karass worked harder in the gym, many still think he could become the next Antonio Margarito. I compare Soto-Karass more too one-time contender Jose Luis Lopez (who gave Ike Quartey a tough fight), since his cerebral maturity has not caught up with his aptitude in the ring. When Soto-Karass came in a pound over the weight, in a showcase fight against Alfonso Gomez, he displayed his lack of professionalism and laissez-faire attitude. There is no in-between with Soto-Karass; he either looks fantastic or ordinary. Had one bad stretch of fights where he lost three consecutive fights early in his career, when he was overmatched against undefeated boxers. Showed mental toughness by overcoming that, then began a four-year undefeated streak that landed him on some Telefutura and ESPN shows. Defense is the main problem, where Karass will eat punches unnecessarily instead of backing off to refocus his forward movement. Uses his length well but, like all of his game, only in spurts and spots, constantly touching opponents who believe they are out of range with punches. Though generally a pressure fighter, he has the finesse and timing to outthink opponents who refuse to engage Karass because of his overall strength. While not a world-beater, Soto-Karass will give anyone a rough run for their money and is a fun TV fighter when on form.

Mike Jones – Acclaimed local promoter J. Russell Peltz has a dark horse champion candidate with this intelligent puncher from Philadelphia. It's not easy to create a buzz among hardnosed Philly fans but this hard-hitting prospect is doing just that. Jones has the look and seems to have the talent, in his fifth year as a pro, but national recognition has not been commensurate to his ability. It's a testament to his team's confidence that they were reportedly on the verge of signing for a fight with Joshua Clottey before his fight on the Pacquiao card materialized. Jones has stopped 18 of 22 opponents but no name on his résumé stands out with the exception of totally faded Israel Cardona and fringe contender Henry Bruseles. Began to box at age 15 and was a solid amateur (trained by Joe Frazier for a period), 60-6 record, who never reached the finals of a national tourney. Has a rock-hard physique with a lot of his bulk located in broad shoulders but is hampered with a short reach of 72 inches for his height. Really commits to punches, sometimes too much, often lunging forward as he follows through on punches. Despite big upper body, has a lanky look and feel, is 6', and consistently gets full extension on his punches. Former title challenger Henry Bruseles forced Jones to go ten rounds for a second time, nine months ago, which was a good learning opportunity and put to rest any stamina concerns. Has been sparring with the likes of Gabriel Rosado who is a plodding, physical slugger like Soto-Karass, and is a fitness fanatic who stays in constant shape. Reportedly has to be held back in training for fear of peaking too early for a fight and took a leave of absence from his job at Home Depot. Needs to show a sense of urgency in this fight since Jones' televised bouts, to date, have been pedestrian and he lacked flare. If Jones wants future spots on HBO or Showtime's championship series, he needs to score a knockout against Garcia.

Verdict – Soto-Karass is so frustrating and I have learned the hard way not to pick him against elite opposition. I like Jones and think he has the mental focus Karass lacks, not yet conditioned to defeat the way Karass seems to have accepted it. Mental strength is a large part of victory for boxers and is why I peg Jones to outbox Karass (who has never been stopped) from the outside to win on points. A blueprint for this fight is found in the Margarito - Cotto fight but we will only see the first six rounds where Miguel Cotto dominated with movement and accuracy. In this outing, Jones (who does fight in a controlled way like Cotto) does not fade and continues to move and frustrates a Karass, who looks more and more for one punch. I would not be surprised if Karass resorts to low-blows as he did against Alfonso Gomez. Jones could give away two or three rounds late, while looking for his second wind, but Jones wins a comfortable decision by seven rounds.

Ricardo Cordoba – This snake-bitten Panamanian has fought on even terms with world-class talent like Celestino Caballero, Poonsawat Kratingdaenggym, Wladimir Sidorenko, Luis Alberto Perez, and Bernard Dunne. In fact, he defeated Caballero six-and-a-half years ago by a wide margin and has two very disputed draws and a questionable split decision loss in world title bouts. In his most recent title challenge, Cordoba was way ahead of champion Bernard Dunne on the scorecards, dropping the Irishman twice, when he ran into a left hook in the 11th round, succumbing to the three-knockdown rule. Has no problems fighting on the other man's home turf, six times now, but this will be his first appearance on American soil. I would rate Cordoba as one of the best boxers of the last decade to not win an alphabet title (sorry, the "regular" WBA title does not count), who sports a good combination of skills and power with 23 of 37 wins coming via stoppage. That is a high kayo percentage for a southpaw who is known more his classic boxing that has led fans to dub him "Maestrito." Achilles heel has been stamina, showing particularly against Dunne, and because of his quick darting movements, headbutts abound in his fights. Makes a living off a quick and accurate jab, following it with a searching left down the middle. Has a tendency to loop power punches, despite his stylish stance, but his accuracy with it is impressive. Likes to come forward and push the pace- at times, pays too much attention to offense- and can get drawn into firefights when his feet would serve him better on defense. Holds hands high on defense but drops them slightly when looking for extra power and prefers to move his head instead of slapping down punches with high guard. Has been knocked down but showed good recuperative powers and often wins subsequent rounds after suffering a knockdown. A textbook boxer with above average power, no one wants to face Cordoba unless absolutely necessary to defend or earn a world title.

Guillermo Rigondeaux - A legendary amateur performer, Rigondeaux recently left famed trainer Freddie Roach (who had coached him up phenomenally) in favor of similarly respected Ronnie Shields. I view Rigondeaux as the most gifted performer to come out of the amateurs since Roy Jones. Watching Rigondeaux win his last gold medal, in 2004, I thought he would be competitive in a world title shot in his pro debut if he could get into 12-round shape. Rigondeaux's speed, reflexes, timing, and innate sense of distance impressed me to that extent. There is no important amateur competition that Rigondeaux did not win and he exited the amateur ranks with a record estimated at about 390-12. A failed defection attempt put him on the Cuban government's black list and they did not let Rigondeaux compete in any further tourneys, limiting him to coaching duties. Now Rigondeaux is back where he belongs: in the ring. However, at age 30 and without an outstanding punch, it is no slam dunk a title is in his future. Most go back to Pernell Whitaker to find a good stylistic comparison for Rigondeaux and I agree with those assessments, to a point. Rigondeaux does slip and avoid punches via technique, as opposed to purely on speed and reflexes. We also still have to see if his offense can be as effective as Whitaker's, when opponents try to crowd him, and as chillingly accurate if not powerful. I liken Rigondeaux most to a current practitioner, Puerto Rico's Ivan Calderon. He is that type of performer, a man who drives opponents nuts with defense and counterpunching. Under Roach, showed he can lead as well as counter, scoring two of the most impressive body punch kayos of 2009. All this is fine and good but it is not likely to forge Rigondeaux (now six fights into his pro career) into the consciousness of fans as Yuriorkis Gamboa's style has, though some charitable acts- like donating his entire purse to a Haiti relief fund gave him more needed exposure. Rigondeaux has stopped five of six opponents but until he faces a young body who can cope with speed, questions marks will remain about the Cuban star when he meets similarly gifted athletes at the highest levels.

Verdict – As much as I respect Cordoba, I lean on the side of God-given talent, in this case. Some men like Rigondeaux, or Roy Jones and Floyd Mayweather, just seem to be gifted with the boxing gene. Rigondeaux has that exceedingly rare radar Wilfredo Benitez claimed to possess. An ability to detect and react to punches in midflight, instantaneously choosing the correct strategy to avoid and counter the attack. Cordoba will have chances early, as Rigondeaux gauges and figures out the most complex pro puzzle yet, but slowly find his connect rate dropping. When Cordoba leans and tries to up his attack to compensate for misses, Rigondeaux counters and drops his adversary in the fourth round. Not yet an accomplished finisher, Rigondeaux lets Cordoba off the hook but wins via points sweeping the final eight rounds.

Antonio Margarito – Everything about Margarito is a question mark. When did he start loading his gloves? Did Margarito know about it? How will a 23-month layoff against elite opposition affect him? Should Margarito even be allowed to box anymore? Like many Mexican fighters, Margarito turned pro early, at age 15, and only had 21 amateur bouts, of which he won 18. That lack of refinement showed itself, as Margarito stumbled out of the gate with a 9-3 record, but it is also that lack of refinement which made him such a force, as he improved. Margarito simply went after guys, stalking and wearing them down with his large frame and long arms that seemed always in reach of an opponent. After his 13th fight, when he also started to box regularly in America, everything began to fall into place for Margarito as he went on a 22-fight winning streak. Only six opponents lasted the distance in that stretch of fights. During that time, Margarito also captured his first world title and gained a reputation as an avoided fighter. In general, Margarito is a fighter who needs a couple rounds to get his engine going, eating jabs and flicking out lazy punches, but once his arms are loosened up, they fly with abandon. Those punches land with a combination of authority and accuracy. His reach and good legs seem to get him to Point A, to either cut off or land punches first, before an opponent, and make up for less than spectacular hand speed. Until the Shane Mosley fight, showed a great chin, but to his credit, Margarito absorbed a lot of punches before going down. That fight reaffirmed his lack of head movement and spread guard. Margarito's best defense was always his offense, which kept opponents occupied and too concerned to launch attacks of their own. Physical strength also got to opponents, who wore down under a pressuring style, which unleashed more punches as the rounds progressed. Of course, much of his image took a hit when "a substance to be similar in nature to Plaster of Paris" was discovered in his gloves. Then it was Margarito who proceeded to get hit and stopped by Mosley in the ninth round. In a sense, we will never know just how good Margarito ever really was and it all falls on his massive shoulders.

Manny Pacquiao – I won't waste too much of our educated reader's time with a lengthy introduction of Pacquiao. His rise has been well chronicled in print from The Ring to Time magazine and from "The Jimmy Kimmel Show" to "60 Minutes" on the television side. It is one of boxing's most glorious and unexpected rises, in historical terms akin to that of a great general like Alexander the Great. I will add that not only is he one of the greatest boxers ever in the ring but his virtue spills over outside the ring where a compassion and eagerness to help others is obvious. Dominating the likes of Oscar De La Hoya, Erik Morales, Ricky Hatton, Miguel Cotto, and Juan Manuel Lopez has rightly pushed Pacquiao into the mainstream. The only fighter who shares time equally with the NFL, NBA, and MLB when he fights. It is a long way from the teenage boy who lived on the streets of Manila, leaving home against his mother's wishes, rescued by amateur boxing (60-4 record) before turning pro at 16. While his power gets a lot of ink, it is speed that presents Pacquiao the key to unlock opponents. The way he flirts with disaster by flashing in at opponents' defense and offense is breathtaking in its daring, guile, and truculence. He is a lightning bolt packed into boxing trunks, with punches striking out in an instant with paralyzing velocity. Unlike lighting, Pacquiao will strike in the same place twice and go back to a punch over and over until his opponents reacts to it. Then Pacquiao speeds to the next target area to bomb, leaving opponents flinching in anticipation of an impact at an unknown location. A southpaw stance is another weapon in Pacquiao's arsenal and an abnormal 67" inch reach for his size (obviously not a product of steroids) is often overlooked as part of his success. An unrelenting work ethic has seen him morph into a two-fisted fighter, no longer dependent on a powerful left hand alone. Few men have ever entered the fray with a smile and as much joy as Pacquiao. A strong person of body and mind, the Filipino has mentally accepted and dealt with an entire nation's zeitgeist dependent on the outcome of his fights. This is one man whose talent is rightfully housed and put on display in a grand location like Texas Stadium.

Verdict – Don't believe the hype of HBO's "24/7" series. Or the anti-hype from Pacquiao's corner and promoter that this phenomenally focused individual is in the worst shape ever and a loss looms. It could all be true but Pacquiao has overcome many distractions before and, until it gets to him, I refuse to believe it. Even Freddie Roach has recanted, "Everything is back to normal. It was never physical. It was all mental. His mental focus wasn't there." Secondarily, I am someone who prefers and picks speed over power. Margarito is capable of beating him and is the most imposing physical force to date but has limitations of his own. Fists win fights but the feet set up the win and that is where Pacquiao has a distinct advantage against Margarito. Pacquiao has a superior set of wheels to get to the point of impact first and because of his stature and quick movements Margarito will overshoot punches leaving him open to even more counterpunches. Unless Pacquiao gets caught early and remains buzzed for ensuing rounds, I don't see how Margarito finds a mobile artillery unit like Pacquiao. As fantastic as Margarito looks physically (better than ever!), to win, he needs to stay close and smother "Pac-Man" since his jab is not unerring or stinging. I am uncertain on how the fight ends but Pacquiao will be the victor. I would not be surprised if Robert Garcia pulls Margarito out while on his feet but badly cut up and stunned, hopelessly outgunned somewhere around the tenth round.

Prediction record for 2010 to date: 84% (209-40)
You can contact Marty at mmulcahey@elpasotel.net or visit him at www.facebook.com/fivedogs