The Big PPV Cheat Sheet- Oct. 14, 2011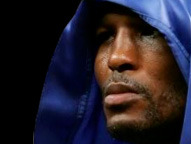 Bernard Hopkins


If you Google the phrase "Wake me when it's over," the first link to appear is for the Bernard Hopkins – Chad Dawson pay-per-view. OK, maybe that is harsh but the fight has no buzz and fan demand was not a consideration when this match-up was formulated. The undercard is another matter and the strength of the supporting fights adds to the sense of desperation by trying to sell the PPV as a package instead of relying on the main event alone. In addition, it makes little sense to put a fight between Philadelphia's "B-Hop" and Hartford's Chad Dawson in Los Angeles, so I assume a decision was made to make the venue attractive since the fight would not draw a healthy live gate anywhere. However, this is a historically significant bout because the record-breaking Bernard Hopkins is involved and The Ring magazine championship belt is at stake as well.

At the Staples Center, Los Angeles, CA
(PPV) Bernard Hopkins (52-5-2) vs. Chad Dawson (30-1)
(For The Ring magazine World Light Heavyweight Championship)
(WBC light heavyweight belt)
(PPV) Antonio DeMarco (25-2-1) vs. Jorge Linares (31-1)
(The Ring Magazine #7 lightweight vs. #10)
(Vacant WBC lightweight belt)
(PPV) Danny Garcia (21-0) vs. Kendall Holt (27-4)
(The Ring magazine #9 junior welterweight vs. unranked)
(PPV) Paul Malignaggi (29-4) vs. Orlando Lora (28-1-1)

Orlando Lora – The first I heard of Lora was in a Gary Shaw press release stating Lora was a member of the 2000 Mexican Olympic team but I can't find Lora's name in any official Olympic results from 2000 (Mexico had six participants in
Beijing
and Lora was definitely not one of them). I do not dispute he was an elite amateur but am surprised Lora was not moved faster, given those credentials. Decided to turn pro in 2003, so I assume Lora continued boxing at the amateur level until age 23. Lora is now 30-years-old and features an aggressively taxing style that is suited for a mature frame like his. A prototypical wear-you-down banger, think Yori Boy Campas, who slowly makes up ground and lands more as the rounds progress and his accuracy comes to the forefront. Takes small steps forward to fill holes left by backtracking opponents and Lora's hands are either traveling toward the target or up on defense. 63% kayo ratio flatters to deceive and came largely against low-level opposition. Lora lacks elite hand speed, relying on thudding punches to wear opponents down to his speed and reel them in. Consistently targets the body and is not overly neglectful on defense with occasional shoulder rolls or leaning away from punches. Does his best work with the right hand and Lora can be accurate with singular punches from the outside. Trainer Abel Sanchez says Lora did well sparring with Antonio Margarito and Fernando Angulo but they are not exactly Malignaggi clones. Sanchez claims Lora is a great student as well and a family man with children whom he never worries about partying the night away. Lora was badly outclassed by gatekeeper David Estrada but his team claim it was the result of a liver infection and Lora took 11 months off after that setback. Lora remains confident. "I'm ready for anything Malignaggi will bring to Los Angeles for this fight: his speed, his experience and his talk. I expect to walk through his punches, punish him and finish him."
Paul Malignaggi - Is it me or was Malignaggi "Jersey Shore" before there was such a thing as "Jersey Shore"? Anyone who doesn't believe personality sells in boxing has not followed the career of Malignaggi. The brash New Yorker is not TV-friendly inside the ring, frustrating foes with a pestering jab and movement that leaves them tripping over their feet trying to catch the elusive counterpuncher. Outside the ring is another matter where Malignaggi is a quote machine whose cocksure "tough Italian kid from the Brooklyn" shtick sells. However, it has to be noted, Malignaggi is not afraid to stand and fight when forced to do so; in fact, he won many fans in lopsided beatings to Miguel Cotto and Amir Khan. Started boxing at age 16, establishing a solid amateur record as a two-time
New York City
Golden Gloves champion and winner of an US Nationals title. Still fights in the amateur tap-and-move style but much of that is forced on him by brittle hands which dogged Malignaggi his entire career. No one doubts his ability to fight through adversity and Malignaggi has looked better since moving up to welterweight. Tough as barbed wire mentally, staying within punching range of stronger opponents in order to create angles for weaker punches of his own. Malignaggi is an accurate puncher; he does not waste punches, only rattling off combinations when available. Prefers to stay in a dangerous pocket inside the reach of opponents instead of totally working from the outside to pick his shots thus creating less action. The problem for Malignaggi is that those blows look better than they actually are. Malignaggi's punches do not debilitate opponents and are more of an annoyance then a weapon. Judges reward Malignaggi for the pitty-pat punches and, more often than not, foes cannot land their punches because of Malignaggi's deft footwork and reflexes. The 30-year-old's body looks fit and tone at 147, stopping a decent Michael Lozada and outclassing Jose Cotto six months ago. The Lozada victory was Malignaggi's first stoppage win since 2004. Malignaggi does not see Lora or his knockout percentage as a threat. "I've been able to outfox, outthink fighters that had all of the tools but not the thinking capacity. I love beating a guy mentally. That's when you've really beaten a guy." Malignaggi's is not always an attractive style to watch but it is an effective one that leads to victories. Pernell Whitaker would be proud.
Verdict – Orlando Lora looked slow and unable to deal with David Estrada's speed and movement, so imagine what Malignaggi will do with this limited slugger. It is not only hand speed that I am referring to; on the foot speed front, Malignaggi has an even more pronounced advantage and is likely to dance circles around Lora. Malignaggi sports a great sense of distance and looks reborn on offense at welterweight throwing punches with more confidence and at a higher connect percentage. Lora's lack of volume hurts him and I see Malignaggi winning the fight from a distance after discovering he cannot hurt Lora. Malignaggi by unanimous decision, only losing three rounds at most.
Danny Garcia –
Philadelphian
developed from prospect to fringe contender over the last year-and-a-half, facing difficult styles and a former champion as part of a maturation process that has led to world-class foe Kendall Holt. Featured in a tough and memorable ten-round fight against Ashley Theophane on ESPN2 where Garcia remained composed, rallying in the late rounds to secure a contentious split decision victory. One of Golden Boy Promotions' few
East Coast
signings, Garcia has been making steady progress fighting all over America, only appearing in the same venue in consecutive fights once. Returned to
Philadelphia

,
scoring an impressive kayo against Mexican banger Enrique Colin on a Bernard Hopkins undercard and has a knack for delivering his best work when TV's spotlight shines on him. Garcia's boxing skills were instilled at the amateur level (and his father still trains him), a 107-13 record, winning a National Golden Gloves title and topping out as an Olympic alternate. Growing up in the tough

Philly
gym system will serve Garcia as well, if not better, in the pros as did his time with the national amateur team. Garcia has quick hands and his feet keep Garcia in continual contact with the target. I would not qualify Garcia as a strong puncher but his punches land with sudden authority and make a solid popping sound. Needs to work on keeping the hands up but not at the expense of his aggressiveness. Displays good head movement and reflexes but because he is usually moving forward, has not been tested a lot defensively. Steadily upped his level of competition which focused Garcia and got better performances out of him. The win over Theophane was difficult but showed Garcia's resilience and mental strength to stick with his game plan. Soundly defeated Nate Campbell in his last fight, dropping two rounds at most. A deep welterweight division should delay a title push for Garcia to late 2012 but watching him get to that point should be exciting. At 23 years of age, has the right mix of youth, ring experience and is in his physical prime for the move to the world-class level. Garcia is confident of this as well. "I feel like I'm ready. This is what I've been training for my whole life and I'm just anxious and I'm excited to show my skills on a whole new level. Whatever the fight brings, I'm going to adapt. I'm a chameleon in there."
Kendall Holt – This is the former WBO titleholder's chance to get his career back on track after a disappointing loss to Tim Bradley two years ago. Despite moving up in weight and scoring a televised kayo over Julio Diaz, has not garnered big money offers from Showtime or titleholders. As a child, Holt was raised in foster homes after his mother's conviction on murder charges and his father's removal for child abuse. Luckily, the young Holt was introduced to boxing at age seven, winning three
New Jersey
Golden Gloves titles, saving him from further abuse on the streets. Stopped boxing for four years in his early teens but still accumulated an 80-5 amateur record. Jersey-based counterpuncher has only fought three times in the last two years and Holt lost two of his last four bouts against top ten opposition. They were forgivable setbacks, against talented Tim Bradley and Kaizer Mabuza, but if Holt does not impress tonight, he can forget about another title shot. The physical tools are in place; Holt stands 5'9" with a 74-inch reach, to aid a wealth of boxing ability. Holt can lose focus in the ring, only needing one call to go against him to unravel mentally. Had a memorable and controversial two-bout series with Colombian Ricardo Torres and floored Tim Bradley with a punch that would have stopped 97% of boxers. Like most slick boxers, Holt can be outhustled and in general, fights up or down to the level of his opposition by waiting for the perfect punch instead of staying busy. Though slender, Holt is a more impressive puncher than a 48% kayo ratio suggests. Because Holt fought good opponents, that whip-like power does not shine through as with others. Speed and straight punches are Holt's best tools, plus a strong wiry physique that lends Holt a five-inch reach advantage. Holt was bemused by the confidence Garcia showed at press conferences. "On October 15th,
he's going to realize that it's different watching great whites on TV as opposed to being in the ocean with them." At age 30, Holt's timing-based style of countering becomes more dangerous as his reflexes and body slow down. Holt has the ability to forestall creeping age with experience and Garcia is a perfect opponent to gauge exactly where Holt is at this stage of his career.
Verdict – At this stage of their respective careers, Garcia is a little bit faster, a little more reflexive and a little more physical. In boxing, a little means a lot. If I am wrong picking a fight tonight, this is it and I view this as a 50/50 contest, mostly because Holt is undervalued and has a big edge in reach which Garcia will have to navigate intelligently. If Garcia is not as smart as I give him credit for, Holt wins by decision but Garcia has faced similar boxers in Ashley Theophane and Nate Campbell to steel himself. Garcia evades incoming jabs, landing quick, short blows on the inside and catching Holt when he moves backward in that upright stance. Garcia has good upper body movement which is key to keeping Holt's punch count low and creating hesitancy. Garcia wins on volume and combination punching which West Coast judges seem to prefer over Holt's style of singular clean blows at center ring.
Antonio DeMarco -
Tijuana
thunderbolt has a fan-friendly style and Showtime has televised DeMarco's progression from "ShoBox" to an ill-fated but exciting title fight loss to Edwin Valero. Aside from the Valero bout, a majority decision loss in DeMarco's ninth fight remains the only setback. The Mexican showed he could deal with a smart power puncher, upsetting Almazbek "Kid Diamond" Raiymkulov, absorbing early punishment before rallying to stop Raiymkulov in nine rounds. It was a blueprint for subsequent wins with DeMarco starting slow but picking up on foes' mistakes and exploiting them with long punches that carry power into the late rounds. DeMarco was moved perfectly, upping the level of opposition incrementally, his team providing good fighters with divergent styles for him to dissect. The converted southpaw commits to attacking the opposition and even when he was pushed backward by "Kid Diamond" and
Valero's
physicality, DeMarco stopped both in their tracks with well-timed counterpunches. Because of his action style, the 25-year-old's mental improvement (a young veteran with 134 rounds to his credit) has been underrated with DeMarco beginning to use his elongated frame (5'10" with 71-inch reach) better on offense and defense. The jab has come to the forefront but at times, DeMarco is too willing to abandon it in favor of eating a punch to land his own double hook. Against Valero, that spelled doom and there is a concern that the extended beating by Valero has left lasting scars and took many miles off DeMarco's boxing odometer. In his last fight, DeMarco defeated tough countryman Reyes Sanchez but looked unconvincing in the trenches and was too willing to accept clinches instead of cutting off the ring with his feet or jabbing. It could be the first sign of regression or DeMarco simply finding the right balance between defense and smart aggression. Enters every fight with a great attitude toward the sport- as well as fans- delivering action and a sense of an imminent explosion. "I hope to give them a great show. I want to conquer the people there and make them fans of the sport with my style and skills."
Jorge Linares – One word description of Linares? Elegant! I can't be the only one reminded of Alexis Arguello when Linares steps into the ring to match wits with bewildered foes. Not only in style, Linares sports the same unspoken demeanor which transmits a sense of superiority (not in an arrogant way) opponents pick up on. Achieved an underground reputation in America without fighting here after news of Linares' impressive sparring session against Manny Pacquiao made the rounds. At age 14, Linares was already a national amateur champion and finished with an 89-5 record in the unpaid ranks. Was heavily recruited at international competitions, accepting an offer from Japan's top promoter to turn pro at age 18 instead of chasing Olympic gold. Linares was put in ten-round bouts from his fifth bout onward, defeating 55-9-2 Argentine veteran Hugo Soto in his eighth bout. The 26-year-old is still improving, knocking out eight of his last ten victims, but needs to prove his one-round defeat to Juan Salgado was a fluke. In that fight, Linares was hit on the temple and his lack of equilibrium after the punch never allowed Linares to recover from the blow. Showed a good chin absorbing punches from Oscar Larios, who went for broke and landed a couple of good hooks before suffering a tenth round TKO. However, a smart Linares showed patience and intelligence, finishing Larios from a distance after absorbing those punches. Linares is a fluid puncher whose timing and placement of punches makes them even more effective; his punches zip through the air and are delivered with picture-perfect form. Could go to the body a bit more but has otherwise shown nothing but class on offense, adjusting his game to exploit opponents' weaknesses. Injury-induced inactivity and promotional issues have kept Linares from achieving the fame many had predicted, averaging less than two fights a year since 2008. At 5′8½″, Linares is a solid lightweight who has the ability to use that body to fight from the outside or overwhelm foes on the inside. On offense, Linares has a wealth of weapons to choose from but until he faces more big punchers, questions about his defensive liabilities and chin remain. Linares looks back on his lone setback as a blessing now, saying, "It was the best thing that could've happened to me. It forced me to improve." There is still time for Linares to become the special boxer many envisioned (especially with Freddie Roach in his corner now) but his career-defining fights will not come until 2012.
Verdict – Wow, Antonio DeMarco has crappy luck in opposition, staring down one the most powerful boxers of his generation (Edwin Valero) and now faces of the smoothest boxers of recent vintage. I really like DeMarco but he cannot match wits with Linares, finding himself punching at air when leading and eating punches trying to counter. Linares has the edge in hand speed, beating DeMarco to the point of engagement with his feet, then besting him with straighter punches, pulling in front on the scorecards. DeMarco is tough enough to last the distance but his skin won't hold up, forcing the doctor to stop the fight before the rounds reach double digits. In the final analysis, polish beats power in this fight.
Chad Dawson – 29-year-old rounded into an all-around threat early in his career, soon elevated to status of number one light heavyweight after scoring a unanimous decision over then-undervalued Tomasz Adamek. However, Dawson now looks like a case of arrested development, unable to build on the exciting victory over Adamek and suffering an unexpected loss to brawler Jean Pascal last year. Dawson also struggled with ageless Glen Johnson (no shame there), unable to impose his youth and superior technique on the veteran. Physically, Dawson can do it all (at 6'1" with 76½-inch reach, is the prototypical light heavyweight) and aside from a knockdown at the hands of Adamek, his chin and stamina are proven sound. Dawson is not the type to walk opponents down, choosing to shoot straight punches and combinations off his jab when openings present themselves. Fans, TV analysts and trainers have been frustrated by Dawson's willingness to take what is given by opponents instead of forcing them into mistakes through pressure. When describing himself, Dawson describes what some see as a negative. "People think boxing is just about knocking people out. To me, that's not what it's about. It's about going out and showing your skills, showing what you can do." This was probably the cause of Dawson's pedestrian amateur career which ended at 67-13 as well. Dawson showed an aggressive side and offensive variety against Adamek but maybe that was because Adamek forced him into that mode. There is now a sense Dawson has to overcome self-doubt in the early rounds, needing to establish clear superiority to flourish. On the positive side, Dawson does not get reckless or overextend himself in any way, especially if allowed to find his rhythm. If anything, Dawson is too timid in the ring, allowing flawed opponents to take the play away from him and gain traction with the judges. A lack of aggression is the reason he only has a 53% kayo ratio and why Dawson has not stopped an elite foe or knocked out an opponent in four years. If Dawson could find that killer instinct, there is no reason he could not morph into a real television attraction instead of an overpriced HBO property. This fight represents a perfect stage to showcase that side of Dawson…if it exists.
Bernard Hopkins – Future Hall of Famer is this generation's Archie Moore, providing his most exciting fights in his 40s and broke George Foreman's record by winning a legitimate world title at age 46. An ageless master of tricks and angles, "B-Hop" seduces opponents into mistakes or indecisiveness with equal aplomb. However, watching Hopkins is an acquired taste because he delivers scientific boxing instead of excitement. There is no situation in the ring that Hopkins has not encountered and, with very few exceptions, not managed to overcome. As the 46-year-old has matured, he replaced speed with angles and deliberately-timed combinations to steal rounds on style points rather than work rate. Works just as well from a distance as on the inside and because of his tremendous dedication in the gym, can win either way. If there has been atrophy of late, it is on defense where Hopkins has been hit with more punches than usual. The reflexes are dulling, so Hopkins has been fortunate to enter fights with similarly aged competitors or still-maturing ones whom he can outsmart. That will not be the case with Chad Dawson, so look for Hopkins to fall back on his best asset…uglying up a fight. At his boxing core, Hopkins is negative, focused on taking away his opponent's best weapon instead of imposing advantages he holds. In that way, Hopkins frustrates opponents into lulls that he fills with a couple punches, some mauling, or an occasional headbutt. It is why Hopkins has not stopped an opponent since 2004! Hopkins is a master of judging distance, maddeningly out of reach of opponents but a quick pivot and lunge away from landing a punch of his own. I don't agree with Hopkins about much but do share his evaluation of himself. "It takes me a round or two until I know exactly what I have to do in a fight. You can't overstudy a test, so your natural instincts have to be your guide. The great athletes always adjust. I don't care what sport it is; only an elite athlete can do that." Give credit to Hopkins for becoming the ultimate overachiever whose sharp eye for opportunity has served him well in and out of the ring.
Verdict – What is seen as Dawson's greatest weakness is why I am picking him to win. The difference between Jean Pascal and Chad Dawson is that Dawson does not mind winning a boring fight and that is key when facing a sly fox like Bernard Hopkins. Old Man Hopkins plays to the negatives and in order to beat him, boxers need to be exceedingly active (Joe Calzaghe) or cautious (Jermain Taylor) which Dawson has definitely shown in the past. Dawson is the type to hear boos as applause and the more jeers he hears, the better Dawson is doing. The accuracy of Dawson and willingness to wait for openings forces Hopkins to press and open up, with Dawson's sharper reflexes and long-reaching counters able to connect and make an impact on judges. Hopkins wins the exchanges on the inside but the long and youthful legs of Dawson prevent Hopkins from cutting off the ring or forcing Dawson to the ropes. The upper body strength of Dawson allows him to push off Hopkins when needed, also forcing Hopkins to reset, creating the space to jab or counter. Dawson is the bridge too far for Hopkins, who loses by three points on all cards and uses his best remaining weapon (his mouth) to instigate an unwanted rematch.
Prediction record for 2011: 88% (125-17)
Prediction record for 2010: 85% (218-40)



Subscribe to feed