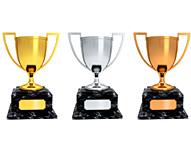 --


Almost as a rule, I don't read other people's awards lists except to look for movies I missed during the year when I was busy covering fights. I just don't care about lists. "Pound-for-Pound" lists or "Best Something" lists are pointless to me. They are subjective lists with conclusions reached arbitrarily. I attempted to write a "Best of" list over the weekend (maxboxing.com/something-of-the-year). Earlier in the week, I wrote a piece about who I think best exemplifies the qualities in a "Fighter of the Year" (maxboxing.com/bradley-and-provodnikov). Inevitably, I was bombarded by the criticism that my list didn't match someone else's list. This is one of the reasons I don't like arbitrary awards and "Best of" lists.
I think somewhere around the time "Chariots of Fire" beat out "Raiders of the Lost Ark" for the "Best Picture" Oscar, I realized that "Best" is subjective. As a 10-year-old, diehard movie fan who never missed the Oscars, I knew in my heart that as catchy as Vangelis' magical "Chariots of Fire" score was in the theater (http://www.youtube.com/watch?v=RI9wiygIrrU),nothing beat Indiana Jones running from that giant, perfectly round boulder in the first five minutes of "Raiders" (http://www.youtube.com/watch?v=Pr-8AP0To4k).And yet, "Chariots" won. Years later, I would experience my favorite fighter losing for the first time. This was the original visceral vicarious agony of defeat moment. It couldn't be and yet it was. "Chariots of Fire" was - and is - Best Picture of 1981, beating out "Raiders," "Atlantic City" (Burt Lancaster's last great film), "On Golden Pond" (Henry Fonda's last great film) and Warren Beatty's epic, "Reds." I knew right then and there that somehow these "Best" awards were rigged. Whether someone actually paid to get a desired result or some grudge or bias was being played out on a cruel stage, some things you just know. "Chariots of Fire" is not better than "Raiders of the Lost Ark" much less best anything.

As a grown man paid to write about a sport, "Best of" lists are expected; I guess. To me, all they do are lead to meaningless debate about why my best isn't the same as your best. Honestly, I generally just don't care about other people's opinions about "best" all that much. If, say, we were at a party and you said, "You know what I think is the best 'such and such'?" and I saw your face light up with honesty about this unsolicited opinion you were about to give me, then - and probably only then - would I care what you thought was best. That scenario is available online and over the phone for people I am truly close to. Beyond that, "Best of" lists are really only good for finding something I may have missed. And even then, if I missed it, well, it probably wasn't worth catching.
Some awards, like the "K9s," which look for fresh angles in which to give awards, are simply hilarious and thus necessary. To me, it's an annual reminder that one of the sport's best reporters, Steve Kim, doesn't take boxing or himself nearly as seriously as people take his jokes (http://www.maxboxing.com/news/main-lead/the-2013-k9-awards-part-1).
But awards that are actually trying to label something as best in a year of great things such as boxing in the year 2013, like most "Best of" lists, are just calculated ass-kissing sessions. We saw the fights and fighters; why do we have to collate the experiences and decide which gave us the biggest rush? "Honorable mentions" are asses to be kissed later. People the awarding writer wants to continue doing business with and so on get, "Here is your name in print with my byline. Answer my calls in 2014!" Nothing more. It's like wishing an industry person "Happy Birthday!" on Twitter for all to see when you have dude's number and could just as easily text. It's embarrassing for all involved. Ask him to retweet you; why don't you?
Our sport's media, besides being charged with coming up with "Best of" lists and giving out "End of the Year" awards, is supposed to be about holding the powers that be in check. We are the objective-as-possible checks-and-balancers. We shouldn't applaud hypocrisy or greed or call monopolies good business. We should credit those who are actually making decisions, not their frontmen. If we are going to make lists - if we have to - they should be lists of those in the business who are breaking the rules. If there is a "best," why isn't there a "worst"?
Now, I know what you may be thinking. "He is mad he didn't win an award." Couldn't be further from the truth. What I am after is not an award or a pat on the back. I don't care if you like me or hate me. The job I chose to do was "boxing writer." I wanted to be a reporter who told you the truth as best as I could find it and interpret it. We're not publicists. We don't have to be positive. We just have to be correct. We're not here for lists and awards and, "Hey, saw your Sports Person of the Year and I have to say, was that picture of me OK? Let's do lunch." We're not. We're not.
We're here to watch these fight people ply their trades. We're hear to learn the trade so we can do that correctly. And not just the on-the-books pat but the dark arts, too. We're the inspector in the corner looking to see if epinephrine is being used properly or to revive a fighter. We're the guy checking the hand wraps and gloves who actually knows what he is looking for. We approve the matches not just on paper but by knowing the fighters and fight camps. We are not here for the afterparty.
Those who can't see the fights rely on the writers to tell them accurately how they went, not how we hoped they did or how we would have done it. Not the version that makes the fight seem close or more exciting than it was. We're not here to count money and decide that X = Exciting fight. Exciting fight = Exciting fight and it always will. An equal match is always going to be that. An unequal match played out as per the odds is never more exciting than what it played out to be no matter how much money it makes. We're truth tellers. We're not here to put a cherry on top and fringe around the dashboard. We're here to keep it honest no matter how that plays out.
So, best? "Best" is what each person who decided to be boxing media should be striving for. And no, I don't mean "best mobile app" or internet radio show or blog or column. Did you do the best you could for the sport? Did you do your best to be honest on its behalf? Did you do your best to tell the story accurately, fearlessly? Did you care what the promoter might think or did you do your best to be ruthlessly truthful; consequences be damned? Did you do your best to get every angle of the story? "Best" is something we should never be able to reach but should should never stop reaching for.
A Parting 2013 Toast...
Life is beautiful; love is real and everything is attainable. I wish you every happiness in this and every year to follow. Peace to all and to all a badass New Year's Eve night.
Please visit our Facebook fan page at
www.facebook.com/MaxBoxing
, where you can discuss our content with Maxboxing readers as well as chime in via our fully interactive article comments sections.