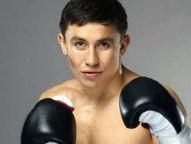 --


Abel Sanchez has trained an impressive roster of fighters throughout his career as a cornerman. He'll always been known as the guy who helped develop one "Terrible" Terry Norris (and his brother Orlin) and the respected Miguel Angel Gonzalez. He's also worked with the likes of Nana Konadu, Yori Boy Campas, Jesus Salud and Samuel Peter among others. But he says Gennady Golovkin - who makes his HBO (as well as stateside) debut this Saturday night at the Turning Stone Resort and Casino in Verona, New York versus Grzegorz Proksa - is the best fighter he's ever worked with.
Really? Better than Norris, who was considered one of the best prizefighters in the early half of the '90s?
"He's probably going to be the best fighter ever worked with," Sanchez reiterated without hesitation at his gym, "The Summit," in Big Bear while watching Golovkin finish his day's work with a stretching session. "He is developing into a very smart, accurate, lethal puncher and the only thing I have with him that I didn't have with the guys you mentioned - he has power in both hands. Just devastating power in both hands."

Golovkin is currently 23-0 (20) and he holds a version of the WBA middleweight title but he is largely unknown to the general public in America. Right now, he's like that urban legend who comes along every few years in the sport that the hardcore fans swear is the next "one," feared and respected but relatively anonymous. Golovkin had a huge amateur career boxing for his native Kazakhstan where he won a host of tournaments before capping off his unpaid days by capturing the silver medal in the 2004 Olympics. He fought the bulk of his early professional career in Germany as he signed with Universum. But soon, he looked stateside and was looking for a trainer. Sanchez recalled, "The managers were in town looking at different gyms. They went to Freddie Roach's gym; they went to Vegas. They came here and I asked them if they had any tapes. We went over some tapes and I pointed out some things that I thought he was going wrong, some things he could improve on, some things we could work on to make him more of a TV-fighter. And we went to dinner, talked four, five hours. They left that night and they said, 'We'll see you in a couple months.' I'm like, 'Yeah, sure.'"
But they were true to their word.
"Two months later, I got a phone call, like on a Saturday, 'Gennady arrives tomorrow Sunday at six o'clock at LAX. You ready to pick him up?' I was like, 'Whoa!' That was two years ago."
Sanchez admits he didn't know all that much about Golovkin at the time they initially met. "I researched him after he left and I talked to a lot of people and the one thing that stood out in everybody's mind was he could punch," said the respected trainer. "But the problem that he had was he was stuck in a contract and getting antsy and getting disillusioned, not going anywhere. So I knew that he was a good fighter; I knew that he fought a lot of tough guys. The question was could we change him into a style that would be more conducive to the American fan? In Europe, they stand up with their hands up in the air, take 10 shots and deliver one. That's kinda what we had a little bit before, catch-and-counter, and that's not going to work here. That's not going to work for pay-per-view; that's not going to work for HBO. What we needed was knockouts. When I first got him, I was telling Tom [Loeffler, managing director of K2 Promotions] after about three months, 'We're going to have some devastating knockouts to the body because he punches real hard.' I thought that punching to the body was going to be the key to making people want to see him, to wear people down."
In many ways, Golovkin is reminiscent of a classic Mexican fighter with the way he bends at the waist and attacks the body with this left hook (as he was warming up this past Thursday, Julian Jackson - a standout middleweight back in his days - mentioned, "He's a spitting image of [Julio Cesar] Chavez."). He no longer resembles that stereotypical European boxer. Golovkin possesses great physical strength and is not afraid to mix it up. As Sanchez wanted, his charge has become a fan-friendly fighter who should resonate with the American public.
Sanchez knew immediately just what caliber of fighter he was working with.
"The first time I saw him move around in the ring and said to him, 'Let me see your right hand,' and he threw a right hand. I didn't say nothing to him but I felt it all the way down to my toes. But the problem was he wasn't controlled; it wasn't the pinpoint right hand. He was a little wild with it. As you can see now, he throws it into a spot but like everything else, enough time working, things get better and he's gotten a helluva lot better," says Sanchez of Golovkin, who might be the most compliant pupil he's ever had. "I would say he and Jesus Salud are probably the easiest I've worked with. He doesn't question nothing. Like right now, when he was sparring, I said to him a couple times, 'No free shots.' He says, 'I know, coach. I know, coach.' I don't want him to just take shots because he gets bored but he's very easy to work with. He does what he's told." Sanchez says that he actually has to tell Golovkin to cut back on his work load to prevent overtraining.
Another issue Sanchez has run into is getting sparring partners who are durable enough to withstand Golovkin's steady onslaught in camp on a daily basis. On this day, he moved around with light heavyweight Ryan Coyne and cruiserweight David Imoesiri. Simply put, middleweights don't last very long with this guy. "They're just too big for him," Sanchez said of the sparring partners he's had to bring in. "They're going to wear him down too quick. So I don't know what steps we're going to take for the next fight to get him somebody at his weight or closer to it, to spar with him, that's going to hang in there with him and not want to quit. The guys I put him in there with, at middleweight, I can't keep for more than a couple of days."
Even on this day, Golovkin seemed to get stronger as the rounds went on. His bigger foes were the ones actually getting worn down. Later on, Imoesiri spoke of sparring nearly 50 rounds with heavyweight Alexander Povetkin before ever really feeling his power while he felt Golovkin's heat within the first half-minute they traded punches.
Sanchez never thought he'd have a fighter of this caliber ever again. After a heart attack about a decade ago, he felt his days training fighters full-time had come to an end.
"Y' know, four years ago when I started building this gym, I was going to build it for other people, not for me, for other people to rent. I never thought I was going to train full-time, 'Ah, I'll train little guys; I'll train some guys.' But I never thought this guy would walk through my doors," said Sanchez, who is all of a sudden back in the thick of things. "My father used to have a saying: 'If you're not in the middle of the street, you're not going to get hit by a car.' If you're not in the gym, if you're not on the scene, you're never going to find guys like this. He walked in my door but the thing about walking in my door, it could've been that we didn't get along. We happened to be thinking along the same lines. So that helps a lot."
You can just hear it in his voice, the excitement Sanchez has in working with Golovkin and the journey they may be in for. It's why trainers - the special ones - spend years in the gym, the ones who make all the years of toil worthwhile. Yeah, they also do it for money but Sanchez doesn't need to train anymore to make ends meet. He's done well outside of the sport. But it's clear; he wants to be a part of history inside of it.
When you ask him if he thinks his guy is the best middleweight in the world, Sanchez goes a step further by stating, "Absolutely, he's the best fighter I ever worked with - right now."
And yes, he realizes that statement has eyebrows raised everywhere.
"But I think September the 1st will justify me saying that because he has never been in front of the American public. So once he gets in front of the American public against Proksa, who's 28-1, and do the things he does to make [Proksa] look ordinary like he makes everyone look ordinary, then I think people will take notice," he says. "Now he's going to develop into a much, much better fighter. Right now, he is who he is but he's going to develop into a much better fighter because we're going to put guys in front of him that are going to make him think a little more."
Golovkin is now under the banner of K2 Promotions and their plan is make a mark in the States, then put the "world" in "world champion."
Tom Loeffler, K2's managing director, explained to Maxboxing that when it comes to Golovkin, "The short-term plan is coming into fruition now. We're doing the main event on HBO, September 1st It's a solid opponent, real unorthodox style and if he looks good on September 1st - we all believe he will - then the next step is really seeing what falls into place next. We're looking to fight anyone, not looking past Proksa, but making it clear to the television networks that he'll fight anyone that gets into the ring with him and we'll make the terms very reasonable. Right now at this point, his career is just building up the exposure for him in front of the American public. The big fights, the big money will come. At this point, it's just a matter of going step by step and there's enough opponents out there, enough great fighters in the middleweight division which can really make him an outstanding fighter."
But don't expect him just to fight twice a year on premium cable in America.
"Gennady is the type of guy who'll fight people anywhere. There's a lot of great English middleweights out there out of the U.K. He lives in Germany but he trains out here in Big Bear. He's learning English and he likes to fight here in America, so really, the primary focus is to build him up here in America but because he can't stay as active as we'd like him to with the fights in the United States, in between, we'll take him to Europe, Asia. Y' know, Daniel Geale is from Australia, so if an opportunity like that comes about, we'll take it. The hardest part about Gennady is getting someone in the ring with him and that's why we give Proksa a lot of credit."
According to Loeffler, the WBA has ordered the winner of the fight between its middleweight "super champion" Felix Sturm [Editor's note: It's a general rule that the fighter considered a WBA "super champion" is the "real" champion of said sanctioning body. In this case, for lack of a better term, Sturm's WBA title holds more prestige than Golovkin's] and Geale, who meet on September 1st, to face the winner of Golovkin-Proksa by the end of the year. But the scuttlebutt is that should Sturm win this fight, he will vacate and move up to face the newly-crowned WBO super middleweight beltholder Arthur Abraham.
Regardless, Golovkin has to take care of his own business this upcoming weekend.
"People will see on HBO how powerful he is and he's not going to be in a boring fight. We've never seen him in a boring fight and he stalks his opponent, hunts them down and there's no lulls in the action," said Loeffler, who mentioned that Golovkin appearing on a Klitschko undercard in 2013 is a distinct possibility. "He's a non-stop, action fighter where he throws a lot of punches and he throws a lot of hard punches. That's going to endear him to the American public. That style will really make him a real fan favorite."
It looks like Marco Antonio Rubio will not be facing Peter Quillin on Oct. 20th at the Barclays Center in Brooklyn, so the search is on for a new foe for "Kid Choc." A name being mentioned is Hassan N'Dam N'Jikam, who holds the interim WBO middleweight title, but money (as always) could be an issue...Fidel Maldonado rallied late but fell just short versus Michael Perez, in what ended up being a pretty good bout on "ShoBox." As for Randy Caballero, he's got good boxing skills but needs to layer his attack as fights go on...He may not have the zip on his passes he once did but Peyton Manning is still one of the very best in the league...Vin Scully is coming back to call more "Los Doyers" games in 2013. It just wouldn't be the same without him. Truly an LA institution...Remember when it was just the last game of the Little League World Series that would be broadcast on ABC's "Wide World of Sports"?...OK, so don't get your popcorn ready in Seattle yet but all aboard the Russell Wilson bandwagon!...I can be reached at k9kim@yahoo.com and I tweet at www.twitter.com/stevemaxboxing. We also have a Facebook fan page at www.facebook.com/MaxBoxing.