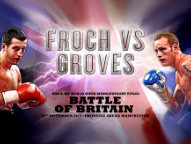 (Froch vs. Groves)


While there is an overflow of coverage in the States revolving around the fight in Macao between Manny Pacquiao and Brandon Rios, to those in Jolly Ol' England, that event is a mere curiosity. For the Brits, their main focus centers on the super middleweight grudge match between WBA and IBF super middleweight champion Carl Froch and upstart George Groves.
In these parts, this is the fight of the weekend.
Groves is a talented young contender who has the scalps of amateur nemesis James DeGale, the experienced Paul Smith and the well-worn Glen Johnson to his credit and has steadily improved since turning professional in 2008. "Saint George" is an orthodox fighter who possesses a sharp jab and good all-around boxing skills. He is 11 years the junior of the 36-year-old Froch and seems to be a precocious sort who hasn't necessarily shown the proper respect for his elder in this promotion.

You get the sense that while he certainly admires what Froch has done inside the ring, he doesn't particularly care too much for him outside of it. It says here that Groves will trouble Froch early on with his advantage in speed and quickness. The question is: How will he catch from the heavy-handed Froch?
There is no questioning the credentials of "The Cobra," who has crafted quite the career. You can debate where he ranks among the past 168-pounders from Britain (including the likes of Nigel Benn, Chris Eubank and Joe Calzaghe) but there's no denying he has one of the most impressive recent résumés in boxing. The ledger does not lie. Froch has victories over the likes of Jean Pascal (for the vacant WBC super middleweight title), a thrilling come-from-behind KO of the then-useful Jermain Taylor, a controversial decision over the difficult Andre Dirrell and wins against Arthur Abraham and Glen Johnson. The latter two victories sealed Froch's berth in the "Super Six" finals, where he ultimately squared off against the skilled Andre Ward.
On the night of December 17th, 2011 in Atlantic City, Froch was tamed by Ward over 12 rounds in a fight that was not as close as the scorecards indicated.
But from then on, Froch has been as impressive as any boxer in the world and has seen his profile and popularity rise exponentially. In his very next fight, he hammered the undefeated Lucian Bute away from his safe confines in Montreal to win the IBF strap. After an easy tune-up victory against American veteran Yusaf Mack, Froch gained revenge over Mikkel Kessler (who defeated him in the "Super Six" in 2010) back in May in a riveting affair down the stretch to capture the WBA belt.
Froch may or may not be a great fighter but he's a fighter's fighter, one fans admire and other boxers have to grudgingly respect regardless of their personal feelings toward him. And with his impressive accomplishments have come hard-earned respect from the masses in his country. It was said this fight with Groves at the Phones 4U Arena (formerly the M.E.N Arena. Yeah, I had no idea its name changed either) sold out within minutes. Yeah, it's taken awhile but Froch has arrived.
He isn't particularly smooth or stylish but there's a rugged effectiveness to what he does. Yeah, Froch looks a bit robotic and stiff at times but somehow, some way, he finds a way to win consistently against world-class opposition. Sometimes not so much by skill but a will and an unwavering self-belief. Froch is a fighting machine whose whole being is greater than the sum of his parts. He can come off as rather harsh and coarse at times but he makes it work. The guy can be a salty S.O.B. (in American terms, he's a red ass) but there is a roguish charm to his ways. Even his cockiness is endearing though some will say he does have a softer, more genteel side ( http://www.youtube.com/watch?v=Jpq_ZAhbRwU (Preview) ).
Hey, you don't land a looker of a wife without a certain confidence.
But when does "experience" become "corrosion"? At 36 years old, Froch is much closer to the end of his storied career than its beginning. There are a host of big, lucrative fights on the horizon for Froch (perhaps a rematch with Ward, Gennady Golovkin and Julio Cesar Chavez Jr.) but he has to get past Groves first. Groves is the very definition of high risk/low reward and the reality is, Froch was obligated to face him as Groves was a mandatory challenger for one of his titles.
There has been a growing testiness and tension to this promotion (https://www.youtube.com/watch?v=A9V3EbeBppY) which has only heightened the anticipation of this fight. There are some British fans who believe this match-up harkens back to the days when the likes of Eubank and Chris Watson carried out fistic feuds to the very limits of sanctioned savagery.
Regardless, this just might be the best fight of the weekend.

WEEKEND FLURRIES

I think Froch-Groves is a real fight. I'm tabbing Froch but I think Groves is a very live dog here...Main Events has announced its December 14th card on NBC Sports Network will feature a heavyweight clash between Amir Mansour and Kelvin Price and a light heavyweight bout between Ryan Coyne and Lionell Thompson...Tickets for the 2014 season premiere of "Friday Night Fights" from the Target Center in Minneapolis are on sale for

$35, $65, $100, $150 and $250 and are available at Target Center's box office, online at AXS.com or by calling 888-9-AXS-TIX (888-929-7849)...OK, the 'Canes will win a game in November; right?!...Can't wait to watch Johnny Football in Death Valley against LSU...I also can't wait for the season finale of "Boardwalk Empire" but equally saddened it won't be back for so long on HBO

...I can be reached at k9kim@yahoo.com and I tweet at www.twitter.com/stevemaxboxing. We also have a Facebook fan page at www.facebook.com/MaxBoxing, where you can discuss our content with Maxboxing readers as well as chime in via our fully interactive article comments sections.