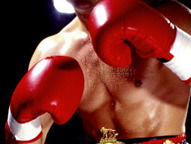 H1_Gloves_03.jpg


After a short intermission (Trust me; this interlude isn't nearly as long as some of the time that elapses between fights on the non-televised portions of undercards), we now conclude the annual "K9 Awards." And in a year that saw a good deal of back-and-forth slugfests, we look back at those involved in 2011's most memorable scraps...


2- Hernan Marquez TKO 11 Luis Concepcion:
Just a savage fight between two smaller guys with big power (who swapped knockdowns) but even more guts. Finally, Marquez subdued the powerful Concepcion, who came into this bout undefeated.
3- Pawel Wolak DRAW 10 Delvin Rodriguez:
In what was an insta-classic on ESPN2, Wolak and Rodriguez battled hard for all ten rounds, fighting wire to wire till the bitter end. This fight captured the very essence of why we love this game.
4- Kompayak Porpramook TKO 10 Adrian Hernandez:
The WBC light flyweight title was a hotly contested affair in Thailand and from the very beginning, a quick pace was set. Porpramook backed up Hernandez early, then was subdued in the middle rounds. Finally, the Mexican succumbed to the pressure of the Thai fighter.
5- Victor Ortiz W 12 Andre Berto:
Ortiz grits his teeth and in many ways, exorcises the demons of his Marcos Maidana meltdown. Berto, in a defeat, gains newfound respect. For six rounds, this was the best fight of 2011. After trading trips to the canvas in the sixth, Ortiz physically took over the second half of this bout.

6- Lamont Peterson W 12 Amir Khan:
Cast aside any supposed controversies over the referee, Joe Cooper; this was just a really good bout where the hard-charging Peterson just kept coming forward and attacking Khan's body. Khan, at times, simply gave up too much ground.
7- Liam Walsh TKO 10 Paul Appleby:
The action really got heated up late. Walsh comes back from a seventh round trip to the canvas to score a tenth round knockdown of his own with a left hook. The fight is stopped by Appleby's corner after this stanza.
8- Brandon Rios TKO 10 Miguel Acosta:
Behind early, Rios just steadily grinds away at the difficult Acosta, finally breaking open the dam in the tenth round with a series of power punches that had Acosta out on his feet.
9- Nathan Cleverly W 12 Tony Bellew:
These two guys came into this fight not liking each other too much but had to have earned each other's respect the way they waged battle over 12 hard-fought rounds. In the end, Cleverly retained his WBO light heavyweight crown via majority decision.
10-Antonio DeMarco TKO 11 Jorge Linares:
For much of the fight, it looked like the classy Linares would simply be too good for DeMarco but the lanky southpaw from Tijuana never gave up. Finally, DeMarco caught up to Linares in shocking fashion in the 11th frame while well behind on points.
Honorable mention:
James Kirkland TKO 6 Alfredo Angulo, Jesus Gonzalez W 12 Francisco Sierra, Chris Johns W 12 Daud Yordan, Felix Sturm DRAW 12 Martin Murray, Gabriel Campillo DRAW 12 Karlo Murat, Chris Edwards W 12 Paul Edwards, Hugo Ruiz W 12 Francisco Arce, Marcos Maidana W 12 Erik Morales, Javier Gallo W 8 Jose Luis Araiza, Teon Kennedy W 12 Jorge Diaz, Thompson Mokwana TKO 7 Patrick Malinga, Vanes Martirosyan TKO 7 Saul Roman
2- Ola Afalobi KO 1 Terry Dunstan:
Alofabi isn't known as a puncher but tell that to Dunstan, who was iced in one after a vicious right hand.
3- Kendall Holt TKO 3 Julio Diaz:
If there's one thing Holt can do, it's crack, as Diaz found out after getting hit with a left hook that just froze him.
4- Jose Gonzalez TKO 1 Eddie Soto:
A lethal left hook/right-cross combo rendered Soto out cold and taken off in a gurney.

5- Orlando Cruz TKO 1 Michael Franco: Franco is out, face-first on the canvas from a Cruz right hook he walked right into.

Honorable mention: Jose Bernache TKO 4 Alejandro Valdez, Pierre Cote TKO 2 Jorge Teron, Lucian Bute KO 4 Jean Paul Mendy. Jose Silva TKO 8 Tyson Robles, Hairon Saccores TKO 1 Carlos Bruno, Rico Ramos TKO 7 Aki Shimoda, Jessie Vargas TKO 2 Walter Estrada, Jhonny Gonzalez TKO 4 Hozumi Hasagawa, Zab Judah TKO 7 Kaizer Mabuza, Alejandro Perez TKO 1 Antonio Escalante, Ramon Valadez TKO 1 Rob Diezel

THE JOE KAPP AWARD (for the CFL alumni "Knockout of the Year")

This speaks for itself (and I can't stop watching it): http://www.youtube.com/watch?v=eowH5IP3FQ8

THE CASEY ANTHONY AWARD (for most controversial verdict)

1- Robert Helenius W 12 Dereck Chisora: For 12 rounds, Chisora walked down Helenius and simply outworked him. Yet somehow, Helenius was given the verdict in Finland. Yeah, it helps to be a connected fighter.

2- Paul Williams W 12 Erislandy Lara: Lara simply beat Williams to the punch all night and also outboxed him. On this night, Williams looked like a spent bullet but was given the verdict in an Atlantic City "house" decision.

3- Devon Alexander W 10 Lucas Matthysse: Most observers believed the hard-hitting Argentine won at least six or seven rounds and scored a fourth round knockdown but the problem is this fight was in St. Louis, where Alexander is treated better than Albert Pujols was for years.

4- Marco Huck W 12 Ran Nakash: I get the feeling that the Evander Holyfield of 1988 couldn't beat Huck in Germany.

5: Krzysztof Wlodarczyk W 12 Francisco Palacios: "El Diablo" was outboxed for much of this fight but his saving grace was that this bout took place in Poland.

THE WAR OF THE ROSES AWARD (for conflict)

1- Teddy Atlas and Kalle Sauerland: Let's just say there is no love lost between the trainer of Alexander Povetkin and his promoter. By the way, whatever happened to the video of that interview where Atlas labeled Sauerland a "punk"? It seems to have disappeared. Here's what was said: http://bleacherreport.com/articles/567067-teddy-atlas-calls-kalle-sauerland-a-punk-i-dont-even-want-to-be-in-boxing

2- Tim Bradley and Gary Shaw: The "Desert Storm" wanted to leave GSP so badly, he turned down an opportunity to make well over a million dollars to face Amir Khan in the summer and ran out his contract with Shaw. Bradley eventually signed a deal with Top Rank.

THE REGGIE BUSH AWARD (for "Comeback of the Year")

Erik Morales: Yeah, I admit, I gave Morales no shot against Marcos Maidana and he turned in another classic "El Terrible" performance. Even though he didn't get the nod that night, Morales won that event and showed (again) why he is a respected warrior.

(By the way, can you believe the year Bush is having? I mean, he's even running inside effectively.)

THE MONTY PYTHON AWARD (for persistence)

DeMarcus Corley took eight knockdowns versus Lucas Matthysse. And most everyone lost count of how many times Aaron Pryor Jr. hit the deck against Adonis Stevenson.

THE JAY CUTLER AWARD (for questionable fortitude)

1- Devon Alexander: Some believe he just called it a day against Tim Bradley in the Silverdome as he suffered a cut above his eye, knowing he had another HBO date in his back pocket.

2- David Haye: Yeah, I'm sure by now you've heard all the bad toe jokes in the wake of Haye's outing this past summer against Wladimir Klitschko.

THE WOUNDED KNEE AWARD (for having a wounded knee)

Odlanier Solis: Solis blew out his tire early on against Vitali Klitschko after absorbing a right hand late in round one. Perhaps it was all that extra weight on the Cuban?

THE SOCCER AWARD (for being popular in Europe but not in America)

The Klitschko Brothers: We may not like that much over here but Wlad and Vitali do huge numbers on a consistent basis over there and fill soccer stadiums, ironically enough.

OL' MAN RIVER AWARD (for continuing to flow)

Jorge Arce: Not only did "Travieso" upset Wilfredo Vazquez Jr. to win the WBO 122-pound belt, he then exacted revenge on Simphiwe Nongqayi. Arce then moved down to win the vacant version of the WBO bantamweight strap by defeating Angky Angkotta.

MEA CULPA AWARD (for having to say you're sorry)

Richard Schaefer and Oscar De La Hoya publically apologizing to Manny Pacquiao over their allegations of performance-enhancing drugs.

THE KING JOFFREY BARATHEON AWARD (for being crowned too soon)

Saul Alvarez and Julio Cesar Chavez Jr: Yeah, we know why they picked up titles and why Jose Sulaiman was more than willing to pave the way for each of them to win WBC titles this soon. But should you really be a "champion" if you need as much protection as these guys get?

(Also, don't you just want to smack that spoiled kid on "Game of Thrones" the more you see him? I can't wait for season two in April.)

THE MARK TWAIN AWARD (for exaggerated demise)

Mike Koncz supposedly getting fired by Manny Pacquiao: Folks, he isn't going anywhere. Many have tried and all have failed to get rid of him. It ain't happening.

THE MARLON STARLING AWARD (for bizarre post-fight explanations)

Zab Judah: Judah talked about getting "standing eight-counts" and the like after getting hit with a borderline low blow by Amir Khan that sent him to the canvas- where he was counted out.

THE ALANIS MORISSETTE AWARD (for irony)

Shane Mosley: In the wake of his loss to Manny Pacquiao, Shane Mosley insinuated on Twitter that the "Pac-Man" was on something illegal. This is especially ironic, given Mosley's own history where he was involved with BALCO in the lead-up to his rematch with Oscar De La Hoya in 2003.

THE DANNY DAVIS AWARD (for questionable officiating)

1- Russell Mora in Abner Mares-Joseph Agbeko I: After about six warnings for low blows, you really should take away at least one point. And the missed call on the 11th, which turned into a knockdown in favor of Mares, sealed this fight.

2- Joe Cortez in Floyd Mayweather-Victor Ortiz: He's no longer firm or fair. Cortez is but a mere shell of himself.

THE TONY PENA AWARD (for worst managerial decision)

David Diaz: Diaz, on the advice of Jim Strickland, turned down right around 200-large to face Juan Manuel Marquez. Instead, Diaz faced Henry Lundy for $15,000. He was promptly stopped by Lundy and, for all intents and purposes, saw the end of his career.

THE BEAR STEARNS AWARD (for falling stock)

Tickets for the Mayweather-Ortiz fight in September took a hit as brokers found out there was no secondary market that existed for "Star Power." By fight week, the MGM Grand was not only offering room and ticket packages but calling local VIPs in hopes of moving these tickets.

THE LARRY MERCHANT AWARD (for "Line of the Year")

Larry Merchant: Merchant to Floyd Mayweather, capped off their verbal sparring in the aftermath of the Ortiz fiasco: "If I was 50 years younger, I'd kick your ass" (http://www.youtube.com/watch?v=mryFz8C9AHk)

THE SAUERLAND AWARD (for shadiness in Germany)

Just as it seemed like Steve Cunningham was right back in the thick of things after getting drilled early by Yoan Pablo Hernandez, the bout was stopped in the sixth round due to a cut sustained by Hernandez, caused by a clash of heads. Honestly, the timing of this just looked fishy.

THE DALBY SHIRLEY AWARD (for dubious scoring across the board)

Most observers believed that Will Rosinsky had battled Edwin Rodriguez tooth and nail over ten solid rounds of action but all three judges (Peter Hary, Clark Sammartino and Glenn Feldman) scored it a shutout at 100-90 across the board.

THE MICHIGAN STATE-WISCONSIN AWARD (for most dramatic ending)

Mike Alvarado: Bruised and bloodied, Alvarado was down on all the cards going into the tenth and final frame against Breidis Prescott before scoring a dramatic knockdown (http://www.youtube.com/watch?v=50CTPl-ZyJQ)

THE RAZZIE AWARD (for the most awful event)

The truncated bout between Bernard Hopkins and Chad Dawson was a fight that lived down to very low expectations. Tickets were reportedly given away en masse and the pay-per-view did less than 50,000 buys.

Uh, rematch, anyone?

THE 80-YARD FOOTBALL FIELD AWARD (for shortened playing field)

The bout between super middleweights Librado Andrade and Donovan George was cancelled hours before the fight as George's representatives balked at the 15-by-15 foot ring. They had a contract that called for a 20-by-20 ring.

THE EDDIE MURPHY AWARD (for trading places)

Ken Hershman: "The Czar" who so ably led Showtime's boxing franchise for years now goes across the street to take over the reins at HBO Sports in 2012.

THE NIGEL BENN AWARD (for crowd-pleasing young fighter out of Britain)

Remember this name: Scott Quigg. He's a 23-0 (17) junior featherweight that will soon be making noise on the world-class scene. He has no problems mixing it up and attacks the body like a Mexican.

THE PERNELL WHITAKER-DIOSBELYS HURTADO AWARD (for supposed tune-up that nearly becomes a disaster)

Orlando Salido was supposed to have an easy go versus Weng Haya before facing Juan Manuel Lopez in a March rematch. Instead, Salido was sent to the canvas twice and nearly knocked out before turning the tide and stopping Haya in the eighth frame. Whew!

THE AMY WINEHOUSE AWARD (for continued substance abuse)

Kelly Pavlik: Very simply- will the madness ever stop? And will Pavlik ever face the fact he really needs help?

You can check out Part One of the 2011 K9 Awards right here: http://www.maxboxing.com/news/main-lead/the-2011-k9-awards-part-one