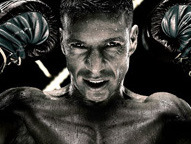 (Photo © Howard Schatz)


Yes, folks, another year has come and gone (Where does the time go?) and it's at this time of the year, before we move forward, that we take one last look at what took place in 2010 in the game of boxing. This was a year that will forever be defined by a fight that did not take place (and may never) in Manny Pacquiao-Floyd Mayweather and a strong final push by the sport of boxing. Our look, at this year's honors...

FIGHTER OF THE YEAR

1- Sergio Martinez: As the late, great Chick Hearn would say, this was such an easy call, you could've called it in Braille. First, Martinez wins the middleweight title by outpointing Kelly Pavlik and then he starched Paul Williams in stunning fashion in their rematch. And despite not having much leverage at the bargaining table, he simply would not allow himself to be negotiated out of the fight, at any cost.

That's being a fighter.

2- Giovani Segura: In late August, he became not only the first man to defeat the slick Ivan Calderon, he did it on his turf in Puerto Rico. Also, Segura stayed active, fighting four times this year.

3- Fernando Montiel: Another boxer who stayed active (four outings), who was dominant in all of his fights, stopping anyone and everyone in his path in less than four rounds. But where Montiel really made his statement was knocking out the highly respected Hozumi Hasagawa in Japan for the WBC bantamweight title.

4- Tomasz Adamek: It didn't matter that HBO essentially made him travel out of the safe and cozy confines of the Prudential Center in Newark. Adamek merely packed his bags, went out west and outfought Chris Arreola, in addition to three other victories.

5- Juan Manuel Lopez: Three solid victories in 2010 over Steven Luevano, Bernabe Concepcion and a shoot-out with Rafael Marquez.

HONORABLE MENTION: Manny Pacquiao, Juan Manuel Marquez

ROUND OF THE YEAR

1- Joseph Agbeko-Yonnhy Perez, round six: This back-and-forth round looked a lot like their first encounter in 2009, where the leather flew. Neither Agbeko nor Perez gave in to each other during these three minutes.

2- Juan Manuel Marquez-Michael Katsidis round three: After getting decked by a hard left hook from Katsidis, Marquez, who was wobbly as he got on his feet, gamely battled back to fight on even terms by the end of the frame.

3- Giovani Segura-Ivan Calderon, round six: A round after getting floored by the Mexican, the usually light-hitting Calderon bangs away with Segura despite being outgunned. It turns out this was his last stand of an undefeated run.

4- Ricky Owen-Gavin Reid, round two: After a rocky first stanza, Reid knocks down Owen and has him hurt for much of the round. Owen finally regains his senses last and fights back in what is an exciting round in the Prizefighter tournament.

5- Juan Manuel Lopez-Bernabe Concepcion, round one: Gotta love a round where both combatants hit the floor, which is precisely what happened on this summer night in Puerto Rico.

6- Ricky Burns-Rocky Martinez, round seven: This back-and-forth stanza exemplified the spirited nature of this contest. After controlling the round early, Burns gets hurt by a Martinez left hook and Martinez then comes on strong to nail Burns with a series of hooks and uppercuts along the ropes.

7- Marcos Maidana-Amir Khan, round ten: It's not often that a round that is so one-sided would make such a list but it's hard to deny the dramatic nature of this inning as Khan, rocked early by a Maidana right hand, did all he could to stay on his feet for around two minutes.

8- Hozumi Hasagawa-Juan Carlos Burgos, round seven: Hasagawa consistently beat Burgos to the punch with his left but Burgos was at times able to land his share of left hooks and uppercuts. This round saw both men buzzed from each other's power shots.

9- Mike Jones-Jesus Soto-Karass, round two: Jones hurts Soto-Karass early on and desperately tries to finish him off. When he doesn't, the Mexican battles back and turns the tide, not only of the round, but the fight.

10- Humberto Soto- Urbano Antillon, round six: There were several rounds of this fight that merited inclusion in this list. Soto was skilled and precise; Antillon was game and gutty and this round was one of few that spoke of the violence and intensity of this fight.

HONORABLE MENTION: Andrade-Valadez, rounds two and three, Escalante-Roman, round eight, Katsidis-Mitchell, round three, Cazares-Nashiro, round12, Ramsey Luna-Rene Luna, round one, Trevino-Estrada, round one, Figueroa-Quintero, round four, Cloud-Johnson, round two


THE FREDDIE ROACH AWARD (for Trainer of the Year)

Gabriel Sarmiento: Under his tutelage, Martinez defeated Pavlik and KO'd Williams. And like Corey Hart, he wears sunglasses at night. But seriously, I have a feeling we'll be seeing him in more winning corners in the very near future.

THE AL HAYMON AWARD (for Manager of the Year- because let's face it; with the hold this guy has on HBO, like a "Freddie Roach," he could win this award every year, so you might as well name it after him.)

1- (Tie): Sampson Leckowicz and Frank Espinoza: Leckowicz who wears several hats in the sport, guided "Maravilla" to big things and is consistently involved in big fights with boxers like Chris John. Espinoza cashed out Israel Vazquez to one last big payday, while using his influence to get Abner Mares to the big time. As always, Espinoza has a batch of prospects he's bringing up.

3- Cameron Dunkin: A perennial contender for this honor, Dunkin and his stable looks poised for a huge 2011 with the likes of Nonito Donaire and Miguel Garcia. The best bird-dog in the business, he will always keep his cupboard full of blue-chip talent.

ROBBERY OF THE YEAR

1- Beibut Shumenov W12 Gabriel Campillo II: Some things never change. If they fought once more, you could name this award after these two.

2- Selcuk Aydin W12 Jo Jo Dan: I'm beginning to think that Sugar Ray Leonard couldn't have beat Aydin in Turkey with Ahmet Oner promoting.

3- Eric Morel W12 Gerry Penalosa: Another dubious decision that goes against Penalosa versus Morel, who just backed up the whole night.

4- Luis Lazarte MD12 Ulisis Solis: Take away the rabbit-punches, the low-blows and the biting(yes, the biting) and all the damaging shots were landed by Solis. Scary thing is, without point deductions in the fourth and ten rounds, and Lazarte wins this fight, outright.

HONORABLE MENTION: Theophane W10 Rodriguez, Pascal D12 Hopkins, Martirosyan W10 Ouma, Paredes W12 Pitalua

ISRAELI-PALESTINE AWARD (for not seeing eye-to-eye)

The Pacquiao-Mayweather Negotiations: There was a lot of talking; too bad when it was all said and done, the sides were probably never further apart. And this charade didn't just take place once but twice. The reality is, they were probably never really all that close to making this fight a reality. Bottom line, certain individuals involved hate each other to a point where they would rather spite each other before make money together.

LOGAN MANKINS AWARD (for disgruntled employee)

Shane Mosley: Up until his fight with Mayweather, Mosley was a proud partner of Golden Boy Promotions. Then, as he saw his options dwindling, he ditched GBP so that he could get into the running for the Pacquiao sweepstakes. It was very simple; as long as he was under their banner, he was never getting a crack at the "Pac-Man." Divorces, it seems, are becoming old hat for Mosley.

THE JOAN GUZMAN AWARD (for coming in overweight)

Joan Guzman: Who else? You have to at least respect this guy's consistency. After coming in too heavy versus Ali Funeka in March; he then pulled the same stunt in late November against Jason Davis. In an era of catchweights, this guy plays by his own rules.

THE NAS-KELIS DIVORCE SETTLEMENT AWARD (for worst deal)

Roy Jones: After getting KO'd by Danny Green last year, Jones was so desperate to still make the rematch with Hopkins, he signed a contract that relied on a pay-per-view upside for him to make any money from it. Well, in another case of a fighter who has no understanding of the current marketplace, there weren't nearly enough buys for the upside to kick in and Jones reportedly didn't make a dime off this fight.

He must've forgot...this isn't 1998.

THE KFC DOUBLE DOWN AWARD (for worst idea)

Hopkins-Jones II: Speaking of which, did anyone really think that a rematch which was about a decade too late in coming around (with Jones getting knocked out in one, the previous fight) was really going to resonate with the public?

THE BOB ARUM AWARD (for hyperbole)

Richard Schaefer: Schaefer predicted 4,000,000 pay-per-view buys for Mayweather-Mosley. Seriously, I don't think Arum has ever exaggerated this badly. Eventually, this event did around 1.4 million buys, nothing to sneeze at, but not exactly the best job of managing expectations, huh?

THE ROD SERLING AWARD (for strange ending)

Kermit Cintron- Paul Williams: In his bout against Paul Williams, Cintron seemed to catapult himself out of the ring in the fourth round of their contest at the Home Depot Center in Carson, California. And in the ensuing chaos, he was carried out of the arena on a gurney. As for the fight itself, many thought that Cintron was winning through the first three stanzas but the judges thought differently and Williams was awarded a four-round technical decision that was as unsatisfying as it was bizarre.

THE DEWEY DEFEATS TRUMAN AWARD (for speaking too soon)

Oscar De La Hoya: During the second go-around of the Pacquiao-Mayweather negotiations, the "Golden Boy" told a Spanish network that a deal was close to being made. That was before, of course, they denied that negotiations ever took place at all. And didn't Oscar then claim he was misquoted?

THE JIM HENSON AWARD (for being a puppet)

Leonard Ellerbe: Ellerbe, who plays Smithers to Floyd Mayweather's Mr. Burns, got into the act by releasing a statement that stated that no talks took place over the summer regarding Pacquiao-Mayweather. Based on Arum's history, some just automatically believed this side. That is, until Ross Greenburg set the record straight by making it clear that there was indeed another round of negotiations. Just more evidence as to why Ellerbe cannot be taken seriously.

When Mayweather says "Jump," you get the sense that Ellerbe would reply, "Off which cliff?"

THE HOT TUB TIME MACHINE AWARD (for it being like old times)

Don King in early August: Let's see, his boxer, Devon Alexander, got a rather wide decision versus Andriy Kotelnik and it was around this period, that King was sniffing around Mayweather, wining and dining him. Yeah, the good ol' days...

THE FRANKENSTEIN AWARD (for creating a monster)

HBO with Al Haymon: No adviser/manager can get the type of exorbitant license fees for clients who can't sell out a phone booth for facing overmatched foes quite like this concert promoter. HBO will tell you that there is no double-standard; the actual facts say something much different. There's a reason why we call this the Haymon Boxing Organization.

THE IKE TURNER AWARD

Floyd Mayweather Jr.: Remember when Floyd said he was fighting for all abused women when he faced Diego Corrales? Oh, the irony of it all...

THE McCOURTS AWARD (for divorce)

Alfredo Angulo-Gary Shaw: In July, "Perro" was riding high and staying as busy as any world-class prizefighter, making good money on HBO. By the end of summer, he was turning down lucrative money to face Sergio Martinez and no longer on speaking terms with his promoter. Then there was that pesky little immigration issue hanging over his head.

THE RED BADGE OF COURAGE AWARD (for valor under tough circumstances)

Michael Katsidis: Despite the death of his brother, Katsidis went through with his bout with Marquez and put on a courageous effort in one of the best fights of the year. In an era when fighters look for reasons to pull out of their assignments, it's refreshing to know that guys like Katsidis still exist.

THE MARION JONES AWARD (for getting caught in a lie)

Shane Mosley: When it was all said and done, not even his attorney, Judd Burstein, believed that Mosley didn't know he was taking illegal P.E.D.s prior to his bout with De La Hoya in 2003. As Victor Conte released his Grand Jury testimony via YouTube, the truth was there for the world to see.

THE JAKE LA MOTTA AWARD (for unnecessary toughness)

1- Antonio Margarito (vs. Manny Pacquiao): Perhaps Margarito felt he couldn't quit based on the accusations of the past but common sense said something different. However, there is no quit in Margarito, regardless.

2- Shannon Briggs (vs. Vitali Klitschko): As Briggs took this beating, you just kept wondering when that towel was going to be thrown in by his corner.

THE JOHN KERRY AWARD (for flip-flopping)

Bob Arum: Remember when he considered Mosley too old and faded to face Pacquiao next? Well, that was when he was with Golden Boy. Soon as Mosley bolted, he was suddenly the most viable opponent out there to face Arum's Filipino cash-cow. And on May 7th, you'll be subjected to Pacquiao-Mosley.

THE PENN ST.- PITT AWARD (for dormant rivalry)

Golden Boy-Top Rank: When the two biggest promotional entities in the States can't come together to make fights, that's a problem. When it's all said and done, the loser is the business of boxing.

THE ROSIE RUIZ AWARD (for biggest phony)

@BobArum on Twitter: It was fantastic news when he and De La Hoya were making amends on Twitter. The only problem was that it wasn't him and the Cold War still stands.

THE STEVE JAVIE AWARD (for being an overbearing official)

Arthur Mercante Jr. in Cotto-Foreman: So when does a towel being thrown in not mean that a fight is stopped? When Mercante Jr. is officiating, I guess? But seriously, not only was this setting a bad precedent, it was also dangerous to the health of Foreman, who came into the fight with a bad knee.

THE MIKE WEAVER-JOHN TATE AWARD (for late comeback knockout)

Carlos Tamara TKO12 Brian Viloria: Viloria was in complete control for about nine rounds and that's when he started to fade. By the last frame, he was on fumes and was completely out of gas by the 12th, getting stopped with less than a minute to go while ahead on points. Another tough loss for a fighter who has had problems holding onto his titles with any consistency.

I can be reached at k9kim@yahoo.com and I tweet at www.Twitter.com/stevemaxboxing. We also have a Facebook fan page at www.facebook.com/MaxBoxing.