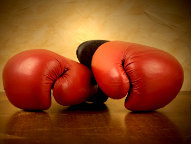 --


The middleweight division is suddenly bursting with excitement. Australian Daniel Geale unified two titles in Germany; Gennady Golovkin's called out everyone from 154 to 168 pounds with his fantastic American debut and by the end of October, eight of the 11 best middleweights will have fought each other! The Sergio Martinez – Julio Cesar Chavez Jr. clash is the type of exhilarating event that has not been witnessed at 160 pounds for a decade. Unlike other fights of recent vintage, this rivalry is fueled by tangible animosity instead of contrived hype. The title belt is of little significance in the big scheme since the boxer acknowledged as the best in the division enters the ring with no alphabet title needed to endorse his superiority. This match-up has the senses of boxing fans tingling and is a cause to look back on other great middleweight fights to fathom the possibilities of tonight's hotly anticipated battle.
Middleweight is a traditional glory division of boxing with legendary figures such as Sugar Ray Robinson, Harry Greb, Carlos Monzon, Jake LaMotta, Stanley Ketchel and Marvin Hagler engaging in epic clashes the likes of which seem absent in the division today. Other than the heavyweights, no weight class holds the history, name value and cache found at 160 pounds. Cracking my (or any sane and well-researched) top 10 list in this category is an enormous feat and I had to leave out many memorable meetings spanning 128 years of middleweights. Hopefully after tonight, Sergio Martinez and Julio Cesar Chavez Jr. will make my decision even harder the next time I revisit this list.

Just missing the cut because of preference or semantics vice quality are: Stanley Ketchel UD 20 Billy Papke (1909), Jake LaMotta KO 15 Laurent Dauthuille (1950), Sugar Ray Robinson KO 3 Rocky Graziano (1952), Sugar Ray Robinson L UD 15/KO 5 Gene Fullmer (1957), Carmen Basilio SD 15 Sugar Ray Robinson (1957), Carlos Monzon TKO 12 Nino Benvenuti (1970), Rodrigo Valdez TKO 7 Bennie Briscoe (1974), Sugar Ray Leonard SD 12 Marvin Hagler (1987), Iran Barkley TKO 3 Thomas Hearns I (1988), Chris Eubank TKO 9 Nigel Benn I (1990), Gerald McClellan KO 1 Julian Jackson I (1993), Jorge Castro TKO 9 John David Jackson (1994), Bernard Hopkins TKO 12 Felix Trinidad (2001),

Arthur Abraham UD 12 Edison Miranda (2006), Kelly Pavlik TKO 7 Jermain Taylor I (2007), Paul Williams MD 12 Sergio Martinez I (2009).
10. Bobo Olson MD 15 Kid Gavilan (1954) –
The fight matched a small, volume-punching pressure fighter (moving up from welterweight) against a physically bigger boxer who preferred to fight at a distance. The pace favored Gavilan but the center ring battleground was to the advantage of Olson. The pair engaged in many flurries with combination punching at a premium and neither gave ground without throwing a punch in the opposite direction. The Associated Press wrote, "Gavilan repeatedly flashed vicious left hooks to the body and head which seemed to stun Olson. Bobo Olson, hacked and harassed a left-handed punching Kid Gavilan, whose right eye was spurting blood from the ninth round on. In the final analysis, it was Bobo's persistency and crisp hacking combinations to the body and head which repulsed Gavilan's bid." Strength won out by majority decision with Olson coming on late and aided by the championship fight distance of 15 rounds.
9. Dick Tiger UD 15 Gene Fullmer (1962) –
Two of the most physically fit bangers of any era tested each other's wills as much as their skills in the WBA's first middleweight title fight. As competitive as the fight was, in each round, Tiger was a just a little better, bigger and stronger, forcing a bloodied Fullmer to give more ground with each ensuing round. Though Fullmer was in retreat for much of the fight, his back rarely touched the ropes and he picked spots to stand his ground and never stopped, going to Tiger's body with spearing hooks. The turning point was the ninth round when Fullmer was cut badly over his left eye and slowed his offensive output trying to protect the eye from counterpunches. Without volume, Fullmer was lost and Tiger got inside more often, causing a second bad cut to Fullmer's right eye in the 10th round. A local newspaper writer was spot on describing the thoughts of fans watching the fight, "Man cannot defeat Tiger".
8. Carlos Monzon UD 15 Rodrigo Valdez II (1977) –
The rematch was so important in South America that 80 reporters, 50 from Argentina and 30 from Colombia, covered the event. It beats out the pair's first encounter since it featured more changes in momentum. Valdez started fast, knocking down Monzon in the second round, becoming only the second man to send the Argentine to the canvas in his 14-year career. Valdez's pressure tactics seemed to be taking effect as he cut off the ring and got under the long jab of Monzon. After seven rounds, Valdez was ahead; however, Monzon didn't become a legend by giving in to adversity. The Argentine adjusted and rallied behind lateral movement as well stiff counter jabs that sent Valdez off balance. The counters of Monzon landed with searing accuracy after the seventh round. By the ninth round, both of Valdez's eyes were badly swollen and he was repeatedly rocked with right hands that traced the path of Monzon's jab. In the 10th, Valdez was badly cut over his left eye, adding to the Colombian's troubles. Valdez endured and fired back, even as his punches lost accuracy and stopping power. Monzon swept the final two rounds on every judge's scorecard ensuring a tight verdict. It was such a closely contested fight, that The Ring magazine's writer scored seven of the rounds even.
7. Roberto Duran SD 12 Iran Barkley (1989) –
Guile overcame size, power, physical prime and age advantages as a 37-year-old Duran won a middleweight title 17 years after his first world championship! Everyone believed Duran was shot and the boxing world had still not forgiven him for saying "No Mas" against Sugar Ray Leonard. A late knockdown by Duran, in the 11th round, swung the split decision in the veteran's direction stemming a passionate Barkley rally. Before that, Duran (notorious for his ability to thumb in those days) caused swelling to Barkley's eyes and worked the body to slow the younger man's aggression and stamina. Duran did everything an old master should, picking his spots and refusing to exchange on the inside for extended periods. Still, it was never easy as Barkley showed underappreciated skills, landing precise punches to Duran's head in rounds six to nine because of his slowing reflexes. Barkley summed up why he lost, "It was his heart. It just wouldn't go." The fight was The Ring magazine's "Fight of the Year," and is a lasting testament to both men.
6. Marcel Cerdan TKO 11 Tony Zale (1948) -
Instead of recognizing an amazing effort by both men, American newspapers lamented the passing of the middleweight title from American hands at the fists of the French-Algerian brawler. The New York Times' headline spoke for the majority, "The world middleweight championship in boxing, an exclusive American property since Ruby Robert Fitzsimmons gave up the title, went to foreign lands tonight when Marcel Cerdan, doughty French gladiator from Casablanca, knocked out tough and rugged Tony Zale." Another ran the headline, "French boxer subjects rival to ceaseless battering in annexing world crown". Cerdan controlled much of the fight but could not shake a persistent, terrier-like Zale. The champ drew first blood in the second round, cutting Cerdan on the forehead, but the damage was more superficial than purposeful. From round four on, Cerdan blocked or smothered Zale's attacks; the lower punch output of Zale was a sign of his frustration. However, when Zale landed, it put Cerdan adrift despite his hulking size. In the seventh, Cerdan visibly rocked Zale with an uppercut and imposed his will thanks to superior reserves of stamina. Referee Paul Cavalier stopped the fight before the 12th on the advice of Zale's corner. Over 19,000 fans attended the fight, which became The Ring magazine's "Fight of the Year."
5. Gene Fullmer TKO 14 Carmen Basilio (1959) –
Rightly voted 1959's "Fight of the Year," the defensively lacking duo were smallish middleweights with huge hearts. Since both employed the same bullying style, the storyline was that the boxer forced to change his style was going to lose. That theory was turned on its head when Fullmer changed his tactics, backing up and counterpunching to great effect and did not tire in the face of Basilio's pressure. Fullmer led Basilio into punches, in particular, short right counters and uppercuts with circling and quick stops that included the dipping of his shoulders to blunt Basilio's momentum. The first round was white-hot; both men stood at center ring throwing punches and tasting each other's power in a round that rivals any in history without a knockdown and many with one or more. The volume had to slow but was still superior to 95% of any middleweight clash. The skill of Fullmer continually suppressed Basilio's aggression and Hall of Fame trainer Angelo Dundee rescued a mortally fatigued Basilio in the 14th

round after he got up from a victory-ensuring knockdown.
4. Tony Zale KO 6 Rocky Graziano I (1946) –
Only a truly great fight can be called one of the most brutal, one-sided, dramatic and emotional fights in the history of boxing and have every cliché apply to it. After dropping Graziano with a short punch in the first round, Zale sustains one of the most severe beatings imaginable, looking every bit the aging champion against a hotshot contender who was a 2-1 favorite with the bookies. The Associated Press wrote that Zale, "looked like a man who had been in hand-to-hand combat with a buzzsaw." Zale is knocked down and bloodied in the second, his head rocked backward repeatedly and Zale suffered a broken thumb for his troubles punching back. Incredulously, Zale rescues himself with a punch to Graziano's solar plexus in the sixth round (followed by a short left hook) that deflates the aggressor like a punctured balloon. Graziano's legs and lungs abandon him, collapsing to the canvas unable to catch his breath. Referee Ruby Goldstein counted out Graziano as the audience tried to figure out whom to applaud. They cheered Zale for his never-say-die determination and Graziano for the murderous aggression that ultimately lead to his loss. It would not be the last time.
3.

Harry Greb UD 15 Mickey Walker (1925) –
Two legendary Hall of Famers meet in a grudge match that managed to get more bizarre a couple hours after the pair fought. It seems fitting that the fight, in most writers and historians opinions, came down to the final round. Renowned journalist Grantland Rice wrote, "The second round was sensational, one of the greatest of all time. In the 14th round, Walker was hammered all over the ring after being staggered by a right to the jaw." Walker rarely took a backward step but his punches lacked impact against a larger Greb who countered with heavier retaliatory artillery. Walker said he was thumbed by Greb repeatedly but also admitted he had trouble dealing with Greb's reach. Unable to use his brawling tactics on the inside, Walker looped punches and was picked off and countered by Greb. Not all were blocked and Walker backed up Greb and landed many punches to the side of his head. The fight probably came down to a matter of size since Walker was a natural welterweight and Greb was seven pounds heavier at the weigh-in. Later that night, the pair had an impromptu rematch on Broadway outside a speakeasy bar! Walker got the unofficial nod in the street fight, hitting Greb as he was taking his jacket off and was on top of Greb as friends pulled them apart.
2. Rocky Graziano TKO 6 Tony Zale II (1947) -
Forget the middleweight title; forget rematches...this is one of the 10 most exciting events to ever be staged for the enjoyment of an audience. No one thought a second fight could match the intensity of the first, much less exceed it in drama and ferocity. This time, it was Graziano's turn to play the role of...well, "Rocky." Graziano overcame one other obstacle that Zale did not have to in their first meeting; Graziano could hardly see through eyes that were merely slits on the verge of swelling shut. In the first round, Graziano was cut over the left eye and by the start of the third round, his right eye was swollen shut. This after Graziano was nearly halted in the second round. Behind on points and with the possibility of a stoppage looming, Graziano lands a huge right hand late in the fifth round but Zale escapes via the bell. Graziano followed up on his advantage at the beginning of the sixth, scoring the first knockdown of the fight. After Zale stumbles to his feet, Graziano attempts to pound Zale through the ropes with a barrage of punches. Referee Johnny Behr wisely stepped in to stop the fight with Zale glassy-eyed and unable to react to the attack. Graziano wrote of the second fight, "This was no boxing match. It was a war and if there wasn't a referee, one of the two of us would have wound up dead."
1. Marvin Hagler KO 3 Thomas Hearns (1985) -
The fight that proved two great fighters can squeeze 15 rounds of action into three stanzas. Round one alone was worth the price of admission and should rank as one of the greatest rounds ever put forth to a boxing public. What made Hearns, who was moving up from welterweight, think he could hurt Hagler is still a mystery. Sure, ego explains some of it but common sense and trainer Emanuel Steward argued against it. Yet, Hearns came out and threw punches with wild abandon and searing intensity. Hagler said it was not his plan to slug but the pace and pressure of Hearns forced Hagler to stand his ground. No matter, it made for greatness. A bad gash appeared on Hagler's forehead in the first round and Hearns broke two bones in his right hand. So, both men were hindered by injuries in the second round but it hardly seemed that way as they furiously tear into each other again. The second saw the shift, as Hagler connected with punches that had barely missed three minutes earlier. Hearns was still landing but because he was moving backward, it took steam off his accurate punches. The third and final round was frantic with Hagler chasing and Hearns surviving while trying to land a fight-changing blow. The punch came but it was out of Hagler's cannon and dropped Hearns flat on his back. The way Hearns' body went limp along the ropes convinced everyone the fight had been beaten out of him - but not greatness, as Hearns returned to give fans more thrills.
Please visit our Facebook fan page at www.facebook.com/MaxBoxing, where you can discuss our content with Maxboxing readers as well as chime in via our fully interactive article comments sections.