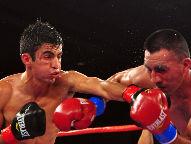 (Photo © German Villasenor)

By German Villasenor at ringside

In a bout more difficult than it may have been foreseen, the youngest fighter of the Morales clan, Ivan "Terrible II" Morales, 18-0 (12), won a very difficult decision against former world title challenger, battle-tested Luis "Titi" Maldonado in the Golden Boy Promotions/Ringside Ticket Inc. card at the Pechanga Resort and Casino in Temecula, California.
The lanky, southpaw Morales, fighting much in the same style as his more famous sibling, came out jabbing and landing straight lefts, easily taking the first couple of rounds. Maldonado would move in closer and get smacked for his efforts. A cut opened above Maldonado's left eye late in the second round, causing concern in his corner that the fight might be stopped by the state commission, due to the blood flow. It did not as Maldonado, a known bleeder, was allowed to fight on.

Maldonado, 36-10-1 (27), worked on the inside, turning into a lefty, taking away Morales' advantage. Banging away at Morales' body, Maldonado slowed him down as the rounds went by.
Morales stopped bending at the waist, nullifying his ability to set up the sneaky straight left set up by the snappy jab. Instead, Maldonado would charge in with punches in bunches, with Morales pulling back and moving around his opponent.
With some close rounds in the latter stages of the 10-round bout, the fight seemed too close for comfort. Maldonado pressured and took Morales against the ropes often, landing some clean shots. Morales would stop while backpedaling, land one or two shots (some which stopped Maldonado in his tracks) but instead of going for the finish on the cut-prone Maldonado, he would let him off the hook. Meanwhile, Morales' father/trainer implored his son to let his hands go in the last three rounds of the bout.
An accidental headbutt opened a cut over Morales' right eyelid, sending the fight to the scorecards in the 10th and final round. The judges' saw the fight 97-93 (twice) and 98-92, all for Morales.
In other results, featherweight Cesar Martinez, 4-1 (1), defeated Jorge Porras (in Porras' debut) in an all-out, four-round brawl, putting many main events to shame. A very tight fight which could have gone either way went Martinez's way via a baffling 40-36 on all cards.
Featherweight southpaw Julian "Camaron" Ramirez, 4-0 (3), blasted out Noel Mendoza, 6-2 (1), in the first round of a scheduled six-rounder, dropping him with a jab and a straight left. Ramirez followed up with a barrage of shots, prompting referee Eddie Hernandez to halt the bout at the 42-second mark of the round.
In a David vs. Goliath-style, heavyweight fight, Francisco Diaz, 3-6 (2), defeated the much bigger Daniel Gonzalez, 2-2 (1). Jumping in with shots on the bigger man and eluding quickly allowed Diaz to win via unanimous decision.
Super featherweight Juan Sandoval, 6-10-1 (3) defeated Aaron Acevedo, 2-1-1 (2), via unanimous decision in four.