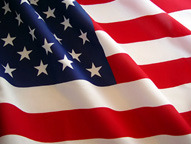 --


Last Saturday, a national television audience - on NBC for the first time in two decades no less – witnessed everything wrong with American heavyweights. In four rounds, European heavyweight prospect Vyacheslav Glazkov outboxed and made American prospect Tor Hamer quit by utilizing superior tactics, experience and skills. It used to be the other way around; Europeans needed to win in America to establish themselves as the best in the world. That is no longer the case and has many desperately seeking the great American heavyweight hope. Is there such a thing or should we just add American heavyweights to the extinct species list and be done with it?
Maybe the Sex Pistols were right back in 1977 when they venomously shouted their world view, "No future, no future, no future for you!" poignantly adding, "No future in England's dreaming." Thirty-five years later, you can replace the word "England" with "American heavyweights" to give voice to my assessment of America's young heavyweight pool. After taking a cursory look at America's up and coming talent, the Sex Pistol's angst filled anthem was the first response my mind conjured up. I tried. Oh how I tried to find positives that could turn this bleak forecast into a more palatable prognostication. Feigning positivity is not my strong suit and I steadfastly refuse to blow sunshine where it does not belong.

I dug deep to find positives to accentuate, finding some faint hopes for my patriotic passions. What I found at virtually every turn were stop signs instead of onramps. Perhaps, the real problem is this group left me with a sense that they lack flair and, other than two outliers, are bereft of an intimidating presence. Power is what American fight fans crave in their heavyweights and that may be why I am being more dour then I should be. Nevertheless, when comparing the skill level of European heavyweights to Americans, one is overwhelmed by the seeming chasm in talent.
Below is my list of the 10 most promising American prospects, with some restrictions like not having have had a title shot (so Chris Arreola and Steve Cunningham are out) or if they repeatedly proved that they lack class in a big fight atmosphere. Missing the cut were Jeremiah Graziano, Vincent Thompson and Fred Allen.
10. Alexander Flores, 10-0-1 (8) –
California-bred heavyweight only has 10 pro fights, but the 6'4" banger has eye-catching fluidity blended with crossover appeal thanks to Hispanic roots and good looks. A positive sign is that Flores managed to attracted Hall of Fame promoter and talent scout Roy Englebrecht, who signed him to a five-year contract. Englebrecht thinks he struck gold, "Alexander Flores has a million-dollar smile, the looks of a GQ model and the talent to bring new life into the heavyweight division." Unfortunately, like many other Americans, he does not have a lot of amateur experience, only registering a 14-2 stint in the unpaid ranks (came to boxing at age 15 to lose weight as 300-pound kid). Is by all accounts a quick learner and limited footage I viewed shows him balanced, aggressive and comfortable in the ring against admittedly weak opposition. Flores held his own sparring Chris Arreola and Hasim Rahman though, which is a very good sign. At age 22, this kid can go either way becoming California's next Max Baer or Alex Garcia.
9. Amir Mansour, 16-0 (12) –
I find this southpaw the most intriguing, based on natural power and hidden boxing dimensions unveiled dispensing of faded contender Dominick Guinn. Now the bad part: Mansour is 40 and did not fight at all in 2012 (jailed for parole violation and served eight years previously on drug possession charges) but is scheduled to return in January. Given his age, Mansour shows good stamina and a fantastic physique that simply defies Father Time. Has natural power in either hand and before Guinn victory, overwhelmed foes with raw aggression but showed he can slow his volume game and shoot for accuracy when needed against Guinn. At 6'1" is not a big heavyweight but does a passable Ernie Shaver's impression, boring into opponents behind a steady jab and thudding power shots to the body before going for the stoppage upstairs. If Mansour can retain his reflexes and continue to improve, he might possess the intangibles to overcome the superior boxing I.Q. and resources European heavyweights currently enjoy.
8. David Rodriguez, 36-0 (34) –
Texan sports an impressive record but it reeks of homecooking having yet to register a win over a talented foe on that glossy record. Is a fast starter, winning 24 fights by first round knockout and places shots well from various ranges, showing good boxing instincts. At 6'5" and a fit 240 pounds, is the right size to challenge for a title but at age 35, has exited his physical prime and will now have to rely on boxing ability. Does Rodriguez have the ring intellect to do so? Hard to say given weak opposition and he was recently hospitalized after being stabbed in the face and neck outside a nightclub. Aside from faded Owen Beck and Robert Davis, his record is filled with opposition that makes you question Rodriguez's quality instead of theirs. Boxed on and off since age seven but did not compete in any national amateur tourneys. Overall, I get the feeling Rodriguez does not have the right combination of zeal, speed or drive to challenge himself to get to the world stage in any form other than sacrificial lamb.
7. Seth Mitchell, 25-1-1 (19) –
I do not give up on fighters after one loss, especially one who said in his post-fight interview, "Don't feel sorry for me; feel sorry for my next opponent." At 6'2" with a rock-solid 240-pound body, Mitchell has the size and seems to possess an affinity for boxing, turning pro after only 10 amateur bouts. Faced a good selection of styles to ready him for the cerebral European boxers Americans need to stare down on the world stage. Mitchell has excellent hand speed but when the adrenaline kicks in, his punches can loop thus lessening their impact. Hall of Fame trainer Lou Duva made an insightful point about Mitchell, "When I found out that Seth has only been fighting competitively for eight months [at the time], I nearly hit the floor. No one develops that quickly unless he has God-given talents." Has the willpower and will get the opportunity to redeem himself in a rematch with Johnathon Banks. Still, a shaky chin and not growing up in the sport seems to have doomed Mitchell to could-have-been status.
6. Joe Hanks, 21-0 (14) –
Certainly has the looks of a heavyweight champion, with lithely sculpted 6'4," 240-pound body and braided hair reminiscent of Lennox Lewis. Is mobile as well as fast for a big man sporting obvious athletic gifts but like other Americans, did not concentrate on boxing until late. At age 29, is working hard to fine-tune his athleticism. Hanks has gained a fighter's mentality sparring champions with various boxing styles likes Wladimir Klitschko, Lamon Brewster and Chris Byrd. Also had some amateur success reaching the semifinals of the prestigious Golden Gloves competition but had only 25 amateur bouts in total. Possesses fast hands and unlike other men on this list, seems able to counter intelligently instead of only relying on offense alone to notch wins. If, as it looks in video footage, Hanks is able to successfully revert to a plan B when things do not go to his way, he has the blend of athleticism, work ethic and mental strength to legitimately challenge anyone in the world. To my eyes, America's best chance of breaking the current European heavyweight monopoly.
5. Johnathon Banks, 29-1-1 (19) –
One of the few American heavyweights immersed in boxing from an early age, soaking up knowledge in the gym from Hall of Fame trainer Emanuel Steward. Only loss was to Tomasz Adamek (yes, those damn Europeans again) but was boxing well and within a point on two scorecards when caught by a right hand he never saw. Otherwise, this undersized heavyweight has to work hard for knockouts synonymous with the Kronk brand. Established a stellar amateur résumé, winning the U.S. Nationals light heavyweight title three times but like in his pro career, faltered at the biggest hurdles not making the Olympic team. Rounded into a smallish heavyweight at 6′3″ with a 76-inch reach and evenly distributed weight, entering at around 220 pounds. One of those boxers who does everything well but nothing great and seems to lack a sense of urgency as if Banks is simply continuing his sparring sessions instead of fighting for a paycheck. A second win over Seth Mitchell would seem to set him up for a world title fight, though it is not likely to come against a Wladimir Klitschko he currently trains.
4. Malik Scott, 35-0 (12) –
The phrase "Sh*t or get off the pot" comes to mind when I think of Scott since the talent is there but he wastes it not fighting credible opponents in his 12 years as a pro to merit a title shot. Now age 32, Scott came back from a four-year layoff in 2012 to fight four times finally building some career momentum. Boxing since age 11, Scott was a talented amateur and had the tools and experience to become a title threat years ago if only he had been moved or motivated to do so. Philadelphian's career was caught in a rut, even though his lanky 6'4" frame finally matured into that of a real heavyweight in his 2012 return. A good boxer and intuitive counterpuncher, Scott would be a difficult matchup for any boxer on this list. Yes, Scott has a safety-first style that Americans do not appreciate but that seems to have worked for European heavyweights just fine, no?
3. Eddie Chambers, 36-3 (18) –
At age 30, we still don't know if Eddie Chambers will mature into a major force or become a footnote in an unexciting heavyweight era. Losses to championship-caliber foes and subsequent inactivity made the talented Chambers irrelevant before a close loss (in which he suffered a shoulder injury) to Tomasz Adamek brought him back to my attention. In fact, in every loss, Chambers had moments where I thought he was ready to turn the corner and take over the fight. Chambers beat quality opponents like Alexander Dimitrenko, Samuel Peter, Calvin Brock and Raphael Butler but also showed a lack of fire against elite foes Wladimir Klitschko and Alexander Povetkin. Surprised most in his second trip to Germany, handing undefeated prospect Alexander Dimitrenko his first loss. Weighing a then-career-low 208¼ pounds, Chambers landed clean punches, darting in and out, against a foe over 40 pounds heavier and controlled the fight throughout. At 6'1" with a 75-inch reach, Chambers is a small heavyweight, making up for it with intelligent movement and timely combination punching. So, which is the real Chambers? He still confuses me, which is why he makes the list without topping it.
2. Deontay Wilder, 26-0 (26) –
Olympic bronze medalist has the size - 6'7" and 225 pounds - athletic ability, and has been talking a good game in interviews after blitzing overmatched foes. However, this gets repetitive for me as well, Wilder came to boxing late and probably lacks the muscle memory and boxing intellect to push a real champion. I say "probably" because Wilder's opposition has been pathetic when compared with what European heavyweights face in the same time span to ready themselves. To his credit, Wilder has been sparring European champions and contenders to gain insight on them and improve himself by studying their techniques. Wilder has a lithe physique that is still filling out but will be taught to make the most of that by trainer Mark Breland (who sported a similar build for a welterweight). The fact that Deontay was signed by Golden Boy Promotions speaks to his potential and he possesses a long straight right hand that can stop anyone when it lands flush. Does Wilder have the offensive sharpness or ability to switch to another weapon if the right fails him or the chin to stand up to elite talents? Unfortunately, for American boxing fans, because of Wilder's poor opposition, there are more questions than answers about him.
1. Bryant Jennings, 16-0 (8) –
American fans have seen Jennings grow up and mature on TV, fighting and winning five times in 2012 against increasingly difficult opposition. Has been rightly lauded for this streak with Freddie Roach calling him America's best heavyweight. The likeable Philly fighter has the work ethic and mentality to succeed at every level. An athletic boxer who has taken an all-too-familiar route to our sport for American heavyweights, not entering a ring until age 23, concentrating on basketball, football and track before trying boxing. To this point, Jennings has successfully reassigned his athletic ability to boxing, reaching the finals of the national PAL (losing to American Olympic representative Lenroy Thompson) and US Golden Gloves competitions. At 6' 2" with an 84-inch reach and 220 pounds, Jennings is not a big heavyweight, relying on footwork and timing rather than punching. A lot of Jennings' success is predicated on movement but everything still seems a bit reactionary instead of exploitive of his physical skills. Jennings is a mature 27 but only four years of boxing experience gives pause as to what will happen when he faces adversity for the first time. Reflexes are great but he loses sight of opponents at times with high guard and quick lateral movement. I do like that when Jennings gets hit solidly; he tries to counter immediately and take the play away from an opponent. Nickname of "Bye-Bye" is not for 50% kayo ratio but Jennings can pull away on the scorecards quickly with fast starts. A quality prospect that fights to his strengths, Jennings is America's best hope in part because he is what the American success story is all about…an underdog who beats the odds to win!
Please visit our Facebook fan page at www.facebook.com/MaxBoxing, where you can discuss our content with Maxboxing readers as well as chime in via our fully interactive article comments sections.