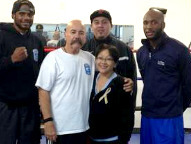 Team Mom (Photo © K9 Photos)


When you join Garcia Boxing, you're not just getting a trainer or a manager; you're getting a family. Because while they may not dole out signing bonuses or a monthly salary to the fighters they work with, what they do provide is a roof to live under, three square meals and more importantly to some, structure and stability. Max and Kathy Garcia bring a human touch to an often cold and impersonal business.
But yeah, every fighter they work with becomes another Garcia.
"Yes, they do," said Kathy with a chuckle. "They have to because they live with me."
She points out, "We don't sign fighters. The only fighter that we ever signed is Eloy Perez and that's because he ended up signing with Golden Boy [Promotions] and I just wanted to protect Max's rights as a coach." The first fighter they ever got intimately involved with was former welterweight fringe contender Jose Celaya, who was coached by her husband. Seemingly out of nowhere, they were in the boxing business. "Well, it wasn't my choice; it was Max's," she says laughing.

She noticed there was an inordinate amount of money spent on travel, lodging and other miscellaneous expenditures in regard to sending Celaya to amateur tournaments. It was at that point when Kathy began getting involved in setting the itinerary and budgets.
"But he didn't live with us but we still did a lot for him. After that, the fighters that started coming to work with us, the only way we could afford to help them was if they lived with us. I don't give stipends and things like that," said Garcia, who has a four-bedroom home in Salinas, California.
One of their current boxers is Paul Mendez, who fights tonight in Redwood City versus Louis Rose as part of the "Golden Boy Live" broadcast on Fox Sports 1 (10 p.m., ET) who flat-out states, "She is my second mom. She literally is."
Mendez, a middleweight hopeful with a mark of 14-2-1 (6), says he first met the Max and his son, Sam while in Oxnard as they brought in sparring for Mikey Garcia. "But then I ran into them when I fought on a card against James Parison [in September of 2011] here in Salinas on Eloy's undercard. I talked to them and I was with Virgil Hunter at the time but I really didn't have management, so it was very difficult. So I lost a split decision that fight and then Sam contacted me, asking me if I wanted to think about coming down and train with them," he recalled.
"I called a few people asking about them. I heard nothing but great things. I took a risk and just left, quit my job and came here," said Mendez, who pointed out, "I was making very good money as a personal trainer at a high-end gym up in Walnut Creek and it wasn't about the money for me. I asked them, 'Could you get me here?' and I looked at their results. [Kathy]'s gotten everyone that she's managed pretty much there to a title shot, giving them that opportunity. They've gotten there but they made their own mistakes and they couldn't pull the trigger."
Being a personal trainer could wait. Boxing dreams aren't deferred for anybody.
"For me, it's about winning a world title. It's not about the finances or anything like that. So she said she'll provide everything and give me the opportunity just to focus on fighting and to get me to that title shot," said Mendez. "I took it. It was a very difficult decision at the time. It's what I want to do and I'm chasing my dreams here."
For the Garcias, boxing isn't a business. Long before they got into this racket, they had other professions that allowed them to buy their home and raise their two children. Along with Max, they also have a daughter, Melissa.
"It wasn't ever anything about making money. It was just about helping them do something that they dreamed of doing that they couldn't afford to do unless they had somebody help them and the only way we could afford to work with boxers is if they lived with us," she says. Kathy makes it clear, "I'm a team mom. Managing, I don't ever call myself a manager. I care about every aspect of their lives. Boxing is secondary for me when it comes to them. I want them to be happy. I want them to be safe in the ring."
The house rules are pretty basic. The fighters like Mendez have only one chore: keeping their rooms clean. "They don't even take out the trash," said Garcia, who cooks all their meals.
There's an old rule in boxing: Don't fall in love with your fighters because eventually, they will break your heart. The Garcias experienced that with Perez, who they took to a title shot against WBO 130-pound beltholder Adrien Broner. In the aftermath of that loss, Perez tested positive for cocaine. Perez was immediately released from his contract. To them, using was a personal betrayal and against every tenet they held.
Garcia explained, "Because first of all, it's all about safety in the ring. That's the most important thing to us - safety in the ring and I actually promise their parents that. Boxing is so difficult to be in and it's dangerous and all I can promise the parents is that we will do our best to keep their sons safe but they have to train hard in order to do that. They have to do their end of the deal as well to remain safe. And sometimes even that obviously isn't enough."
Perez lived with the family for three-and-a-half years and moved out once he got married. It was then when their influence on him began to wane, according to Garcia.
Kathy recites the code of the late, great Don Familton (who worked with the family and trained their boxers), "We want our fighters well going into the ring and at the end of their careers. We want them to leave boxing the same way."
When asked if the experience with Perez hardened her in any way, she explained, "I'm not as close to the fighters as I used to be but that has nothing to do with Eloy as much as I have two grandkids now. So that takes a lot of my attention." Make no doubt about it, though; she's still very much involved. "I'm actually more demanding of them to take more charge of their own responsibility for themselves."
Mendez enjoys the built-in support system the Garcia household provides.
"It's very good. I'm never alone here. Like right now, I'm in the room. I'm sitting. We just had dinner," he said last Thursday evening. "Boxing is a lonely sport in itself but I always have a family. There's always a family around. I live here in the house with [Kathy] and her family and it's a very open house. Everybody just walks in and comes out, so there's always people here. I'm never really alone. It's great to always have somebody to talk to. She honestly cares about us, about her fighters, so does Max and me and Sam have more of a brother connection, so it's very good. I love it here."
To say boxing is a hobby for the Garcias wouldn't be fair. Hobbies don't take so much time, effort or personal investment. For them, it's a passion with an underlying desire to help others.
"Boxing is not lucrative for us, OK? But what it does is it fulfills us in a different way. We feel that we are building our account upstairs by helping somebody and this is where we choose to help people," she says. Currently, Garcia Boxing handles the careers of Mendez and Darwin Pryce (the cousin of Preston Freeman, who was under their guidance but was slain earlier this year in St. Louis).
"We help people in the community other than boxing but boxing is where we see these kids with these crazy dreams of being world champions. How many make it? One percent? Maybe less than that but they're going to do it anyways. So why not help them keep safe in the ring?"

SHOWTIME

Sometimes it helps to have low expectations and that was certainly the case with this past weekend's tripleheader on Showtime from Atlantic City. No, it wasn't the most memorable card you'll ever see but it was fairly entertaining.

Deontay Wilder did the expected by knocking out the game but limited Nicolai Firtha in four rounds. Wilder has a right hand; no doubt about it. We still don't know about just how well-rounded he is. With his rather limited amateur experience, you get the sense his handlers would like to move at a measured pace.

The WBO middleweight contest between champion Peter Quillin and Gabe Rosado looked to be really tightening up and Rosado looked to have the late-round momentum. However, the fight was stopped as he suffered a major cut over his left eye. Quillin started well but it was Rosado's steady pressure and persistence that started to make things a bit uncomfortable for "Kid Chocolate."

But it turns out the judges didn't think much of Rosado's efforts. The scorecards read 90-80, 87-83 and 89-81 at the time of the stoppage.

The night's main event turned out to be an oddly amusing affair that saw Bernard Hopkins and Karo Murat take turns bending the rules and taking cheap shots at each other. It also featured a more active version of Hopkins, who, at times, opened up more offensively than he has in years. At age 48, "Ol' Man River" keeps flowing and winning.

CHANGE-UP

I plan on having more on this but it was announced on Saturday that Showtime and Golden Boy decided to scrap their November 30th card. They'll finish the year with a quadruple-header from the Barclays Center in Brooklyn on December 7th with the following line-up:

Zab Judah vs. Paulie Malignaggi
Devon Alexander vs. Shawn Porter
Austin Trout vs. Erislandy Lara
Sakio Bika vs. Anthony Dirrell

Then a five-fight feature from the Alamodome in San Antonio, Texas (which by the way, will not be a pay-per-view card) on December 14th will look like this:

Adrien Broner vs. Marcos Maidana
Leo Santa Cruz vs. Cesar Seda
Keith Thurman vs. Jesus Soto Karass
Beibut Shumenov vs. Tamas Kovacs
Victor Ortiz vs. Alfonso Gomez

FINAL FLURRIES

I thought the most recent edition of "The Fight Game with Jim Lampley" had pretty good pacing but I found it a bit problematic that its content seemed very HBO-centric...Did you agree or disagree with the stoppage of Rosado? I can see the case for letting it go and stopping it...Here's my commentary on the death of Franky Leal for SportsOnEarth.com: http://www.sportsonearth.com/article/63283528/...Miami is a 21-point 'dog to FSU. Honestly, based on recent results, I can't necessarily disagree.....Right now, Johnny Football is my Heisman Trophy leader. This guy is unreal...Is it basketball season already?...I can be reached at k9kim@yahoo.com and I tweet at www.twitter.com/stevemaxboxing. We also have a Facebook fan page at www.facebook.com/MaxBoxing, where you can discuss our content with Maxboxing readers as well as chime in via our fully interactive article comments sections.