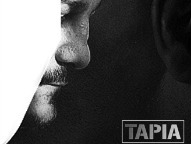 "Tapia"


You'd have to search high and low to find a more mercurial and beloved figure in boxing than the late Johnny "The Baby-Faced Assassin" Tapia. The beloved Albuquerque, NM fighter is the subject of a new documentary directed by Eddie Alcazar. The film is executive produced by 50 Cent's G-Unit Film and Television and Lou DiBella's BK Blu Productions along with Synthetic Creatures, Alcazar and Andrea Monier in association with Eric Drath's Live Star Entertainment. "Tapia" premiered at this year's L.A. Film Festival.
Johnny Tapia was a five-time world champion boxer whose life was encapsulated by the Spanish phrase he wore on his trunks: "Mi Vida Loca" ("My Crazy Life"). Inner torment, ring brilliance and drug addiction, the lowest of lows and the highest of highs, this was Johnny Tapia's life. The film, like its subject, is raw and moving, flawed and wonderful.

Tapia's tragic and triumphant story is made all the more poignant because he is the one telling it. In interviews conducted by Alcazar and shot by cinematographer by Matthias Koenigswieser, Tapia appears in a shadowy ring wearing his trunks, telling his story in heartbreaking detail. If Johnny Tapia was anything, he was open about his faults and failures, his dreams and heartaches. Alcazar and Tapia pulled no punches here.
You couldn't possibly make this story up. If you are a boxing fan, you know Tapia's Job-like story. But the crowd at the L.A. Film festival was a mixture of fans and film folks. Just when they thought Tapia's story was about just another ex-boxer, he'd hit them with a devastating punch they didn't see coming. As with Johnny Tapia's drug addiction and multiple rehabilitations, just when they thought he hit bottom, he would fall out and sink a little deeper.
As a boy, Tapia was told his father had been murdered when his mother was pregnant with him. When he was eight, Johnny's mother was raped and murdered. The cold precision with which he says, in his quiet voice, "She was stabbed 22 times with an icepick" is chilling and wrenching. While in the ring, Tapia was a violent whirling dervish, attacking from angles as original as the man using them; he was a champion in complete control. But all you needed to know about the man was how much hurt was held by the little boy inside, who missed his mother every day she was gone. It was so clearly revealed in his voice and in his eyes. Delicate and soft but not low in volume, Tapia fearlessly peels back layer after layer of a life of pain but one certainly worth living.
The death of his mother fueled Johnny and in footage of his early amateur days, it's clear there is a special engine driving the young fighter forward. The ring seemed to be the only place where he could positively unleash the roiling anguish inside him. The archive footage in the film is wonderful. It shows a fighter's journey from the amateur days as a true original was finding himself. There's some classic stuff from Mike Tyson, who describes his immediate affinity for Johnny upon meeting him in a tournament.
If the death of his mother fueled him, the love for his wife, Teresa, is what kept Johnny alive throughout every trial and tribulation. Every overdose, every time he died and was revived, Teresa held it down and stayed loyal to him until the end. To Alcazar's credit, he appropriately gives her screen time to tell her story.
Alcazar takes us through Johnny's life with friends and family interviews intercut with fight footage from his early days to his HBO and Showtime championship boxing period to one of his last fights, shot on home video. I won't spoil all the twists and turns for the uninitiated. Suffice to say, the footage in totality perfectly shows the arc of the self-destructive fighter's career. It's also interesting to track the fighter's growing number of tattoos throughout his journey.
"Tapia" is edited by director Alcazar and Jacob Kindberg. It could be paced faster in spots. Wonderfully scored by Kurt Oldman, there is a tendency to linger in cutaways of Tapia in the gym scenes, as he contemplates his past. For me, it felt like layers of depressing on top of depressing. His life is heavy already. Some of the fight footage is shown with what looked like that static line across the TV screen like the tracking on your VCR is off. That took me out of the film as I wondered if it was intentional. For me, if that particular quirk was for some sort of effect, it distracted from the fight at hand.
But despite those style criticisms, there are moments of brilliance here. Alcazar captures Tapia, weeks before his sudden passing of heart failure, in all his honest glory. The fighter sitting in the gym, reflecting on his younger self, watching himself win big fights and commenting is priceless. Not everyone gets to look back and see themselves at their very best. The happiness on Tapia's face at each victory is worth every second of the film.
In the ring and out, Johnny Tapia was a true original. To hear his soft voice, see the kind-yet-pained eyes reflect throughout this film on a life ill- and well-spent, will be an emotional experience worth having for anyone.
Please visit our Facebook fan page at www.facebook.com/MaxBoxing, where you can discuss our content with Maxboxing readers as well as chime in via our fully interactive article comments sections.