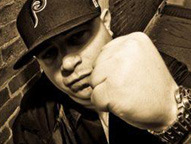 Vinnie Paz

Special to Maxboxing by Vinnie Paz

Every time I feel like I'm getting into some sort of rhythm with my articles, my life gets upended by a little thing I call my career. It's been over a year since I've had the pleasure of talking the "Sweet Science" with you guys and that's just too long. Let's get back to business; shall we? My job here isn't to discuss the

minutiae

of the game. I leave that to Steve Kim and Gabriel Montoya. I just try to bring some clarity to a casual fan of the sport or a casual fan of my music. This sport saved my life and I'm a better person because of it. That said, let's talk boxing.
- In another brilliant move, Bob Arum has continued his passive-aggressive grudge against Oscar De la Hoya and will force us to choose between watching Saul "Canelo" Alvarez vs. Josesito Lopez and Sergio Martinez vs. Julio Cesar Chavez Jr. on September 15th. One is broadcast on Showtime, the other on pay-per-view. The 22nd and 29th are/were open. This is Arum puffing his chest and saying, "Remember, I made you a star."

- On to the actual fights: I'm clearly in the minority as I think both of these fights are one-sided drubbings. Allow me to elaborate: Lopez fought at 131½ pounds in his pro debut. Two fights later, he lost to Rodrigo Lopez, who hasn't been heard from since 2005. Three years later, in a close fight at 135, he lost to Wes Ferguson. In April of 2008, Lopez moves up to 140 and loses to Edgar Santana. These are all robberies; I suppose? Lopez then loses to Jessie Vargas at 140 last year. OK, OK, I'm a hater; right? Let's think about this for a second. Lopez's camp will tell you he got robbed in all four losses. Let's humor them and say he did get robbed. All four of those dudes are pedestrian at best. Homeboy beat Victor Ortiz, a known quitter with a suspect heart. Fans also conveniently forget that Victoria was trashing Josesito prior to quitting. But now, Lopez gets a shot at "Cinnamon." Good for him; he's a good kid and trains hard. I don't have a problem with that. I do have a problem with the fact that fans are giving him a chance, giving him a false sense of security. Lopez can't win. No chance. Zero. Nobody will listen to me so I'm going to say it here at Maxboxing...Lopez is going to get hurt - seriously hurt. I can feel it. I'm not even a big "Canelo" fan; that's irrelevant. If Tommy Hearns fought Michael Carbajal, I'd be f**king scared. Nobody is scared; that means one of two things: fans don't care about the fight or fans don't respect life. Hopefully, Josesito's corner will do the right thing. When I spoke to his manager, he got angry with me and said, "Just wait and see." I pray I don't see a massacre.
- Speaking of a massacre, you dudes who think Julio Cesar Chavez Jr. has a chance against Sergio Martinez either work for Bob Arum or smoke crack. Martinez lost to a young, hungry, predator named Antonio Margarito. 12 years ago. In his 18th fight. A few years later, he learned how to fight. His other loss was to Paul Williams in Atlantic City. I was in the front row. Martinez won that fight and we all know what happened in the rematch. Chavez Jr., a born fighter with a legendary bloodline, was having trouble with Carlos Molina and Matt Vanda. Speed? Sergio. Footwork? Sergio. Power? You may think they're even but "Maravilla" can crack with both hands and Junior never melted someone the way Martinez did Williams. I'll be shocked if Chavez gets out of the seventh round. "Canelo"-Martinez will be interesting. I'm getting ahead of myself though. This weekend, we have a tripleheader on HBO in which two of the three bouts should be intriguing albeit in different ways. Vitali Klitschko vs. Manuel Charr shouldn't even be aired in state prison. Antonio DeMarco vs. John Molina couldn't be more different from the Klitschko fight. This has "bloodbath" written all over it. Neither fighter is shy but DeMarco has the superior skill set. He'd be well suited to stand on the outside, triple up the jab, throw the straight left and bang the body. Just be a southpaw. But like all real warriors, the best laid plans are laid to waste. When Molina lands something meaningful, DeMarco's chemical makeup will tell him to go war. I think Antonio DeMarco wins by late stoppage in an entertaining little fight. And hopefully, Adrien "Big Mouth" Broner is next for DeMarco, though unlikely.
- The main event? Andre Ward vs. Chad Dawson. Many pundits, including myself, didn't know how to feel when this fight was made. Two top 10 pound-for-pound guys fighting each other can never be bad, right? Remember De la Hoya vs. Felix Trinidad? The only entertaining aspect was the robbery. Jermain Taylor vs. Bernard Hopkins (take your pick as to which one) was as exciting as an Ambien. In Ward vs. Dawson, you have two fighters who have amazing skill sets. Fast hands. Youth. Footwork. Big fight experience. But do either of them have "it"? That's the question. Love them or hate them, Mike Tyson, Oscar, Muhammad Ali, Michael Carbajal, Vinny Pazienza, Fernando Vargas, Sugar Ray Robinson, Jake LaMotta - I could go on and on - they had "it," the "X-Factor." They had the intangibles, those inexplicable qualities that made you jump off of your couch when they won and cry when they lost. That's power, not an undefeated record. I've never seen either fighter show me that they want to inflict pain. I've never seen the serial killer eyes of Kostya Tszyu in either of them. Does that make me a sicko for wanting that? Probably. It also makes

me

very intuitive. I'm rarely wrong about the type of heart a fighter has in his chest. If Chad Dawson would sit down on his punches, he'd probably be the fourth best fighter in the world. His reluctance to move his hands baffles me. Hopefully, Dawson's trainer, the gritty John Scully, can change that.
As far as Ward? What can I say? He's a talented kid and a gentleman. He does everything expected of him and more. And ya know what? I'd still rather watch my Arturo Gatti DVDs. To top off the fact that I find the kid boring, The Ring magazine called him "the next Sugar Ray Leonard"! I think I sh*t myself and threw up at the same time. Mind-boggling. Will this fight be James Toney vs. Prince Charles Williams? No, but I have a sneaking suspicion that it won't be as boring as I initially thought. I'll settle for a Pernell "Sweet Pea" Whitaker vs. De la Hoya type fight. My prediction? I'm rooting for "Bad Chad" as I have some good friends close to his camp but I don't think he has the intestinal fortitude to do what he needs to do for 12 rounds. Nor does he have the mental stamina. Dawson breaks down. He did it with Pascal and unfortunately, he'll do it again. Hopefully, he proves me wrong.
Well, that's it for now. Have a great weekend and enjoy the fights with the people you love. As always, thanks for reading the rants of a fellow boxing nerd. If you hated my little article, please send all hate mail to Steve "K9" Kim at

k9kim@yahoo.com. If you enjoyed it, please send all love, money and pornography to me, Vinnie Paz at icon61@comcast.net.
Vinnie Paz's new album, "God of the Serengeti," is available October 22, 2012.
Pazzy's Pound for Pound List


1. Sergio Martinez
2. Floyd Mayweather
3. Manny Pacquiao
4. Nonito Donaire
5. Guillermo Rigondeaux
6. Takashi Uchiyama


7. Juan Manuel Marquez
8. Anselmo Moreno
9. Steve "K9" Kim
10. Andre Ward
Please visit our Facebook fan page at www.facebook.com/MaxBoxing, where you can discuss our content with Maxboxing readers as well as chime in via our fully interactive article comments sections.