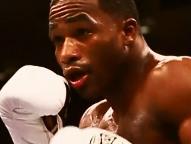 Adrien Broner


Andre Ward
is one of the better fighters in the sport. This statement - in a sport filled with so much debate and rancor - is undeniable. He's as tactically intelligent as any current boxer this side of one Floyd Joy Mayweather Jr. And you can make the argument that nobody in the game knows how to win a fight one round at a time better than "S.O.G." It may be years before anyone beats him in the squared circle.
So why is it that I'm a much bigger fan of Adrien Broner?
Ward is a guy I can respect. Broner, who headlines on HBO this weekend from Atlantic City against Gavin Rees, is the one I appreciate and would actually pay money to see live (and yeah, this statement will probably drive the pound-for-pound mafia nuts).

Yeah, I know; I know but I can't help but he amused by "The Problem" child for some reason.
You don't have to tell me who's more accomplished; that's not even arguable. Ward has fended off the likes of Carl Froch, Arthur Abraham, Mikkel Kessler (in capturing the "Super Six" honors) and then dispatched the weight-drained Chad Dawson in dominant fashion. Meanwhile, Broner, mainly on the strength of being on the Al Haymon scholarship, has faced a litany of no-hopers like Jason Litzau and Martin Rodriguez on HBO and, unlike Ward, hasn't cleaned out any division, much less been in a strong weight class in his career thus far. Based on résumés, this is a landslide of Ronald Reagan-Walter Mondale proportions.
You know there is a certain authenticity with Ward as a fighter. Broner, on many levels, is still a mystery and an unknown but you want to see more of this guy and see where he takes his career.
Contrasting the two personalities, Ward is a family man, happily married and a devoted father and husband. If there was a boxing version of the Huxtables, this nuclear family from Oakland would be it. As for Broner, uh, yeah, well, he's more Shawn Kemp or Antonio Cromartie. And while Ward has been a model citizen, Broner, well...he's caught a few cases during his days as an incorrigible youth in Cincinnati. Ward is that guy who sat up front in class and took copious notes, regularly making the honor roll. Broner is that class clown who made you laugh and cut class often. Fathers, tell me: Who would you want showing up at your front door to take out your daughter?
There's no question who should be the face of boxing moving forward; right?
But here's the thing: Ward, for all his talent, his fights aren't exactly, you know…exciting. In fact, they can be downright boring at times with his incessant clutching and his defensive posturing. And yeah, as another noted individual based out of Oaktown, Al Davis, once said, "Just win, baby," at the end of the day, in boxing, style points matter. Ward is highly effective but, for some, it's not all that interesting to watch. It's an acquired taste and while some may think it's like fine wine, many others believe it's like swallowing castor oil. Broner, on the other hand, is the ultimate showman. Yeah, some might accuse him of being "Mayweather-Lite" but it says here, it's presented without any of the surliness that has accompanied the shtick of Floyd. There's an outrageousness to him that almost borders on self-parody or a skit on "Chappelle's Show" but you get the sense he wants you in on the joke. And unlike Ward, Broner actually wants to entertain the masses. Ward actually seems to take pride in being as safe a fighter as possible (which is certainly his right) but then takes umbrage at anyone who doesn't fully appreciate his pugilistic art form.
Ward is that guy with the solid, mid-range jumper, who plays fundamentally sound at all times. Broner's the one with the flashy game, whose double-pump, two-handed dunks regularly bring the crowd to their feet. Yet they are both averaging 25 points a game when it's all said and done.
Some prefer Tim Duncan, others Shaquille O'Neal.
It's all a matter of preference.
And say what you want about Broner but he doesn't put on any airs. He is who he is. Yeah, he can be bizarre (just check his Twitter feed, @AdrienBroner, but do it at your own risk, especially when he's having problems with his lady or on the can) but he isn't a phony. Ward, quite frankly, can come off as contrived and preachy. Give me the latter. When he's actually accessible, Broner can be a reporter's dream. He gives you "stuff" (as we like to say) and he doesn't actually seem to take himself all that seriously. Ward, on the other hand…well, image is everything to him and his canned clichés are spoken in rote.
Moving forward, it will be interesting to see their career arcs and how high their respective popularity ranges. Ward is 28 years old, right in the thick of his physical and earning prime but there's an alarming trend with him: he seems to get injured a lot. As of right now, it's not clear when he will return to the ring after his recent shoulder surgery. On the other hand, Broner, still just 23 years of age, has been as active as any current world-class fighter in recent years. This weekend will mark his eighth bout since the beginning of 2011. Both represent the future of this sport post-Manny Pacquiao/Floyd Mayweather and HBO has clearly made Ward a part of its immediate present and an integral part of its future. Broner is on the verge of inking an exclusive, multi-fight deal with the network, unprecedented in terms of the activity it will afford him in a relatively short amount of time. But one obstacle is, right now, there aren't a lot of quality dance partners at 135 as Kevin Iole of Yahoo! Sports pointed out (http://sports.yahoo.com/news/boxing--adrien-broner-s-biggest--problem---quality-opponents-055436388.html). Yeah, to paraphrase Rick Pitino (again), Shane Mosley, Stevie Johnston and Jose Luis Castillo aren't walking through that door. You get the sense that he won't truly be challenged till he moves up to 140. The opposite may hold true for Ward, whose greatest challengers may already be in his rear-view mirror at super middleweight.
They are both similar in certain respects (natural boxing talent being one) but also diametrically opposed in so many ways. There's nothing that says you can't like and admire both.
But if liking Broner more than Ward is wrong, then I don't wanna be right.
HBO announced the bout between Sakio Bika and Nikola Sjekloca will be the opening bout before Broner-Rees this Saturday night (10:30 p.m., ET/PT)...My friend, JP, who checks boxing odds for "entertainment purposes only," says Broner is a 40-1 favorite. Can Rees channel his inner Buster Douglas?...Showtime announced that the bout between J'Leon Love and Derrick Findley will now lead off their February 23rd telecast from Detroit. This is what happens when you get so many postponements, which have severely crippled the first half of the boxing schedule for 2013...Tomasz Adamek announced he will not be facing Kubrat Pulev in their scheduled IBF heavyweight eliminator. He basically admitted he can get more money for easier bouts in his homeland of Poland...Radio City Music Hall in New York has officially been nailed down as the site for the April 13th bout between Nonito Donaire and Guillermo Rigondeaux...LeBron James is playing at a level that is unprecedented..."Nashville" really is my favorite show right now. I know; I know. I can't help it
…
I can be reached at k9kim@yahoo.com and I tweet at www.twitter.com/stevemaxboxing. We also have a Facebook fan page at www.facebook.com/MaxBoxing, where you can discuss our content with Maxboxing readers as well as chime in via our fully interactive article comments sections.