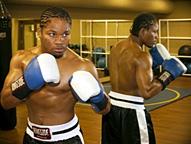 Shawn Porter


A multiplicity of influences and chance combine to shape the careers of boxers currently serving their tours of duty on ESPN2's "Friday Night Fights." On FNF's 2011 debut, Ruslan Provodnikov was upset by Mauricio Herrera, losing a unanimous decision to the defiant Californian in a back-and-forth affair. It's a result that asks questions of other boxers featured on the network and the probability of their graduating to lucrative bouts on Showtime, HBO, or pay-per-view. Boxers such as Guillermo Rigondeaux and Tavoris Cloud have recently moved on to big money fights. Other ESPN mainstays like Delvin Rodriguez or the Peterson brothers seem unable to make the leap successfully. Theses boxers' futures are not solely dependent on ability, as quality opponents are required to test prospects on premium TV. Regrettably for TV networks, correctly selecting those who can move on is not an exact science.

There are different levels of stardom, with boxing's headliners commanding monies only PPV is capable of providing. Just below HBO's "World Championship Boxing" and "Showtime Championship Boxing" series operate on comparative levels, HBO's "Boxing After Dark follows." Just beneath ESPN2's "Friday Night Fights," FOX Sports/Espanol, Telemundo (once or twice a month), and Showtime's fantastic "ShoBox" series battle on equal terms. The bottom rung is FOX's Club Nokia "Fight Night Club" series, featuring novice pros matched to win. The once prominent Telefutura boxing series has devolved into the second stage of a Golden Boy prospects television exposure, matriculating there after serving an apprenticeship on the Nokia series. The exception is when Telefutura broadcasts from Argentina; the level of boxers is elevated to legitimate prospects and potential contenders.

I limited the ten boxers on this list to those in the developmental stages of their careers. Fighters like Ji Hoon Kim, Delvin Rodriguez, and Chris Arreola, who have already had title shots, were not considered. Some on the list like Erislandy Lara and Fernando Guerrero appear on other boxing telecasts but not consistently on a level above FNF. Though, it must be said that prospects are matched tougher and usually with similarly youthful rivals in the "ShoBox" series. The ten boxers below are not ranked or rated in any manner such as excitement or age, and are listed alphabetically.

Yordanis Despaigne – Another in the seemingly endless line of talented Cuban amateurs (which they produce as much as great cigars) who have defected to America seeking freedom and riches in America. Has not competed in ten pro fights yet (8-0, 4 KOs) but already logged two ten-round victories on FNF's airwaves. In his next fight on ESPN, faces fellow hot prospect Ismayl Syllakh in a fight worthy of a "Boxing After Dark" undercard slot or, at minimum, a "ShoBox" main event. That fight will expose one of these two's inability to reach the next level and Despaigne is in more of a hurry to graduate, since he turns 31 next month. If the fight is a close, back-and-forth war, which, given the quality of both boxers, is a distinct possibility, it could still elevate both men and afford them a second chance. Despaigne is not in the mold of many Cubans we have seen, preferring to launch big punches and lean into his shots instead of artistically slicing up opponents. He lacks the big punch and speed to hang with the big boys at light heavyweight and will plateau as an ESPN and "ShoBox" headliner.

Danny Garcia – One of Golden Boy Promotions' few East Coast signings, Garcia is making impressive progress and fighting more regularly than most prospects. Has a knack of delivering his best work when TV's spotlight shines on him, as if the cameras give him an extra boost of adrenaline, which is something I look for in a 22-year-old like Garcia. Boxing skills were instilled at the amateur level, a 107-13 record, winning a National Golden Gloves title and topping out as an Olympic alternate. Growing up in the tough Philly gym system will serve him as well, if not better, in the pros as did his time with the national amateur team. Garcia has really quick hands and his feet keep him in continual contact with the target. I would not qualify Garcia as a strong puncher but his punches land with sudden authority and make a solid popping sound. Had a closer than expected fight with Ashley Theophane, a split decision, but showed his resilience and an impressive late surge to seal a win. A deep welterweight division will delay a title push but Garcia is above "ShoBox" and nearly HBO "Boxing After Dark"-ready. For this year, it is more ESPN main event-level and I have my doubts about Garcia at the Showtime and HBO championship series level. Can't put my finger on it but something is missing along the lines of the Peterson brothers where they find ways to lose in spite their talent.

Miguel "Mikey" Garcia – One of my two or three favorite prospects in all boxing; the kid has the "It" factor for HBO and PPV features that I could not define in Danny Garcia. One of boxing's many overlooked, feel-good stories, Garcia is a dedicated boxer in the ring who graduated from the Ventura County Police Academy. The Oxnard product has lived the game; his brother Garcia is an emerging world-class trainer and former champion and seems to have innate sense of the ring. Was 58-7 as an amateur, despite using the bouts to further his pro potential and style instead of hunting for national tourney successes. Displayed a ton of maturity in outboxing former title challenger Walter Estrada, despite breaking a finger early in that fight, and stopped 12 of his last 14 opponents. Garcia is still developing a ring persona but has shown the ability and diversity to beat opponents with speed, power, or movement. Just as importantly, dispatched of a variety of styles from slugger Tomas Villa to mover Cornelius Lock and an in-betweener like Olivier Lontchi. Is still only 23 but I rate him top ten in a supremely talented division with the likes of Juan Manuel Lopez, Yuriorkis Gamboa, Chris John, and Elio Rojas. It certainly is unlikely that Garcia could beat any of those four this year but I would not rule it out either. Given the division and his potential, I see Garcia as an HBO "World Championship Boxing" performer next year and PPV-worthy down the road.

Fernando Guerrero – Fun Maryland-based brawler, by way of the Dominican Republic, has built a fan base which creates fight night atmosphere reminiscent of Ricky Hatton fights. Has a very good amateur background (beat Shawn Porter once), boxing 140 times, and began to fight in his early teens, emulating his hero Felix Trinidad. Has not disappointed as a pro, knocking out 16 of 20 opponents, using an imposing physique to push opponents around the ring and enjoys the advantages of a southpaw. Is marketed as a kayo artist but Guerrero lacks that extra nanosecond of speed to make his punches more impactful. A bit like Arthur Abraham in that sense but reliant on volume vice power. Has fought at super middleweight and middleweight but is suited for middleweight, where his physical dimensions are just right. Guerrero seems to possess the right mix of personal and ring ingredients to move beyond "ShoBox" and into Showtime's championship telecasts. Is not ready for HBO gigs against Dmitry Pirog or Sergio Martinez and I don't think he ever will be given a base style that lacks variety.

Erislandy Lara – I like to say of the busy Lara that he appears on TV more often than beer commercials. Fought on Telefutura on Friday, stopping Delray Raines in one, and even made an appearance on a PPV undercard as a reward for quality sparring sessions against Ricky Hatton. Willingness to take chances has given Lara exposure on multiple boxing series, racking up a 15-0 record with ten stoppages. Extensive amateur pedigree, as part of Cuba's famed international squad, makes Lara a difficult assignment for anyone outside of the top ten. In fact, I wouldn't hesitate to rank Lara among the ten best 154-pounders in the world right now and a fight with fellow young hotshot Alfredo Angulo is worthy of HBO's "Boxing After Dark" series. With quality opponents like Miguel Cotto, Kermit Cintron, and Antonio Margarito to choose from, I see multiple appearances on "Showtime Championship Boxing" as a challenger and champ in Lara's future. Might not be exciting enough by himself to graduate to PPV or high-level HBO appearances but I would not rule it out for the 27-year-old southpaw either.

David Lemieux – A potential star, the 22-year-old kid displays great instincts and natural power that cannot be taught. Ambitious pressure boxer has always been in a hurry, focusing on pro success instead of Olympic dreams, despite winning the Canadian amateur title three times. Wanted to turn pro at age 17 but Canadian law mandated he wait until age 18. Stewed on that and then knocked out his first 20 professional opponents as a sort of revenge. Has the ring sense and demeanor of a veteran and the knockouts keep coming despite his opposition improving with each fight. His is not a raw or speed-based power; mostly, it is his perfect balance and accuracy that get the job done, much like a Kostya Tszyu. Does not waste punches or movement, preferring to get in range with his feet before releasing a punch. Draws big numbers in Canada, both live gates and TV ratings, and should receive similarly positive feedback from American fight fans. Despite demolishing opponents, is not ready for the big leagues yet physically. Is in the tough position of being too good for an opening act but not ready as a headline-level performer either for HBO or Showtime. In time, Lemieux might be the star fans thought Kelly Pavlik or Jermain Taylor would mature into at middleweight. Lemieux can become a mainstay on HBO's air as long as he does not stray above 160 pounds.

Seth Mitchell – Talented American heavyweights are in short supply and as such, Mitchell is a valuable and marketable commodity to Showtime and HBO. Another hyped "athlete" (Mitchell played college football for Michigan State) who is trying his hand at boxing after knee injuries ended his gridiron career. I must admit that after initial skepticism, I am slowly coming around and noticing the intuition others have inferred upon Mitchell. At 6'2" with a solid 240+ pound body, Mitchell has the size and seems to have an affinity for boxing, turning pro after only ten amateur bouts. I am weary of athletes who come to boxing late; they do not seem to be at ease in the ring and tense up. At 28, Mitchell is not playing catch-up, as far as his age (many heavies mature later now), but certainly is, in form and experience. Hall-of-Famer Lou Duva, who does not train him, liked what he saw of Mitchell. "When I found out that Seth has only been fighting competitively for eight months (at the time in 2008), I nearly hit the floor. No one develops that quickly, unless he has God-given talents." HBO is out of the heavyweight business for as long as the Europeans dominate it and I can't see Mitchell snapping that dominant streak with more talented Europeans emerging. He might get a couple HBO "Boxing After Dark" dates but, like Chris Arreola, Mitchell might cash most his checks from ESPN and an elimination fight in Europe that could land on HBO. I hope I am wrong but Europe is as dominant over the last 20 years as America once was.

Shawn Porter – Ohio native is working his way down in a good sense, slimming himself to welterweight from a debut weight of 165 pounds. Porter was an amateur star who beat fellow prospect Fernando Guerrero and 168-pound contender Demetrius Andrade in the unpaid ranks (276-11 record). Most compare Porter to Andre Berto but I see more of Fernando Montiel since Porter will fight against his strengths and get sucked into brawls. It is disconcerting that the 23-year-old does not seem more heavy-handed as he moves down in weight. Moves in and out of range with snappy foot work, all along bouncing happily on his toes, looking for openings his movement creates. One concern that could hold Porter back is a lack of height and reach, standing a reported 5'7", but that will dissipate as he goes down in weight. Nickname is "Showtime" and I think that is where Porter will peak, not able to progress beyond their championship series because of his size and lack of power. Can be exciting enough to get HBO dates but I would project a .500 record on HBO, at best.

Edwin Rodriguez – Just scored a pedestrian victory over Aaron Pryor Jr. but gets a pass since he was limited by a shoulder injury that occurred early in the fight. I am dubious of New England-area boxers but have to say Rodriguez has won me over with his heavy-handed but intelligent style. Worcester native got to know what it takes to be a champion by traveling to England to act as lead sparring partner for Carl Froch and completed a stint in top ten-rated Daniel Geale's training camp in Australia. Dominican-born puncher came to America at age 13 and began boxing somewhat late at age 16. Rodriguez sports all the tools, physically (solid upper body and long arms), and his hands are quick enough to keep up with his intellect. Has yet to face a similarly big puncher, which could be a troubling trend if it continues. Look for multiple appearances on "Showtime Championship Boxing" (at a level above Librado Andrade but below Andre Dirrell) because of its involvement with the super middleweights.

Brad Solomon – Others on this list are more talented and certainly more connected but I appreciate Solomon the most and root for him, given his "old-school" attitude. Solomon has caught my attention by finding ways to win despite entering both his ESPN TV dates as the "opponent" and has since done the same on the road scoring victories in Panama and Nicaragua. If anyone from this list develops into the next James Toney, it will be Solomon because of his work ethic and willingness to fight anyone. First caused heads to turn when he upset fellow prospect Ray Robinson in that rare battle of undefeated prospects, then did the same to 13-0 (with 13 kayos) Puerto Rican hotshot Kenny Galarza. As a result, has not snuck up on anyone but continued his winning ways. In Robinson win, Solomon showed himself especially adept on defense, avoiding a much taller and swarming foe with lateral and upper body movement. Solomon was an excellent amateur, who won three Golden Gloves titles, which shows in his ability to switch from orthodox to southpaw in a split-second. At 27, has proven he can bring those elite amateur credentials to bear on a pro platform and a one-word description for him would be "tricky." Despite all this, I am going to undervalue Solomon yet again, mostly because he lacks a great promoter and say he peaks as a "Boxing After Dark" performer. I remain unsure if Solomon can take out a contender the same way he manhandled prospects, since his superior boxing I.Q. will have to overcome talent as well as equal ring intellect. However, if Solomon is put in with Saul Alvarez or Andre Berto on HBO's "World Championship Boxing," I would not hesitate to travel to Vegas and play the underdog.
You can contact Marty at mmulcahey@elpasotel.net or visit him at www.facebook.com/fivedogs