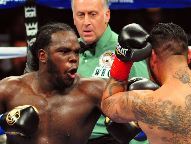 (Photo © German Villasenor)


When newly-crowned WBC heavyweight champion Bermane Stiverne walked down the Galen Center's aisle toward his destiny this past Saturday, he had already walked a long, hard road to get there. Dreams of playing college football or possibly as a linebacker in the future were dashed by injury. At age 35, having languished on promoter Don King's bench for years while fighting sporadically in the shadows, Stiverne broke out into the light in April of last year. Facing Chris "The Nightmare" Arreola for the first time, Stiverne shone bright, dropping him hard in the third round and breaking Arreola's nose in four places. A year and one month later with no fights but a long year of training to his name, the Canada-based Haitian (fighting out of Vegas and making his home in Miami), soon to be a naturalized citizen of the States, fulfilled his destiny by dropping Arreola twice and stopping him in six exciting rounds to claim the vacant green belt.

Arreola looked resplendent in his white with gold trim robe with a "C" and "A" on the lapels. Arreola is thought to be an underachiever who is his own worst enemy. He gets out of shape between fights. He left camp in the midst of preparing for Vitali Klitschko in 2009, doing the same in preparation for Tomasz Adamek in 2010. But at age 33, Arreola has begun to mature, settling into two back-to-back camps away from his hometown of Riverside, CA. The work showed in his relatively streamlined 239.5 frame. His face was tight and taut like a man who had trained properly. Though he will never win a bodybuilding award, it was fair to say that Arreola was in as good of shape as he has ever been for a fight.
In the past, Arreola had been a man afraid to let himself give his all to camp for fear of not giving enough. He certainly had toughness. In fighting through a shattered nose, taking the elder Klitschko deep or opposing Adamek, the distance takes something more than simple bravery or the ability to take a punch. Experience on the top level of the heavyweights coupled with his age made Arreola a dangerous man whose back was squarely against the wall.
Arreola was aggressive to start, taking charge with his jab and right hand. But he ignored the body of Stiverne, who had erupted at the press conference after a slow building monologue. His plan was to beat Arreola up and then finish him around the eighth. At the end of the round, Stiverne caught Arreola with a right hand that shook him to his foundation. Stiverne talked to Arreola, knowing that if he could do it then, he could just as well do it later.
Arreola would regroup, shooting his jab and right hand and, at times, driving Stiverne to the ropes. But what looked like control at first glance seemed like Stiverne's design upon deeper inspection. Hiding behind his guard, taunting, rolling with punches all while digging in here and there to Arreola's body, Stiverne worked his plan to perfection. He kept slicing at Arreola with a solid right to the body. The big man from Riverside acknowledged the punches several times but pressed forward anyway.
Heading into the fifth, Arreola had volume-punched his way back into the fight. But between the two, Stiverne looked like the fresher man who could handle the other's power. Arreola had injured his left hand somewhere in those first four rounds but still he pressed the action. Stiverne pulled back to the right, seemingly setting up that right hand to flow straight through Arreola's head.
Arreola's jab had been a key factor in his resurgence in the fight. In the end, it would be his undoing as it slowed down to the point in which it could be followed. And that's exactly what Stiverne did as he detonated a right hand on Arreola's temple in the sixth round. The man who could have been the first Mexican to hold the heavyweight title instead got caught by the same punch that felled him in the first fight. With all equilibrium gone, Arreola tumbled to the canvas. Referee Jack Reiss counted and finally, Arreola shakily rose to his feet. He seemed to have trouble walking forward after he had offered Reiss his gloves to be wiped off. Dire straits ahead indeed.
Stiverne closed like a champion. He swarmed in and dug to the body on each side, digging beneath and all around to contain Arreola. "The Nightmare" crashed to the canvas again after a long barrage by "B.WARE." Arreola's neck got caught on the ropes as he hit his knees and the canvas a second time. Arreola looked like a drunk putting himself back together before rising on brave-yet-uncertain legs. Reiss let the fight continue and Arreola ate some hellacious leather from all sides before the third man stepped in and called a halt at 2:02 of the sixth round. Two of the three judges had Arreola ahead on the cards at the time of the stoppage. With the win, Stiverne becomes the first Haitian to win a portion of the heavyweight crown.
Where does Stiverne go from here? Deontay Wilder is his mandatory challenger but according to our own Steve Kim, who spoke with King, there is an optional defense possibility for Stiverne. It will be interesting to see where King promotes him. At age 35, do you market Stiverne to an area like Montreal where he's lived for a long period of time? Vegas, which is befitting a heavyweight title fight? Miami, where he lives? Or Los Angeles, which welcomed this fight with open arms and a strong gate? The sky is the limit with Stiverne's style, ring I.Q., growing confidence and obviously power. But Don King is 82 years old. How much rain can he still make? We'll see.
I loved Stiverne's patience and commitment, not just to his game plan but his vision of the fight. His trainer, Don House implored Stiverne to get off the ropes but that was indeed where the fight was won. Time and again, Stiverne went to the ropes, let Arreola rush him and then worked in hard body shots, counter left hooks and right hands inside. It was a masterful performance and showed that Stiverne is learning to trust himself on a high level in the ring. That is championship stuff.
WBA, WBO and IBF heavyweight champion Wladimir Klitschko is interested in unifying. If you think Stiverne is a bad match-up for Wlad, consider that Lamon Brewster, who stopped Wlad in five, was 6'2" with a 77" reach. Stiverne is 6'2" with an 80" reach, legit power and no fear. I like the fight. I think Stiverne has a shot but it won't happen just yet.
To me, it's better to get Deontay Wilder now instead of letting him mature. We still don't know about Wilder's chin, his body or how he handles a long, hard fight. Stiverne might be better served to get at Wilder now before he starts answering some of those questions and gets the necessary experience to navigate a style like Stiverne's. Just a thought.
Here is the latest edition of The Next Round Episode 480:
And this is my latest video feature on 154-pound contender Julian Williams:
Please visit our Facebook fan page at
www.facebook.com/MaxBoxing
, where you can discuss our content with Maxboxing readers as well as chime in via our fully interactive article comments sections.