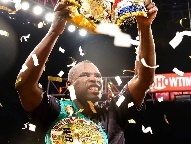 (Photo © Stephanie Trapp/ SHWOTIME)


An 8-1 underdog at the opening bell, Andrzej "The Polish Prince" Fonfara wanted to prove that he belonged in the same ring with WBC light heavyweight champion Adonis "Superman" Stevenson.

Mission accomplished.

Fanfara (25-3, 15 KOs) hung in like grim death, flooring Stevenson (24-1, 20 KOs) in round nine, but the champion dominated the early rounds to win a 12 round unanimous decision at the Bell Centre in Montréal, Quebec, Canada.

The challenger from Chicago, IL., was the aggressor in the opening stanza, but Stevenson changed things quickly when he split Fonfara's gloves with a straight left hand. Fonfara crumbled to the canvas, but got up quickly. Stevenson, a southpaw, tried to end things, but Fonfara battled back at the bell.

Stevenson boxed and bashed Fonfara in the next few rounds. He worked the body and head with heavy lefts and rights. A strong combination connected. Fonfara kept moving forward - landing a right. Stevenson continued to beat down the taller Fonfara in the next few rounds. His consistent bodywork paid dividends in round five when a straight left to the solar plexus drove Fanfara to his knees.

Though knocked down twice, Fonfara refused to quit. He pursued Stevenson in the next few rounds, but the champion pummeled him with heavy punches to the body and head. A massive uppercut wobbled Fonafa, but he held himself together. Stevenson again went for the kill, but Fonfara withstood the onslaught again and fired back.

Through eight rounds, Stevenson was well ahead on the scorecards, but his constant punching had tired him out. Fonfara, bleeding from his right eye, continued to press the fight. In round nine, he landed a hard right that knocked Stevenson down. As his hometown crowd held their collective breath, Stevenson hung on until the end of the stanza.

Recuperating quickly, Stevenson went right after Fonfara in the next few rounds. He abandoned boxing and stayed in the pocket. His vicious body shots had Fonfara backing up.

The last round was mostly Stevenson, but Fanfara mounted a rally in the thirty seconds of the round that had Stevenson hanging on.

All three judges had Stevenson winning easily by scores of 115-110 (twice) 116-109.

Doghouseboxing scored the bout 115-110 for Stevenson.

"This guy was very good," said Stevenson in the ring after the fight. "I hurt my hand and had to box. I'll accept any challenge."

"I have a heart to fight," Fanfara said. "Everytime he hit me I feel his punch. He's a great fighter."

The bout was televised live on Showtime Championship Boxing.