Stevenson busts Cloud, Chavez adds insult to apathy with decision "win"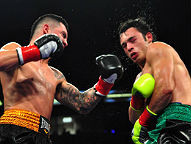 (Photo © German Villasenor, MaxBoxing)


Saturday night's main event between Julio Cesar Chavez, Jr and Brian Vera hopefully will become a problem for Top Rank, the California State Athletic Commission and he three ringside judges who scored what should have been a clear win for Vera, a wide unanimous decision for Chavez, Jr. Three blind mice named Gwen Adair (98-92), Carla Caiz (96-94) and Marty Denkin (97-93) brought flat out shame to their positions and the sport with their respective scorecards.

For a political breakdown that possibly explains how each of these jokers got ringside, FightOpinion.com's Zach Arnold breaks it down here:

fightopinion.com/2013/09/28/awful-csac-chavez-boxing/

In a just world, an investigation would be underway. But this is boxing. As HBO announcer Jim Lampley aptly stated post-fight, "Boxing is governed by the Golden Rule: He who has the gold makes the rules. Chavez, Jr, son of Mexican legend Julio Cesar Chavez, is promoted by the influential and deep-pocketed Top Rank so what we end up with is a corrupt-looking scorecard that even a child would be outraged at. The crowd at Stub Hub Center booed the decision with aplomb.

Chavez, Jr had serious weight issues coming into the fight that was originally a 12 round bout scheduled at 163 pounds. Chavez, Jr later had the bout moved to 168. This week, the bout was negotiated to 173 and at Vera's trainer Ronnie Shields behest, the fight became a ten round affair.

Our own Steve Kim breaks down "The Chavez Weight:" The-chavez-weight

Junior would later declare he didn't feel this fight warranted making an uncomfortable weight. Try that one on your boss Monday.

As Lampley hammered home on the broadcast time and again, the bout was simple to look at: You either like clean, effective volume punching,effective aggression and ring generalship or you like Chavez, Jr's one heavy punch landed every thirty seconds or so. Vera, not a power puncher, assault and peppered Chavez, Jr with volume punching and good movement much of the night. At times, he eschewed defense for a stand and trade approach to that he forgot to Shields' chagrin.

"I don't need you macho," said Shields to Vera between rounds as his charge got away from the game plan. "I need you to move your head."

Chavez, Jr looked flat and listless. His game plan consisted of winging heavy single shots to the head body, like a man hitting a nail and expecting it to go all the way at first contact. Vera wasn't having it and answered all night with right hands down the pipe, uppercuts, body shots and multiple jabs.

The bout got a bit rough with each touching heads and some low blows from Vera. However, Chavez, Jr displayed the largest balls of anyone who has had everything else in his favor by complaining about seemingly every body shot that Vera landed.

"Quit crying," Referee Lou Moret told Chavez, Jr. If only his handlers had acted this stern when Chavez, Jr was coming up.

For his part, Vera fought the fight of his life. He boxed more than he has in the past, took some hard shots and made it through being wobbled twice. Throughout, he was in command and executing his game plan much of the fight. Too bad he isn't named Julio Cesar Chavez, Jr.

In the end, with scores and a win he didn't deserve, Chavez, Jr instead further complained about the referee adding insult to his apathetic performance all week.

HBO, Top Rank and everyone around Chavez, Jr created this monster. Now they have to feed it. They're corporate whores so it's hard to blame them for sucking fans of Chavez, Sr with this sham. Shame on boxing fans if they keep watching this fraud.

In the opener, WBC light heavyweight titleholder Adonis "Superman" Stevenson displayed boxing ability to go with his heavy-handed southpaw ways by breaking down Tavoris Cloud over seven rounds at the Bell Centre in Montreal, Quebec, Canada.

Thought by some to be a mere one-trick pony who uses his left hand to take opponents out quick time, Stevenson used a long right jab and surprisingly light footwork to keep Cloud at bay while finding the range for his left cross. Stevenson landed it short, long and mid-range, busting up Cloud's right eye above above the lid but below the brow. The left did look much better.

Cloud could never quite close the gap and never was aggressive enough for long enough to get any momentum going his way. The sixth was his best round but Stevenson answered in the seventh stanza by rocking his world with left hand leads and rear uppercuts. A hard left inside was Stevenson's best shot of the night as Cloud took all of it.

When the seventh was over, trainer Al Bonnanni wiped Tavoris' face of blood, never offering the stool. The fight was over.

In victory, Stevenson, now becoming a bonafide draw and star in Montreal, balked when asked about facing WBO light heavyweight titleholder Sergey Kovalev.

"He needs to fight more champions," said Stevenson, who has now vanquished former light heavyweight champs Chad Dawson and Cloud. Stevenson neglected to note that Kovalev stopped Nathan Cleverly in August to claim a portion of the 175 pound title.

Please visit our Facebook fan page at www.facebook.com/MaxBoxing, where you can discuss our content with Maxboxing readers as well as chime in via our fully interactive article comments sections.



Subscribe to feed