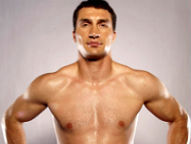 (Wlad Klitschko)


The most positive development in the heavyweight year 2013 was the crowning of an Undisputed Heavyweight Champion. Wladimir Klitschko now holds both Championships that have true meaning in the Transnational Boxing Rankings Board (TBRB) and Ring Magazine Championships. Surefire first ballot hall of famer, the younger Klitschko continues to build his legacy as one of the all-time best.

In 2013 we also witnessed the ends of the careers of two of the most recognizable figures in heavyweight boxing`s recent years. One of the greatest of all time, Vitali Klitschko, boxing`s version of a renaissance man, announced the end of his illustrious fighting career in December. He is now devoted to pursuing his political ambitions in his home country of Ukraine, where his political party UDAR (Punch) scored 40 seats in the 2012 Ukrainian parliamential elections. Klitschko has stated that he is going to run for Ukrainian presidency in 2015 elections.

42-year-old Vitali Klitschko retires with a record of 45-2 (41 KO). He won the Ring Magazine Heavyweight Championship in 2004 by beating Corrie Sanders (TKO 8), but had to retire the following year because of recurring injuries. The former champion returned to the ring at the age of 37 in 2008, reigning supreme over the heavyweight division with his brother Wladimir.

Ironically, the fight that originally earned Vitali Klitschko the respect of the boxing world was one of the two he lost. In 2003, Klitschko challenged Ring Heavyweight Champion Lennox Lewis with short notice and the fight proved to be a classic. Ahead on all cards, Klitschko was stopped after the 6th round due to a cut. Despite the loss his spirited effort won over the fans. Klitschko remains the only Heavyweight Champion in history that was never knocked down in an official prizefight. His last fight was a TKO 4 victory over Manuel Charr in September 2012.

Former Ring Cruiserweight Champion and Heavyweight Championship Challenger David Haye has also most likely fought his last fight in the squared circle. During 2013, Haye pulled out several times from scheduled fights, first with Manuel Charr and then with domestic rival Tyson Fury. The Londoner went through a shoulder operation in November and hinted strongly that he will retire.

Haye stormed through the cruiserweight division, winning The Ring Magazine Cruiserweight Championship in 2007 by a TKO 7 victory over Jean Marc Mormeck. In 2008 he moved up to heavyweight. After gathering momentum with four straight victories he challenged The Ring Champion Wladimir Klitschko in 2011 in the most anticipated heavyweight bout since Lewis vs Tyson. On the most important night of his career Haye lost a lopsided unanimous decision, failing to crack Klitschko`s impeccable defence. Haye`s last fight was a 5th round TKO victory over domestic rival Dereck Chisora in July 2012. His record stands at 26-2 (24 KO).

Besides these retirement headlines, plenty happened in the heavyweight division during 2013. Here is the year in review through the undertakings of the top fighters of the division. In the mix we have the fourteen heavyweights who at year`s end are in the top ten listed by Transnational Boxing Rankings Board and The Ring Magazine.

The Undisputed Heavyweight Champion Wladimir Klitschko (61-3, 51 KO)

Wladimir Klitschko fought twice in 2013 in defending his Ring Championship and winning the vacant TBRB Championship, thus becoming the first Undisputed Heavyweight Champion since Lennox Lewis.

In May, Klitschko faced unrated and lightly regarded Italian Francesco Pianeta in Mannheim, Germany. As expected, it was merely a tune-up for the 37-year-old Champion, as Pianeta had no answer for Klitschko`s vaunted left jab and right cross. The fight was stopped in the 6th round after Pianeta went down for the third time.

Already twice in the making in past years, Klitschko vs Povetkin was finally kicked off in April by the third largest purse bid of all time, $23,3 million put down by Russian promoter Vladimir Hruynov. The showdown came to fruition in October, Povetkin having the home ring in Olympiyskiy Hall, Moscow. On the line were Klitschko`s Ring Magazine Championship and the vacant Transnational Boxing Rankings Board Championship (Klitschko and Povetkin were TBRB #1 and #2 contenders), making the fight essentially for The Undisputed Heavyweight Championship.

The outcome of the fight was never in doubt. From the start Klitschko used every trick in the book to take Povetkin completely out of his rhythm. Klitschko repeatedly clinched and leaned heavily on his shorter foe, letting his trademark jab and right cross do the damage in between. The three judges` scores of 119-104 indicate what was going on in the ring: total domination. Although the hugfest was not aesthetically pleasing, Klitschko showed against a fellow Olympic Champion that he is far and away from all competition, perhaps more so than anybody we have ever seen in the history of the heavyweights.

According to reports, Wladimir Klitschko is gearing up for another tune-up defence against unrated and unknown Alex Leapai (30-4-3, 24 KO), who shocked former top 10 contender Denis Boytsov in Bamberg, Germany in November. After Leapai Klitschko will likely take on a top-notch contender in Kubrat Pulev or the winner of Stiverne vs Arreola II (if that can be made).

The Undisputed #1 Contender Kubrat Pulev (19-0, 9 KO)

One of the biggest celebrities in his native Bulgaria, Kubrat Pulev has risen in the heavyweight ranks with a steady pace during his four-year pro career. The 32-year-old Pulev is a solid technician with stellar amateur pedigree and a bit of a nasty streak when needed. After Wladimir Klitschko easily dispatched of Alexander Povetkin, year 2013 ends with Pulev as the most viable heavyweight contender for Klitschko`s throne.

The most trouble Pulev had during 2013 was not in the ring, but in the cabinets. Fellow top ten contenders Tomasz Adamek and Tyson Fury pulled out of fights against the Bulgarian in the first half of the year. Finally, Sauerland was able to lure the best current American heavyweight and former Ring Magazine Championship Challenger Tony Thompson to Schwerin, Germany in August. Pulev did what he was supposed to do, scoring a clear unanimous decision over the veteran. In December Pulev stayed busy by knocking out journeyman Joey Abell with accurate body punches (TKO 5).

Right now Pulev is the fighter best equipped to give some sort of trouble to Wladimir Klitschko. He gives up only 1,5 inches in height and doesn`t get rattled easily by roughhouse tactics Klitschko so efficiently employed against the shorter Povetkin. The fight would be cagey for sure with both men respecting each other`s power, but Klitschko vs Pulev would definitely be on my wish list as the heavyweight megafight for 2014.

The only problem for Pulev is that like others before him, Klitschko seems to be opting for the easier route with a defence against unrated Alex Leapai and then possibly aim for the winner of Stiverne vs Arreola rematch. If Sauerland can`t play their hand cleverly enough, Pulev might be on the outside looking in for a shot at Klitschko. Here`s hoping that the rugged Bulgarian will get his chance in 2014. Unlike some other "contenders", he has earned it with his performances inside the squared circle.

The Undisputed #2 Contender Alexander Povetkin (26-1, 18 KO)

Alexander Povetkin spent most of the year preparing for finally stepping in the ring with Wladimir Klitschko. After the April purse bid Povetkin did a tune-up fight in May, scoring a 3rd round knockout against overmatched Andrzej Wawrzyk in Myakinino, Russia.

Then in October, on the biggest stage of his pro career in front of his home crowd in Moscow, fighting for the Undisputed heavyweight Championship, he became but one more previously undefeated fighter completely humbled by a Klitschko brother. Povetkin can`t be blamed for not trying, though. Despite Klitschko`s extensive clinching and leaning, the Russian kept on coming and eating the best left jab in the business time and time again. The end result was Povetkin being pummeled and thrown around for four knockdowns, but managing to finish the fight on his feet.

Povetkin is now 34 years old and had his chance against Klitschko. It seems to be time to go back to the drawing board and maybe wait for the King to retire. Look for Povetkin to take an easier fight and then up the competition again. Fans would like to see a rematch against Marco Huck, TBRB and Ring cruiserweight #1 contender, whom Povetkin beat in a barnburner by a majority decision in early 2012.

The Undisputed #3 Contender Tomasz Adamek (49-2, 29 KO)

The Polish former Ring Cruiserweight Champion ended up fighting only once in 2013, in August against trial horse Dominick Guinn, whom he outpointed over 10 rounds in Uncasville, Connecticut. Otherwise Adamek`s year was mired by an off-the-ring incident and fights not realized.

Early in the year, the Pole was involved in a peculiar car crash where he was suspected of DUI. Fortunately, nobody was injured in the accident. Talks of a possible top five showdown against Kubrat Pulev fell through in the spring when Adamek opted not to face the Bulgarian as a high risk- low reward alternative. In November he was slated to face up-and-comer Vyacheslav Glazkov, but fell ill on the week of the fight and had to pull out.

Adamek is a battle-weary 37 years old and has not shown much since suffering a beatdown at the hands of Vitali Klitschko in September 2011. Since then his most significant win is a split decision over Steve Cunningham in December 2012. If Adamek doesn`t secure a big fight soon, his best bet for a decent payday would be to fight his countrymen Mariusz Wach or Artur Szpilka in Poland and then call it a day.

TBRB #4, The Ring #5 Contender Tyson Fury (21-0, 15 KO)

The Tyson Fury Show continued in 2013 with the loudmouthed Brit rising steadily in the heavyweight rankings.

Early 2013 was marked by Fury going off on various Twitter rants. There were talks of a blockbuster All-British clash between Fury and David Price, but plans were quickly squashed by Tony Thompson, who knocked Price out twice in a row, crashing the Liverpoodlian`s market value. A fight with Kubrat Pulev was going to a purse bid in early June, but Fury, like Tomasz Adamek earlier in the year, wanted nothing to do with the dangerous Bulgarian.

Eventually Fury`s only fight in 2013 was his US debut in April. Former cruiserweight standout Steve Cunningham was picked as an opponent fresh off a split decision loss to Tomasz Adamek. The fight was staged at Madison Square Garden Theatre in New York. Fury didn`t let the public down with his raving and ranting during the build-up. In the ring, the 44 pounds lighter Cunningham knocked Fury off his feet in the 2nd round, but the Brit eventually wore the smaller man down, prevailing by KO 7.

In July David Haye and Tyson Fury signed on the dotted line, making one of the most anticipated fights of the year. Boxing fans were to be treated to two heavyweight megafights in consecutive weekends with Haye vs Fury and Klitschko vs Povetkin. The all-British event was first planned for late September but David Haye`s failing health undid the blockbuster. After the second postponement and Haye`s shoulder surgery, the fight was buried.

As of now, Tyson Fury hasn`t fought in eight months and is still without an opponent for his 8th February date. Probably someone will step up to the plate to collect the pounds Fury generates. Klitschko vs Fury will most likely not happen in 2014. The Champ`s interests lie elsewhere and the 25-year-old Brit wants no part of the dominating Champion just yet. Fury has time on his side.

The Ring #4, TBRB #6 Contender Bermane Stiverne (23-1-1, 20 KO)

The Haitian-born Canadian Bermane Stiverne has fought exactly twice since June 2011, but his lone contest in 2013 vaulted him into top ten contention and close to a shot at challenging for the Undisputed Heavyweight Championship.

The big win for Stiverne came in April, when he gloved up to face top ten contender Chris Arreola in Ontario, California. The Las Vegas-based Canadian surprised many by pocketing a clear-cut unanimous decision, knocking Arreola down and breaking his nose in the process. It was a huge triumph for the fighter whose biggest win before Arreola was KOing then-undefeated Kertson Manswell in January 2011.

Talks of a rematch with Arreola have reportedly been on and the winner might get a crack at Klitschko`s Undisputed Heavyweight Championship already in 2014. Matters will not be simple, though. Stiverne is currently in a legal battle with his promoter Don King, which spells trouble for upcoming year. At 35 years old, Stiverne doesn`t have too much time in his hands, he should pursue the big payday as soon as possible.

TBRB #5 Contender Tony Thompson (38-4, 26 KO)

The 42-year-old veteran had perhaps the most colourful year of all the top ten heavyweight contenders. The end of his career nearing and a second KO loss to Wladimir Klitschko behind him, Thompson took up the "have gloves, will travel" mentality in 2013. The veteran recreated himself as a premium trial horse who did not exactly fill the role he was planned to fill.

Thompson was supposed to be a big-name stepping stone for up-and-coming British heavyweight David Price when the two men touched gloves in a February match-up in Liverpool, England. What followed was a shock to Price`s handlers and the British boxing public. Thompson KOed the giant Brit in the 2nd round. With one punch the American showed that he is still a force to be reckoned with. Price believed the loss was a fluke and the rematch took place in July, again in Liverpool. This time the end came in a far more humiliating fashion, as Thompson rose from the canvas in the 2nd round and went on to slowly pummel gassed-out and confidence-deprived Price into submission in the 5th round.

The next European gig for Thompson was right around the corner. Kubrat Pulev was having serious trouble getting any name-fighter to step in the ring with him. Enter Thompson, whose market value had considerably risen due to the two upset stoppages over Price. The match took place in Schwerin, Germany only seven weeks after Price vs Thompson II. Thompson had some success in the early rounds, but the Bulgarian soon settled into his rhythm and wore the veteran down en route to a clear unanimous decision.

Even as a 42-year-old, Tony Thompson is a world-class fighter. The end of a successful career is nearing, though. As of now, Thompson doesn`t have a fight scheduled for 2014.

The Ring #6, TBRB #7 Contender Robert Helenius (19-0, 11 KO)

The career of undefeated 29-year-old Robert Helenius continued its slide in the wrong direction in 2013, as the Finn fought only once, outpointing British journeyman Michael Sprott in a March fight staged in Magdeburg, Germany. His rise towards the top of the division has begun to stall seriously, the result of continuous injury problems.

At the end of the year Helenius`s future became even more unclear. The fighter and his father Karl Helenius held a press conference in their home town of Porvoo, Finland, coming out publicly with serious accusations against Sauerland, the promoter of Helenius. The father and son claim that the promotional company engaged in foul play when Robert Helenius signed a deal with them back in 2007. Karl Helenius even went as far as saying he is going to file a criminal case against the promotional company. The bitter contract dispute keeps Robert Helenius out of the ring indefinitely before matters are settled at the negotiating table or in court.

The Ring #7, TBRB #8 Contender Christobal Arreola (36-3, 31 KO)

The California-based 32-year-old slugger Chris Arreola had an up-and-down 2013. In April, he was thoroughly schooled by Canadian Bermane Stiverne in Ontario, California. Stiverne outboxed and battered Arreola, knocking him down and breaking his nose in doing so. The loss dropped Arreola out of top ten contention.

The Californian wasn`t down and out for long. He got his chance at redemption in a crossroads fight against Seth Mitchell with both men`s careers on the line. In September Arreola entered the Indio, California ring with a vengeance, scoring a brutal KO 1 victory. The convincing win propelled the brawler back in the top ten and in the hunt for a Stiverne rematch, where the winner`s prize could be a shot at Wladimir Klitschko`s Undisputed Heavyweight Championship already in 2014.

The Ring #8 Contender Odlanier Solis (20-1, 13 KO)

One of the bigger underachievers of recent heavyweight history, Odlanier Solis continues to plod along with his career and peculiar Turkish promoter Ahmet Öner. The Cuban 2004 Olympic Champion undoubtedly has the talent to climb to the very top, so much so that The Ring Magazine is willing to rate him in the top ten even though he didn`t do much during the past year.

Solis fought twice in 2013, in March and July, beating nobodies Leif Larsen (UD 12) and Yakup Saglam (TKO 7) on cards staged in Berlin and Cuxhaven, Germany. Gone are the days when he disposed of Monte Barrett and Carl Davis Drumond in the span of five months back in 2009-10 and started promisingly against Vitali Klitschko before tearing up his knee in the first round of their March 2011 fight. Solis doesn`t have a fight scheduled in 2014 yet. His future as a top ten contender depends on his conditioning and Öner`s ability to get him in the ring with bigger names. That won`t be easy, because Solis is a high risk-low reward opponent with the skills to beat a lot of fighters, but lacking in drawing power.

TBRB #9 Contender Dereck Chisora (19-4, 13 KO)

The ever-entertaining Briton had a bounce-back year after losing three fights in a row to Robert Helenius, Vitali Klitschko and David Haye in 2011-12. His four 2013 fights kept him busy even though the opponents were not in the same universe as the three previous ones. That said, the wins still provided much-needed momentum for Chisora.

Chisora started his 2013 campaign in April, when he TKOed Hector Alfredo Avila in the 9th round. Then he engaged in two crossroads fights, first with unbeaten American Malik Scott (a peculiar TKO 6) in July and then against Kazakhstan-born German Edmund Gerber (TKO 5) in September. He capped the year off with a November TKO 3 victory over Ondrej Pala. All fights were staged in London.

During the last couple of years the 30-year-old Londoner has made a pretty good living by being willing to fight the big names and act crazily during the build-up to those fights. He is now hoping to establish himself as a more of a legitimate contender in the wide-open field behind Klitschko. For starters in 2014, Chisora has a date set for 15th February in Copper Box Arena, London, but the opponent is still missing.

The Ring #9 Contender Ruslan Chagaev (32-2-1, 20 KO)

The 35-year-old Uzbek, who back in 2009 fought for the vacant Ring Magazine Heavyweight Championship with Wladimir Klitschko, is still around, although no one expects him to be in the mix for truly big fights anymore. Chagaev may have lost a step, but he is still a threat to anyone not named Klitschko. That is why his name doesn`t come up when matchmaking is done for the up-and-comers of the division.

Chagaev stepped in the ring twice in 2013, stopping Mike Sheppard (KO 1) in Berlin and scoring a UD 12 win over Jovo Pudar on the undercard of Klitschko vs Povetkin in Moscow. He doesn`t have a fight scheduled for 2014 yet and the big paydays are most likely beyond the solid veteran.

TBRB #10 Contender Mike Perez (20-0, 12 KO)

The 28-year-old Cuban fighting out of Ireland is one of the more promising up-and comers in the heavyweight ranks. He gloved up twice in 2013, first beating trial horse Travis Walker by UD 10 on the undercard of Klitschko vs Pianeta in May.

Then came the fight with another rising contender, Russian slugger Magomed Abdusalamov. The HBO-televised showdown in Madison Square Garden Theatre in New York, on the undercard of Golovkin vs Stevens proved to be a crowd-pleasing war, but with grave consequences. Perez prevailed via a unanimous 10-round decision, but Abdusalamov suffered serious injuries that have left him with most likely permanent damage.

Ironically, the ill-fated Abdusalamov-fight vaulted Perez into top ten contention. Getting quickly back in action, the Cuban is now slated to face French-based Cameroonian Carlos Takam on 18th January on the undercard of Pascal vs Bute in Montreal, Canada.

The Ring #10 Contender Deontay Wilder (30-0, 30 KO)

The US boxing public is searching for the next great American heavyweight and many people are beginning to put their hopes on the wide shoulders of 28-year-old Olympic medal winner Deontay Wilder. The Alabama-based knockout artist has made a name for himself in the pro ranks by scoring 30 knockouts in a row, no small feat even if the opponents have been hand-picked.

Wilder fought four times in 2013, all quick exits. In January he disposed of Matthew Greer (TKO 2). In April on the undercard of Khan vs Diaz in Sheffield, England, it was former Olympic Champion Audley Harrison`s turn (KO 1). Former top ten contender, badly faded Siarhei Liakhovich fell in the first round in August and finally in October, Nicolai Firtha slept in the 4th round on the undercard of Hopkins vs Murat in the Boardwalk Hall ring in Atlantic City, New Jersey.

Wilder seems to have considerable power in his fists and his market value is rapidly rising. He is still very untested, though. Step up in the level of competition is needed before he can be considered the real thing. In late 2013 Wilder was linked to several of the other top ten heavyweights, including Chris Arreola and Dereck Chisora, but nothing as of yet has come to fruition in a form of a scheduled fight.

Also from Today's video list:

In This Corner TV - Boxing Awards / Winners of The Year!