Spirit, Strategy and Belief Are not Alien to Hopkins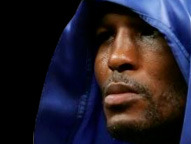 --


"When you're young, you overdo things a lot and you get away with it. When you have wisdom and you have understanding, you learn how to not overdo things where you rest and save your money like investing and you go ahead and you spend it tomorrow. A lot of things you do when you're younger, you get away with it. A lot of things you can't do or you shouldn't do wisely because it's always the next day; there's always next week and it's the preparation part," explained IBF light heavyweight titleholder Bernard Hopkins, 54-6-2, (32), on a conference call to plug what is arguably his most intriguing match-up in years this Saturday from the D.C. Armory live on Showtime. The living legend's latest foil is not in the current "future Hall-of-Famer" running. He's not even considered by many to even be the best fighter at 175 pounds not named Hopkins. But WBA light heavyweight titleholder Beibut Shumenov, 14-1 (9), out of Shymkent, Kazakhstan, just might be the fighter with the style to press Hopkins to the edge and beyond.

"
The mindset controls the body because the body has always been right but I've prepared a temple to be able to have the mind control the body," explained Hopkins regarding the rigors of keeping in continually impressive physical shape. "When your mind is right, everything is going to fall into place but if your mind is right and your body is whack, it's off balance. Life is a balance and come April 19 on Showtime, you're going to see the balance between a guy with experience, a guy with a good pedigree but a guy that's in there with someone that has an I.Q. and a boxing ability and a body that brings it not the look and the physical part - that's nothing - but the physical...but the youth of half his age in the ring with a guy that's 30, 31 years old. It's going to be amazing to y'all and that's what I need to display and that's what I will display."
At this stage of his career, three months into his 49th year, it seems almost ludicrous that many experts picked Felix Trinidad to beat Hopkins back in 2001 because "The Alien" (formerly known as "The Executioner") was getting "old." That night so long ago, Hopkins put a master class on Trinidad, finishing him off in the last frame after soundly trouncing him from bell to final bell. It's hard to imagine that Hopkins has not seen every style there is. In Shumenov, he faces a 30-year-old, green fighter with an non-medal winning Olympic pedigree. Maybe it's Hopkins selling the fight but even though Shumenov only has 15 fights as a pro, his style and amateur background apparently warrant respect from the elder boxer.
"
If you look at Shumenov, you look at Shumenov's record, you can be blinded and misled by that. He has to give you some type of blueprint to say if you're not thinking multiple ways. You're thinking one way, then you think what you see. But I'm smart enough to understand that when a guy has a pedigree of an amateur record, as far as I'm concerned, they need to send people to fight amateurs with 100-something fights that come out of there basically closed. They just don't have they license yet and that's a big debate in amateur boxing right now," said Hopkins. "I'm very wise in this game and I understand when you have a pedigree and it goes deep in the Olympics for his country, Kazakhstan, it's something that he understands: the big stage. He's been around the championship level without even having a title at the top."
Shumenov certainly brings an awkward, go-for-broke, aggressive style that, if unleashed properly, can trouble Hopkins. Craft can get you very far in boxing but in a physical, fast-paced fight, Shumenov might be able to force a will-over-skill scenario. The younger titleholder shoots a high volume of punches from awkward angles and appears to have respectable enough power to be a problem for Hopkins. But if he has a game plan or sees any sort of weakness, Shumenov is not telling.
"
My apologies but I cannot discuss the knowledge that I have about Bernard's work," he told the media. "Out of all the studies, I cannot discuss the knowledge as I've been perfecting myself against Bernard Hopkins and I'm at the final stage with my preparation, so people will get to see my capabilities."
As for Bernard Hopkins, it's not so much what he sees in Shumenov as there isn't anything he hasn't seen when it comes to the art of professional fisticuffs.
"These are the things that I don't have any problem telling you, how I feel whatever because whatever I tell you, if you want to hear it doesn't necessarily mean it has to be my strategy. See, The Art of War is one of my favorite books. You asked me a question, see the difference between Bernard Hopkins and Beibut - and that's his own style and it doesn't make him bad or good. It's just the way he thinks," began Hopkins. "You ask me a question, 'Well, what do you see in Beibut that you can do to expose?' Well, I can tell you anything. Doesn't necessarily mean it's true. I just might want him to hear and these are things from The Art of War. He understands what The Art of War means. You understand? Because at the end of the day, no matter what I tell you, it's what happens in that ring but I've been in this game almost three decades and there's no style through the amateurs, short amateur career I had. I didn't have 100 fights. I didn't have 50 fights but the short amateur career that I had, that and the one in state penitentiary, is that it's no style. I repeat: there's no style on this planet Earth dealing with boxing that I haven't seen or been in the ring with. It's nothing I haven't seen that I've been in this game for 26, 27 years that's going to surprise me April 19 - and that's not underestimating anybody. That's not overlooking. That's just keeping it real by the time I've been in this game and by the time I've been a student and still considered a student, a little edge of a teacher in this game that I'm in."
Styles make fights. Perfect storms make title unification bouts. "Perfect" in this case means Shumenov is managed by Al Haymon, who also handles WBC light heavyweight titleholder Adonis Stevenson. Hopkins is promoted by Golden Boy Promotions, who, along with Haymon, televise their big cards on Showtime. For Shumenov, matching wits and punches with Hopkins is the ultimate quest for legitimacy. For Hopkins, as always, it's about history.
"
Beibut said he wanted to unify the titles. I'm answering that call because I want to do the same damn thing and now, we have the pieces in line that has the same mentality. It gives you something to write about. It gives the fans and anybody that's listening that comes along after you, it gives them a chance now to say we unified the title in that division, maybe become a good disease, a good virus that might spread through other weight divisions and that would be good, I think, for boxing. I mean, that's my opinion; I could be wrong," Hopkins said.
The implications of this fight are very good for the light heavyweight division. Whomever wins heads toward a final unification bout with Adonis Stevenson, should "Superman" be successful in next outing vs Andrzej Fonfara on May 24. The loser should have nothing to be ashamed of. If it's Shumenov, he's a relatively inexperienced and a somewhat raw fighter for a titlist of 30. If it's Hopkins, he's a living legend pushing 50. Say what you will about the man. Call his style boring or his fights not so entertaining. He's continued to stay relevant all these years. He's not a novelty act. Hopkins is a reminder of what consistency and mental fortitude can do for you.
"
It really, in a major way, speaks for itself because I was born at a change in America but I also was born to establish my history through the checks and balances," Hopkins says of his longevity and overall purpose within boxing. "A lot's been done; lots still need to be done. That would be perfect but at the end of the day, I'll just say this: when I step in any challenge and I step in any era or any other ways I think about history and when I was born and people that came before me, it puts me in a situation to do what I do. I really believe that and that means the law of God - and I really believe that and that's from my soul. And I'm here not only because of my talent. I'm no fool. I'm here because I have not only angels watching over me but a bigger being that got me through things that I know weren't my doing. It couldn't have been my doing not even having the best lawyer. It couldn't have been my doing. This was something beyond that and that's what comes in the spirit when I go to fight. If he don't have that same spirit, he's in trouble. He's in trouble."
Saturday night, we will find out if Beibut Shumenov is ready for the next level or if the experience, guile and proud, tenacious nature of Bernard Hopkins can make him a unified champion once again.
My Pick:
Shumenov is awkward and green with heavy hands. He possesses the strength and stamina to stay with Hopkins in a heated affair. Shumenov also presents many openings for a fighter such as Hopkins, who can change punch trajectory, tactics and strategy inside and between rounds. Shumenov will be aggressive early with Hopkins measuring his man with a sporadic, jackhammer jab and left hooks to the body. By the middle of the fight, Hopkins should have Shumenov fairly tamed with the occasional surge by the younger man. Down the stretch, Hopkins' ring generalship wins the night - and Shumenov's belt.
Please visit our Facebook fan page at
www.facebook.com/MaxBoxing
, where you can discuss our content with Maxboxing readers as well as chime in via our fully interactive article comments sections.



Subscribe to feed