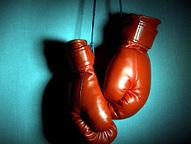 --


We live in a time where everyone believes we have the best and worst of everything and boxing fans are no different. No doubt, Hasim Rahman was a poor mandatory challenger that a second round kayo defeat last Saturday is verifiable proof of. It is hard not to draw the conclusion that Rahman's ranking and mandatory challenger status came as a result of corruption or incompetence on the part of the WBA's ranking system. What other rational is there since Rahman's wins came over trial horses and journeymen that did not merit him a title opportunity when compared to other heavyweights? That is a whole other story, so let's stick to the storyline and present 10 other heavyweights who were worse than Rahman in terms of receiving undeserved title shots.
At the very least, Rahman can point to a championship pedigree, though everyone outside of the WBA's offices knew Rahman's skill-set is 10 years past its sell-by date. Also, in this list, I chose boxers who proved they did not belong in the ring, often exiting before the halfway mark of the championship distance. This eliminates boxers like Leon Spinks, Axel Schulz or Michael Bentt, who came in with little in terms of credentials but proved their worthiness through gallant or even victorious performances. So remember: bad heavyweight title challengers are nothing new (Jack Finnegan in 1900 might have started the trend); this generation of boxing fans just gets more because we have four "world" champions vice one.

Other heavyweight challengers who were considered but missed the cut were: Terry Daniels, Jose Roman, Bruce Seldon, Richard Dunn, Jack Roper, Audley Harrison, Jeremy Williams, Peter Okhello, Tony Ross, Chuck Wepner, Alfredo Evangelista, Albert Sosnowski, Tom McNeely, Ray Austin, Jameel McCline, Don Cockell, Steffen Tangstad, Gus Dorazio, Scott Frank, Tony Musto, Johnny Paycheck, Joe Hipp, Brian London and Kevin Johnson.
10. Joe Louis KO 1 Jack Roper -
One of the heavyweight title challengers that would collectively become known as Joe Louis's maligned "Bum of the Month Club". Roper entered the fight with a 61-39-10 record and exited two minutes and 20 seconds later with another loss. Many very good fighters in the 1930s had mediocre records when compared with today's boxers but Roper was not one and often never made it out of the first round in his biggest fights. He was awkward though, switching from southpaw to orthodox stance on a whim rather than tactical reasons. The fight was so uncompetitive that many bookies refused to take wagers on it and New York State launched an investigation into how the fight was allowed to be sanctioned. In fact, the only good thing to come out of this fight was Roper's famous post-fight quote on how Louis was able to knock him out so quickly. "I zigged when I should have zagged."
9. Tommy Morrison TKO 4 Tim Tomashek -
This is definitely an "Only in boxing" story. Three days before the fight, Tim Tomashek was called by the promoter and asked to attend the fight, just in case a notoriously temperamental Mike Williams skipped out on the fight as he did the press conferences. Tomashek obliged and, sure enough, an hour before the opening bell, Williams refused to enter the ring. A nonchalant Tomashek put his beer down and laced up the gloves to challenge feared kayo artist Tommy Morrison. Tomashek was a Midwest journeyman with a great disposition that showed in the second round when he mugged for the camera and gave Morrison a noogie during a clinch. The fun lasted four rounds then Morrison ended the strange story with a hook that put Tomashek down and out. I doubt fans of the NBA, MLB or NFL are ever going to see someone pulled from the stands to face a world-class foe.
8. Muhammad Ali TKO 5 Richard Dunn -
Before Lennox Lewis, England had a reputation for producing "horizontal heavyweights" and Dunn fit that mold nicely having been stopped eight times before facing Ali. That included a first round kayo loss in his pro debut. This fight was set up in the aftermath of Ali's horrible showing against Jimmy Young as Ali needed an opponent to look good against, facing Dunn only 24 days after the Young debacle. Dunn did have the southpaw advantage (only the second left-hander to fight for the heavyweight title), interpreted by one sports writer to mean, "Ali's opponent is ambidextrous. This means he can fall down on either side." The fight took place in Germany, so the fight started at 3:30 a.m. local time to accommodate American television and contributed to Ali's ponderous start. At no point did Dunn threaten to win and Ali was always only one punch away from shattering Dunn's fragile chin, which Ali did in the fourth round and knocked Dunn down five times in total before a merciful stoppage ensued.
7. Jim Jeffries KO 1 Jack Finnegan -
This challenger stands firmly in the "It is who you know, not what you know" category of heavyweight challengers. Finnegan received a title shot because he was Jeffries friend and favorite sparring partner despite Finnegan being knocked out in the fourth round of his previous fight by a good Gus Ruhlin (floored seven times). The "fight" lasted 55 seconds, still the second shortest heavyweight title fight ever. A New York City newspaper wrote that Finnegan "looked like a boy beside the champion." The ringside account painted a sad scene, "Finnegan landed the first blow as they came to the center of the ring and Jeffries then put his left on the Pittsburgh man's jaw and he went to the floor. Finnegan came up in a few seconds only to be sent to the floor again with a blow in the same place. He stayed down longer this time and when he again rose, he was in visible distress. He had hardly assumed a fighting position before the champion put his left in the pit of his stomach and Finnegan went down, completely out. Referee [George] Siler counted the seconds off and when he stepped back it was seen that Finnegan was crying. He staggered to his feet, reeled against the ropes and his seconds rushed into the ring and carried him to his corner."
6. Ruslan Chagaev Tech W 6 Carl Drumond -
How does a boxer who only fought one time outside of Costa Rica (against 15-20 Ramon Hayes in Florida) even get spotted in order to receive a heavyweight title shot? Drumond's record was littered with sub-.500 boxers and the only vaguely recognizable names on his résumé were bloated cruiserweights who were average in their primes. Sure, Drumond was physically imposing at 6'4" and a chiseled 225 pounds but 2009 was not like the 1930s when Primo Carnera was foisted on an ignorant public. Drumond got his title shot at age 35 as well and his supposedly vaunted knockout power - 20 stoppages in 26 wins - was exaggerated given an inability to stop a shot Kelvin Davis or an equally fragile Luis Pineda. Chagaev was hampered by a yearlong layoff due to an Achilles heel injury but was dominating Drumond before an awkward lunge by Drumond caused a clash of heads that cut Chagaev's forehead. It forced the stoppage with Chagaev well ahead and thankfully eliminated Drummond from further title opportunities.
5. Michael Moorer MD 12 Vaughn Bean -
This turban-clad boxer (which Bean wore to the ring to honor his Muslim faith) had a horrible résumé and got a title shot thanks to an association with shirtless (Google his picture), bow-tied manager Butch Lewis of Michael Spinks fame. Luckily, Bean got his shot against an unmotivated Michael Moorer, notorious for his inability to focus if a knockout did not materialize in three rounds. Only four of Bean's 27 victories came against opponents with records over .500 and three of those guys were only one fight over the .500 mark. The two fighters Bean beat before facing Moorer had records of 8-14 and 8-13. He had stopped 21 trial horses but Bean never fought in an exciting bout when the bright lights of TV shone on him. Bean got one more world title shot against Evander Holyfield for $2 million, despite stinking out the joint against Moorer. Truth be told, this Bean was a "Never-Has-Bean" in terms of being a championship threat.
4. Muhammad Ali KO 5 Jean-Pierre Coopman -
Poor Coopman, he could not even help Ali sell this fight since he spoke no English. His manager Karel De Jaegher thought this an advantage, telling reporters, "Ali can't psyche him because he can't understand a word Ali says." If it was, that was Coopman's only advantage. The Belgian native did not make up for a lack of language skills in the international language of violence, an average boxer at best who suffered a kayo loss to a 5-17 foe and never won a fight outside of Belgium. Coopman didn't have the wherewithal to stop Ali from doing his feet-shuffling act, rope-a-dope, taunting or continuous mugging for the camera. A right uppercut by Ali ended the charade, a punch trainer Angelo Dundee thought Ali could have landed to the same effect in the first round. Many believe Ali carried Coopman needlessly, knowing CBS (which aired the fight in primetime) needed a couple commercial breaks to recoup their investment in the fight.
3. Joe Frazier KO 1 Dave Zyglewicz -
Where Muhammad Ali toyed with his prey, Joe Frazier simply destroyed it. Just ask hapless Dave "Animal" Zyglewicz, who never got to show an animalistic side besides playing possum. Ali allowed Coopman five rounds in the limelight; Frazier eviscerated Zyglewicz in 96 seconds with two left hooks. Zyglewicz boxed a little while serving in the Navy and turned pro after answering an ad in The Ring magazine looking for young boxers. Note the advertisement did not ask for good boxers. Zyglewicz was competent but never beat a foe above journeyman status and lost to a 6-7-2 Sam Wyatt a year earlier. What Zyglewicz had was charisma, becoming a local draw in Texas who guaranteed a good live gate for him and Frazier to share. Roughly 12,000 fans attended with the gate split 40-20 in favor of Frazier. Zyglewicz said he has no recollection of the fight following his kayo, which is probably a good thing in hindsight.
2. Tommy Burns KO 1 Jem Roche -
The Irishman was one of the boxers heavyweight champion Tommy Burns fought during a world tour he undertook attempting to escape the looming shadow of Jack Johnson. Roche was chosen as an opponent because he was in possession of the Irish heavyweight title at the time Burns landed on his shores. Roche's feeble performance did nothing to raise the reputation of Irish fighters and there were barroom brawlers in Dublin who were probably held in higher esteem than Mr. Roche before and after his title challenge. Roche was a doughy-looking heavyweight as well, looking even more portly lying flat on his back and unconscious after only 88 seconds. Many of Roche's bouts never made the record books and the ones that are were against substandard opposition. Roche's manager estimated his record at 30-7-1 around the time he fought Burns while most boxing historians' official count rarely exceeds 10 bouts. [Editor's note: According to BoxRec.com, Roche's "official" professional record ended at 10-5 (5).]
1. Floyd Patterson KO 6 Pete Rademacher -
A boxer who has never engaged in a professional fight challenging the heavyweight champion trumps anyone whose record is marred with bad losses or poor opposition. Rademacher won the Olympic gold medal in 1956 and brilliantly cashed in on his name recognition to entice gentleman champion Floyd Patterson. In that respect, Rademacher was ahead of his time, promoting himself and going straight to decision maker Cus D'Amato (who managed and trained Patterson) with a $200,000 purse guarantee. It turns out Rademacher was too smart for his own good as a poor fight night crowd of less than 17,000 meant he could not pay himself. The fight plan was little better than Rademacher's promotional scheme, only training to go six rounds since Rademacher believed his best chance was to knock out Patterson early. It almost worked when Rademacher scored a second round knockdown but Patterson quickly regained his composure and dominance. The intelligent Rademacher dissected what went wrong, "Mechanically, I knew as much as all of them [heavyweight contenders] but, physically, I wasn't prepared."
Please visit our Facebook fan page at www.facebook.com/MaxBoxing, where you can discuss our content with Maxboxing readers as well as chime in via our fully interactive article comments sections.