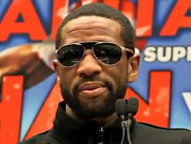 --


The long awaited decision from the IBF regarding the status of Lamont Peterson (who failed a VADA test prior to his rematch with Amir Khan in May and subsequently admitted to utilizing synthetic testosterone in their initial contest) as its junior welterweight titlist was finally announced by the organization on Friday:

August 10, 2012, Springfield, NJ – The International Boxing Federation has decided that Lamont Peterson will keep the organization's Junior Welterweight title, which he won from Amir Khan on December 10, 2011. The organization's decision is based on the findings reported by an independent physician, certified in internal medicine and endocrinology, retained by the IBF to review Peterson's medical records in relation to the information disclosed in the VADA report released this past May.

The physician was asked by the IBF to provide an opinion as to whether the levels of testosterone noted in the VADA report appeared to be consistent with the therapeutic use of the hormone, or for performance enhancing purposes. Additionally, the physician was asked to confer on whether these levels of testosterone would have enhanced Lamont Peterson's training for and performance during the bout on December 10, 2011, and for his training for the bout scheduled for May 19, 2012. After concluding the review of all the documentation provided by Peterson's camp and the Nevada State Athletic Commission, the physician determined that the testosterone levels noted in the VADA report are consistent with the therapeutic use of the hormone and not for the purpose of performance enhancement. Therefore, these levels would not have enhanced Lamont Peterson's training for or performance during the bout on December 10, 2011. Nor for his training for the bout that was schedule for May 19, 2012, as a specimen collected by VADA on April 13, 2012 tested negative on May 2, 2012.
The IBF has advised Peterson's camp of the findings established in this independent review and of his status as the organization's Junior Welterweight Champion. Moreover, the camp was advised that Lamont Peterson must now make a mandatory defense of his title against Zab Judah, who won the elimination bout for the number one position in the IBF Junior Welterweight ratings on March 24, 2012. Peterson's mandatory defense should have taken place on or before September 10, 2012 but was delayed pending the receipt of the endocrinologist's report. The IBF has ordered the respective camps into negotiations for this bout, which is now expected to take place as soon as possible on a date that all parties involved agree upon.


So there you have it; Peterson will remain the IBF's junior welterweight beltholder and his next bout will come against its top rated challenger, Zab Judah, who just refuses to go gently into the night.

But let me say this; as someone who enjoys a very cordial relationship with its president, Daryl Peoples, and as an individual who has consistently lauded the IBF in the recent past for its decisions (as one boxing industry member told me about them, "They're crazy; they actually follow their own rules.") and a person who believes sanctioning bodies are not the end of western civilization or boxing, I think I couldn't disagree more with the IBF in this instance.

Perhaps Peterson had a very legitimate rationale for their procedure and his team certainly did their due diligence in providing evidence to prove that. However, what has been really troubling throughout this whole ordeal is their lack of disclosure beforehand. Seriously, if you're just going to the local Rite-Aid for a bottle of aspirin, why act like you're buying a kilo of cocaine (and for the record, I have bought Excedrin many times but not the powder)? It's well known in the industry that when a boxer so much as takes an over-the-counter cough medicine, he is encouraged to let the state commission know. The same goes for any nutritional supplements that can be purchased at GNC.

But why the secrecy? Why not be more transparent about what was taking place?

Beyond that, you have to worry; does this set a precedent where every fighter who tests dirty can then basically litigate the results (and perhaps the IBF didn't want any legal entanglements of its own, realizing that while Peterson may have failed a VADA test, he had no issues with its post-fight urinalysis back in December)? And will this become similar to what is happening in the state of Nevada where it seems any combatant can come in with a note from a hand-selected physician to get a therapeutic usage exception?

It's a slippery slope. If fighters who admit to breaking the rules aren't stripped of their titles, then who will be?

STATEMENT

On late Friday afternoon, this statement was sent out by Peterson:
"I'm thankful, and I'm thrilled with the IBF's decision," said Lamont Peterson when informed that the International Boxing Federation decided to allow Peterson to retain his Junior Welterweight title. Over the past few months, the Peterson camp has worked diligently to defend Lamont in the face of accusations and innuendo following the cancellation of a May fight with Amir Khan.
Throughout the process, Lamont and his team have consistently maintained that Lamont never took any actions intended to provide him with a competitive advantage. In vindicating Lamont, the independent review conducted by the IBF confirmed the Peterson camp's position. The IBF's independent physician determined that "the testosterone levels noted in the VADA report are consistent with the therapeutic use of the hormone and not for the purpose of performance enhancement."
Lamont added, "I want to thank my manager, Barry Hunter, for all of his support throughout this ordeal. There were a lot of naysayers out there, but Barry and the rest of my team never doubted me. My team fought non-stop to ensure that I was cleared."

Barry Hunter added, "I've known Lamont his whole life and always had faith in him. We were certain that when all of the details were reviewed, Lamont would be cleared and allowed to move on with a title defense and his career."
The Peterson camp will now work toward a title defense against Zab Judah, the number one contender in the IBF Junior Welterweight rankings. Hunter offered, "We never stopped training. Lamont looks great and we're looking forward to a great fight once we work out the details with Judah and his team." Lamont concluded, "I wanted to thank my fans for all of their support during the past few months. I'm excited to get back in the ring. I feel great and I'm ready to fight."
If I were in charge of the IBF (yeah, I know. What a scary and funny thought that is), I would've temporarily stripped Peterson for one year from the time of his bout with Khan. I would've vacated the title with Zab Judah getting a crack at the vacant title against...Khan. Yeah, I know, the prospect of that rematch probably doesn't excite anybody and perhaps this played into their decision. But why should Khan - who was the aggrieved party in this instance - be shut out? I'm told that the fact he lost his last fight to Danny Garcia was problematic but that seems unfair given that he shouldn't have been expected to just sit idle while Peterson's situation was ruled on.
As for Peterson, I'd rule that he'd get the winner of Khan-Judah II within 120 days of that fight.
But since I'm not in charge (and never will be), Zab will face Peterson next in what admittedly looks to be a pretty good looking prizefight, regardless of the circumstances.
Now, the issue of PEDs and their testing has become a hot-button issue in boxing this year. Honestly, this sport has probably been behind the curve in this regard. There's no doubt that boxing needs stricter, more technically advanced tests and boxing shouldn't rely on third parties like VADA or USADA to implement them. And the issues of testing should not be left in the hands of the promoters or individual fighters as that's not part of their job description. These changes have to come from the authorities, first from the Association of Boxing Commissions and then to its member commissions throughout the country.
That said, the real issue is just how those who get caught are dealt with (and as someone pointed out to me on Friday, it's not for sure that Peterson will be granted a boxing license anytime soon). I hear a lot of people talk about lifetime bans and the like but I'm not sure all offenses can be treated equally. Seriously, do you get the death sentence for parking tickets? Personally, I believe that anyone who tests dirty (and it's proven not to be a false-positive) should be subject to year-round, random testing. On the second offense, I'd go with a year-long suspension (and still be subject to testing throughout that period) and then a lifetime ban for a third positive test result.
You just hope it doesn't take a ring fatality for real, substantive changes to be implemented.
But, hey, I don't have any authority. I just work here.
Here were the first two emails I received in regard to the IBF's ruling on Lamont Peterson, the first from Sherman M., who's become a bit of a regular amid my timeline:
Did the IBF just accept the good old "The dog ate my homework" excuse?

They really fell for "We took it, but it didn't help us. We forgot to tell you guys what we took." I mean, if it doesn't help you then why take it?

Let me back track a rough timeline. Keep in mind this is the year 2012 and during the midst of the whole Mayweather/Pacquiao/PED testing era. Each bullet point is what I consider a missed opportunity in which an honest athlete would have been triggered to notify someone about his actions.

*

Lamont Peterson

flies to Vegas to be injected with

testosterone

pellets. He didn't accidentally take a cough drop that is somehow banned, he was INJECTED with a pellet... across the country.

* He requests VADA testing. It is to my understanding that they have some sort of disclosure form where you should be telling them what type of things your taking. No mention of testosterone use.

* He is informed of his positive test. At that point he is informed of his right to have his B Sample tested. If you know you took testosterone and honestly forgot (highly unlikely), a positive test would refresh your memory.



That's three missed opportunities.

After the B Sample came back positive he all of a sudden remembers he has a health condition and that he flew to Vegas to be injected, but forgot to tell anyone?

What I think happened is Peterson wanted a small edge vs Khan the first time and figured it cleared his system by the time the rematch came around, when he requested VADA.

This IBF ruling sets the precedence where athletes might feel they can risk cheating as long as they lawyer up a good enough excuse.

--


Sherman M
Then there was this missive from Shane B.:
Peterson dopes and gets to keep his belt.



Guys are cheating left and right, the world's best known fighter got ripped off by corrupt or inept judges in front of the entire world, Broner's are allowed to be welterweights beating up on 130 pounders, and now this. I hate to admit, because love love love boxing, but the sport just sucks and can't keep kicking itself in the groin over and over again.

And as your HBO ratings article(http://www.maxboxing.com/news/main-lead/yeah-they-matter) keeps pointing out, fans are in fact losing interest and none of this helps. Dana White doesn't really need to strategize against boxing so much as just stand back and let it be itself and keep imploding.

I admittedly haven't read any more than Rafael's post, which says an "independent" MD hired by the IBF said given his test results that testosterone scrip was warranted, and would not have "enhanced" his performance at his doses.

Well, I'm no MD and don't even play one on TV, but if it wasn't enough to make a difference then why was it prescribed?? It must have done something ,right??

He kept it a total secret until he got caught red-handed for a reason, right??

And what about the rules about disclosing prescription drugs? they don't matter either I guess ,if you get a good enough attorney.

Now, it rally just doesn't matter. it's the WWF. 'roid up and wait for your attorneys and bribed doctors to bail you out.

Guys don't use PEDs because they don't work and any arguments made around that are beyond stupid. Reminds me of the baseball cheaters' defenders saying 'roids don't help you hit a curve ball. Maybe not, but the numbers showed very clearly that it did help guys who could hit curveballs hit them a helluva lot farther a helluva lot more often!


PS- speaking of Broner, and HBO's enabling of him, why has no one called him out on wearing a "Free Money May" shirt into the ring?



Free a guy who was convicted of physically abusing his childrens' mother and threatening to kill her in front of their children?? Free that guy??

F**k Money May, I wish his baby-mama-beating ass was still in the hole. he's a wife beater and a truly bad guy and he deserved a longer stay.

-Shane
Ok, so Shane had some things to say beyond the IBF/Peterson situation but I have a feeling these two guys echo the thoughts of many boxing fans out there.
Bob Arum says he had a productive meeting with Manny Pacquiao in General Santos in the Philippines on Thursday and while he wouldn't say anything about who the "Pac Man" will face next, he did confirm he will perform on November 10th...I'll say this for Mitch Kupchak, he's done a nice job of reloading the Lakers, both on the front line and the bench...Speaking of PED use, I'm told that you won't see Antonio Tarver on any Showtime broadcasts till his situation is cleared up with the commissions...So is Tyrann Mathieu now the "Honey Toker"? Les Miles loved him like a son - a Tiger son...Are the Olympics over yet?

...

I can be reached at k9kim@yahoo.com and I tweet at www.twitter.com/stevemaxboxing. We also have a Facebook fan page at www.facebook.com/MaxBoxing.