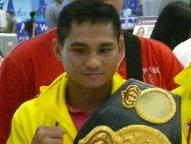 (Photo © Siraphop Ratanasuban)


On New Year's Eve, Tepparith Singwancha (also known as Kokietgym) heads to Japan for his fourth consecutive fight when he defends his WBA super flyweight crown against hardnosed Kohei Kono, 27-7 (10), who will be making his third attempt at winning a world title. The 24-year-old Tepparith has previously gone to the Orient and dispatched of Daiki Kameda (UD12) and Tomonobu Shimizu (TKO9) and won a closely fought contest with Nobuo Nashiro (MD12) as recently as September.

The Thai fighter currently boasts a 21-2 (13) record and over the past year, has arguably stepped into the role as the premier fighter in his homeland with Pongsaklek Wonjongkam's career demise and subsequent retirement. In the recent "The Ring 100," Tepparith was rated at 61.


Anson Wainwright - You fight Kohei Kono on 31st December what are your thoughts on fighting Kono?

Tepparith Singwancha - I am very well. I will knock Kono out. Kono changes his style all the time. Therefore I have to watch his style again. I have to listen to my coach and always change plans.

AW - It's the fourth consecutive fight you will be having in Japan. What are your thoughts on fighting there?
TS - I think fighting in Japan is the same as Thailand, just weather and crowd cheering are different.

AW - Tell us about your last fight when you fought Nobuo Nashiro in September?

TS - That time when I fought Nashiro, I had to lose too much weight. This time, I am good.

AW - Who are the people in your team, manager, trainer and promoter? Also, what gym do you fight out of?

TS – Mr. Vinai is my manager and trainer. Mr. Kokiet is my promoter. I train in Nakornpathom Sampan province. My gym's name is Vor Singsanae.

AW - The training in Thailand is supposed to be very tough. Can you tell us about your training? How many hours a day do you train and what sort of things do you do like sparring, weights, running, etc.?

TS - Every day I wake up 5.30 a.m. and run 15 km, shadowboxing exercises at 9 a.m., then rest, eat breakfast, wake up at 2 p.m., start 3 o'clock run for 6 km, sparring 12 rounds or 18 or more, exercise at 6 p.m. I like all machines for weight lifting and punching bags.
AW - What were your younger days like growing up in Maha Sarakham, Thailand?


TS - My family is very poor. My village loves

Muay Thai

and boxing.
AW - Many Thai boxers come from a Muay Thai background. Was this the case with you?


TS - Yes, I had 200 professional Muay Thai fights and won 160.

AW - What do you think of the other champions at 115 like the WBC's Yota Sato, the IBF's Juan Carlos Sanchez and the WBO's Omar Narvaez?

TS - I think Sato is tall. I want to fight him; it would be a good fight. I don't know Sanchez or Narvaez.

AW - Tell us about your life away from boxing. What do you like to do?

TS - In my free time, I like to sleep and Facebook. I love being a professional boxer. I want my son to be a boxer if he wants.

AW - Now that you are a world champion, what more do you want to achieve?

TS - I want to continue defending title many times and win the WBA and WBC titles. I want to feed my family well. I want to go fight in the U.S.A.

AW – Finally, do you have a message for the boxing world?


TS - I want to please the fans and for the people to cheer for me.
Please visit our Facebook fan page at www.facebook.com/MaxBoxing, where you can discuss our content with Maxboxing readers as well as chime in via our fully interactive article comments sections.