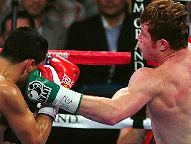 (Photo © German Villasenor)


This past weekend, I was ringside at the Thomas and Mack Center in Las Vegas, making it impossible for this reporter to be at the MGM Grand where another card was taking place. Many of you out there have asked my thoughts on this card (which I eventually watched on Sunday night on DVR). Well, here ya go...
- It's no secret that IBF bantamweight titlist Leo Santa Cruz is one of my favorite young fighters. He attacks the body with as much fury and consistency as anyone in the sport and he simply wore down veteran Eric Morel in five rounds. At this stage of his life, Morel didn't need this. Leo reminds me a lot of a younger, smaller version of Antonio Margarito. And while he's not a great puncher, he more than makes up for it with volume and activity and as he continues to mature and attain his "man's strength," Santa Cruz will become a more stout puncher.

What I've always respected about this kid is his strong work ethic. It wasn't unusual to see him back at the Maywood Boxing Club less than a week after a fight in Mexico, going right back to the grind with his father. Yeah, there is no living room regimen for this guy. After being released by Top Rank and the demise of TKO Boxing (remember them?), Santa Cruz has been developed nicely by Golden Boy Promotions (and his former manager, Cameron Dunkin). He is a testament to what hard work and respect for the game can do for you.
Regardless of who he fights, Santa Cruz has become must-see-TV.
- In perhaps the best fight of the night (on either card), Marcos Maidana dramatically halted Jesus Soto Karass in the eighth round. As usual, Maidana provided power punching and some fireworks but while he was rallied against the normally durable Mexican, I have my doubts about his long-term success as a welterweight. Yeah, Maidana can still bang but I never thought he was the biggest 140-pounder and I think he'll be outsized by most of the welterweights he'll face in the future. I think he's good enough to down the Karasses of the world but not sure about the real blue-chip welters.
But when he fights, I want to be there to witness it.
- The match-up between new WBC featherweight beltholder Daniel Ponce de Leon and Jhonny Gonzalez was a disappointment. Honestly, I expected a much more entertaining bout but instead we got a rather cautious, guarded affair. Sometimes fights look much better on paper than they do on the actual canvas. If you look at both guys' records, they have high knockout percentages and a history of being in slugfests but they simply didn't make good dance partners on this evening. Eventually, Ponce de Leon captured the belt via eighth round technical decision as the fight was halted after a clash of heads seriously lacerated Gonzalez.
- The main event between WBC junior middleweight titlist Saul "Canelo" Alvarez and Josesito Lopez was every bit the physical mismatch everyone had feared. This was someone throwing hardballs versus a foe who could only respond with spitballs. A sledgehammer versus a flyswatter. A Louisville Slugger against a toothpick. You catch my drift. Every time "Canelo" hit Lopez, he visibly moved him and you could just see how much the punches affected him. "The Riverside Rocky" is as game as they come and he gave it the best run he could but he was simply overmatched here.
Honestly, I would've thrown in the towel after the late knockdown in round four. Lopez had played his role (which was to provide a semi-marketable foe for Alvarez) and this was a lost cause from the very beginning. I hope he got paid well for being cannon fodder this weekend.
As for Alvarez, yeah, I know he basically faced a blown-up junior welterweight but I'll say it right now on the record; I'd pick him to beat Miguel Cotto at 154. I think 'Canelo' has underrated speed and I think he's sound technically. Another factor is that I believe Alvarez, for as admittedly unproven as he is at 154, is in his physical prime with a lot left in his tank.
- Finally, on Monday afternoon, the gate receipts for both cards were released by the NSAC. The card at the MGM Grand had a gate of $1,618,150, sold 12,860 tickets and had 1,659 comps. Meanwhile, the card at the Thomas and Mack, featuring the middleweight title bout between Sergio Martinez and Julio Cesar Chavez Jr. sold 16,939 tickets with 751 comps for a gate of $3,052,475.
Now my question is this, because both promotions did well (at least on the surface), will this spur more lunacy between Golden Boy and Top Rank?
Well, c'mon, I think we already know the answer to that question.