Showtime Championship Boxing TV Cheat Sheet-July 28, 2012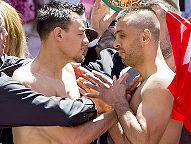 (Photo © Esther Lin, SHOWTIME)


Showtime's main event between Robert Guerrero and Selcuk Aydin is the type of fight the network established its reputation for, picking quality match-ups with the potential to turn into a great fight. Most famously, Showtime pulled the trick in the first Diego Corrales-Jose Luis Castillo war and followed it up with the four-fight Rafael Marquez-Israel Vazquez series. More recently, the Orlando Salido-Juan Manuel Lopez slugfests and the four-man bantamweight tourney pairings stand out for their quality. I believe the Aydin-Guerrero fight has "Fight of the Year" potential, pitting a slick boxer whose toughness is underrated against a fearsome banger whose boxing intellect is overlooked. With any luck, both misconceptions will be erased by the action produced in the ring tonight. Essentially, the pair is fighting for the right to become the mandatory contender to Floyd Mayweather but only a stirring or emphatic win can get the winner a place at Mayweather's pay-per-view table.

At the HP Pavilion, San Jose, CA
(Showtime) Robert Guerrero (29-1-1) vs. Selcuk Aydin (23-0)
(The Ring magazine #2 lightweight vs. #9 welterweight)
(Showtime) Shawn Porter (19-0) vs. Alfonso Gomez (23-5-2)
Alfonso Gomez –
First became a recognizable name due to his success on the original "The Contender" TV series but afterward, worked hard to become a legitimate contender. Achieved legitimacy stopping ill-fated Arturo Gatti and earned admiration rebounding from a beatdown at the hands of Miguel Cotto, registering five consecutive wins over solid opposition. Gomez began boxing at age 10, establishing an 80-10 amateur record, winning the Mexican title but not qualifying for the Olympics. In an important professional win, surprised most by repelling the aggressive onslaught of Jesus Soto Karass, picking him apart with fluid and well-timed counters. Showed heart in Cotto loss, going back to the gym to correct flaws exposed by Cotto as shown against Karass and subsequent win over Jose Luis Castillo. Still trained by his father, who coached Gomez since the amateurs. Suffered a cut against Karass, which caused the fight's stoppage, and has had problems with cuts and swelling in other fights. Displayed a quick and consistent jab beating Jose Luis Castillo but could not repeat that against Saul Alvarez, suffering a sixth round stoppage in Gomez's last fight 10 months ago. It may be a thing good that Gomez curbed his activity given his draining style, only fighting twice in 2011 and once in 2010 to recharge his batteries. Can Gomez continue to utilize a previously underused jab, which he popped out at a solid pace against volume-punching Karass and Castillo? Gomez showed against pressure fighters Arturo Gatti, Ben Tackie, Karass and Castillo that he has the brains to overcome an opponent who lacks speed or variety. Did well counterpunching Gatti and Tackie and his blows do more damage than a 40% kayo ratio indicates. Has ring smarts (did not retaliate despite Karass' multiple fouls) and aggression to overcome lack of world-class hand speed but Gomez needs to be careful not to start combinations from a distance. When successful, it is largely because of Gomez's feet, which are quick to place him in a position to lead or counter. Gomez admits being a brawler at heart, "I put pressure on, come forward, throw a lot of punches." It was good seeing Gomez's work ethic rewarded but at age 31, many think he has seen his best days…just like the TV show that made him famous.
Shawn Porter –
Ohio native is working his way down in a good way, slimming himself to welterweight from a debut weight of 165 pounds. Porter was an amateur star, beating fellow pro prospect Fernando Guerrero as well as Olympians Shawn Estrada and Demetrius Andrade despite physical disadvantages. Finished his internship with a 276-14 record and plenty of national titles (Golden Gloves among them) while participating in many international tourneys. Missed out on participating in the 2008 Olympics, losing in an upset to Daniel Jacobs, but made the team as an alternate. Porter is learning quickly as a pro, getting quality work at Freddie Roach's Wild Card Gym, becoming Manny Pacquiao's main sparring partner for two camps. Also sparred with former middleweight champion Kelly Pavlik and went as high as light heavyweight to spar champ Chad Dawson. Helpful hints from master coach Freddie Roach have aided Porter's father who still trains his son and has not been a problem to date. Porter has shaken his amateur tendencies, stopping 14 of 19 opponents, mixing elite hand speed and combination punching with well-placed power shots. Most compare Porter to Andre Berto but I see a bit of Fernando Montiel and Meldrick Taylor (OK, nowhere near those two at this stage of his career. Maybe a Sharmba Mitchell comparison is more apt?) influences since Porter has better feet and shown himself more mobile than Berto. Porter moves in and out of range with snappy foot work, all along bouncing happily on his toes, looking for openings his angles create. The 24-year-old flashes fast combinations but has the eagerness to engage opponents head-on despite advantages in speed and ability. It is somewhat disconcerting that Porter is not more heavy-handed as he moves down in weight with two of his last four fights (against his best opponents to date) going the 10-round distance. Despite that, has never been pushed on the scorecards and it shows Porter has no problems in the stamina department. One obvious item that could hold Porter back is a lack of height and reach, standing a reported 5'7" "tall" in a division where 5'10" is more the norm. It is the reason Porter's team is slimming him down despite a heavy musculature. A good-looking prospect with lofty ambitions and fine amateur pedigree, Porter is now making a move to become a main event attraction.
Verdict –
This fight is a matter of timing in two ways. Firstly, this is Porter's time, a boxer entering his physical prime while Gomez is at the end of his, relying on guile to win now. Secondly, after two rounds, Porter will have timed Gomez's punches and assessed weaknesses, slowly breaking him down and busting up his face up to score a late-round stoppage. Gomez has been too inactive to deal with a fast combination puncher like Porter and will be unable to time a flash like him. Gomez is willing but will be beaten to the punch consistently. In short, Porter's combinations will play havoc with Gomez all night and I don't think this fight hears the final bell.
Selcuk Aydin –
Menacing former Turkish Olympian's nickname is "Little Tyson" and like Mike Tyson, had to temper his emotions after turning pro because of a five-year amateur suspension for attacking a referee. Also, like Tyson, Aydin packs destructive power in both hands (74% kayo ratio), which may be why other aspects of his impressive skill set have not been appreciated since turning pro six years ago. Aydin competed in and won prestigious international tourneys with over 350 amateur bouts to his credit, becoming a highly sought after prize by European promoters. Since turning pro, the 28-year-old has done nothing untoward and impressed ring observers with his work ethic and subtle tricks that accentuate fierce power. It is why Aydin has been avoided, a number one contender for nearly three years, despite his willingness to fight in America, previously. While strength is Aydin's calling card, he has gone 12 rounds without a problem, dominating competent South African Lucky Lewele. Twice bested borderline contender Ionut Dan Ion (also known as Jo-Jo Dan) over that distance, breaking Ion's jaw in the second fight, dropping him in the first and 11th round. Defeated Said Ouali in America over 12 rounds and both Ouali and Ion are southpaws like Guerrero. Former two-division champion (super middle and light heavyweight) Graciano Rocchigiani trained Aydin after turning pro, commenting on his pupil, "Selcuk is an aggressive fighter who loves to come forward. The only difference between us is that he hits way harder than I ever did. He's got enormous punch power." Boxes with his hands high, a covering guard a bit like Arthur Abraham's, but does not jab enough from that position despite displaying fast hands even when lopping a blow. In cases where Aydin does not get a stoppage, he still has the kind of thudding power that leaves opponents passive on offense, trying to avoid mistakes. His chin has been dented but Aydin recuperated quickly in every case to resume his attacks. Aydin spent last month in San Jose preparing and getting acclimated and is not mincing words about this opportunity, "I am not planning to leave the decision to the judges. I didn't come to California to outbox or outscore Guerrero. I will walk right through 'The Ghost' and take the belt back home to Turkey. I can hit hard but I will also box." The best current boxer that Americans are aware of to compare Aydin to is Lucas Matthysse since both their mixes of abilities and unrelenting forward-churning power can be overwhelming.
Robert Guerrero -
The last time fans saw Guerrero, he fashioned a crafty 12-round victory over Michael Katsidis 15 months ago but since then, he underwent shoulder surgery and moved up two weight classes. Before that, Guerrero outthought borderline Hall-of-Famer Joel Casamayor (unfairly criticized for the measured approach he took against a dangerous foe) and dominated Vicente Escobedo in distance wins. The laidback Californian is a two-division champion (sorry, I don't count interim belts) who has overachieved considering the mental strain he and his wife, Casey, (who courageously overcame leukemia) have endured. Thankfully, the disease is in remission and Guerrero can fully devote himself mentally to boxing. In the past, I unfairly underrated Guerrero. For some reason, I chose to remember his loss to Gamaliel Diaz more than impressive stoppage victories over the likes of Jason Litzau, Spend Abazi and Efren Hinojosa. Why? I am not sure. I just did and Guerrero made me regret my evaluations and picks against him. Guerrero is a snappy-punching southpaw, his diverse abilities allowing him to box patiently before switching into seek-and-destroy mode if a foe is hurt. A former featherweight and junior lightweight titlist, he was huge for those weight classes but it does not look like his power traveled with him to lightweight (even though Guerrero's power is predicated on speed as much as pure punching with his punching accuracy adding to the impact). Guerrero turns over his punches well from a distance and finds space by taking judicious backward steps when needed. However, in other instances, unleashed nice uppercuts inside. On defense, Guerrero seems a bit stiff, not rolling with punches and standing too tall during exchanges. When on defense, crowds opponents enough to absorb the impact of punches instead of taking full brunt at range. At 29, Guerrero is exiting his physical prime and looks best when moving forward behind a forceful jab and accurate hooks. At lower weights, was the complete package, eliminating minor flaws while adding new tools to his offensive arsenal despite never replacing his father as trainer. Because of the odd circumstance of his no-contest against Daud Yordan, cut by a hard headbutt, Guerrero was unjustly downgraded in terms of toughness. Now that his wife's medical issues are behind them, perhaps a more focused Guerrero can go on to fulfill the star potential many saw in him to begin with. Maybe that Floyd Mayweather bout Guerrero has been hyping for a year now is not implausible after all.
Verdict –
I have wavered and changed my mind on the outcome of this fight all week since plausible scenarios for either man emerging with a victory are easy to envision. In the final analysis, I went against a longstanding rule of mine, choosing my gut feeling over what my brain tells me. I am picking Selcuk Aydin to rally late in the fight and score a close decision win or late stoppage over a brave but physically outgunned Guerrero. The referee could play a major factor in this fight. If he separates the boxers quickly or warns Aydin for roughhousing in the early part of the match, it is a clear advantage to a Guerrero already fighting on home turf. I think many are under the false impression that Aydin has not been in the ring with talented boxers before. Aydin has shared the ring with elite boxers since his teens and rarely come in second-best. Guerrero will outspeed and outbox Aydin early, building a nice lead, but Guerrero will be troubled by Aydin's incessant pressure as he has been in other fights. Orlando Salido beat Guerrero (changed to a no-contest after Salido tested positive for steroids) with physicality and Malcolm Klassen gave him problems in the second half of their fight. I see the same with Aydin who will slowly reel in Guerrero as his pressure and bodywork takes effect from round six on. That is when Aydin cuts off the ring successfully and score with his underappreciated accuracy. It will be a dramatic affair featuring momentum changes in the middle rounds as Guerrero is forced to stand his ground with Aydin scoring a stoppage or two knockdowns in the championship rounds to secure a victory.
Prediction record for 2012: 84% (72-13)
Prediction record in 2011: 88% (138-19)
Prediction record in 2010: 85% (218-40)



Subscribe to feed