Showtime Championship Boxing TV Cheat Sheet- Apr. 21, 2012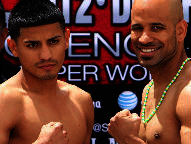 (Photo © Tom Casino / SHOWTIME)


Boxers below the featherweight division deserve the spotlight more often, as fans have been rewarded with exciting fights from the likes of Nonito Donaire, Abner Mares, Vic Darchinyan, Jorge Arce, Joseph Agbeko and newcomer Anselmo Moreno when they appear on TV. Showtime deserves much of the credit for featuring lighter weight boxers in their quasi-round-robin tourney bantamweight tourney, continuing the trend tonight with two more intriguing bouts. Of course, the match-up fans most want to see is co-headliners Anselmo Moreno and Abner Mares square off against one another but tonight is an acceptable option if it leads to a clash down the road. My only concern about this show is the very real possibility of the Texas Boxing Commission finding yet another way to screw up!

At the Don Haskins Convention Center, El Paso, TX
(Showtime) Abner Mares (23-0-1) vs. Eric Morel (46-2)
(The Ring magazine #2 bantamweight vs. #5)
(Showtime) Anselmo Moreno (32-1-1) vs. David De La Mora (24-1)
(The Ring magazine #1 bantamweight vs. unranked)
(WBA bantamweight belt)

David De La Mora –
Tijuana product is a bullying fighter with more refinement than true brawlers, putting forth a solid performance in losing a disputed decision to world champion Koki Kameda in Japan. De La Mora comes from a boxing family, training by age 10, and enjoyed a solid amateur career (80 bouts ending in national appearances) before turning pro at age 16. A smallish bantamweight, at 5'4" with 64-inch reach, but at 23, is in his physical prime and makes up for size with pressure tactics. Like many developing boxers, sometimes relies on left hooks excessively but has enough hand speed and intellect for a two-fisted fighter. Thudding power stopped 17 of 24 victims and six of last eight when De La Mora's level of opposition took a drastic upward turn. Only lost by one, two and three points on the cards to Kameda, backing up the champion and reducing him to one or two punches at a time. Exhibits a choppy style with hands held just above chest level and De La Mora is willing to throw four-to-six-punch flurries when an opponent is lazy or escaping straight back. Jab seems lacking, neither stiff nor accurate, and acts as a range finder. At times, forgets about body punching, rare for a Mexican banger. Sent to the canvas by counter left by Kameda (dropped by average Luis Valdez as well), opening with wide hooks in a reckless chase but showed a good chin getting up from a hard punch at the count of two. However, in subsequent rounds, did not let his hands go enough. On defense, relies on decent upper body bobbing and weaving but low hands do not cover up or react in an instant to incoming punches. Universally respected Joe Koizumi saw him perform live, "De La Mora looked like a human windmill without good precision. He threw much more punches, most of which hit the air or the champ's gloves." De Le Mora described himself to Maxboxing's own Anson Wainwright, "My way of fighting is think and analyze in the ring and win round after round. I know that Moreno will not fight me face to face; he will be moving around and running like a marathon." A smart kid outside the ring, De La Mora is a year away from graduating studies at the University of Tijuana and looks as fine and well-rounded a person as he is a boxer.
Anselmo Moreno –
I appreciate road warriors who won their titles in another man's home country and Moreno falls into that group, as well as many other positive categories. Moreno continues to defend his title on the road against top opposition and raised eyebrows with his dominating win over dangerous Vic Darchinyan in his American debut. The 5'6½" Panamanian is a lanky stylist, with long spidery arms, in the mold of an Ivan Calderon or Pernell Whitaker. One distinction between Moreno and a Calderon type is that Moreno is not afraid to engage inside, using his natural strength and sharp shoulders to push or maul if opponents get close. Described himself thusly, "My style fascinates me when they are right in front of me and I can make them miss. They miss and I counter them. That's the art of boxing. Hit and not be hit." Though not a hard puncher (32% kayo ratio), Moreno's punches speed and southpaw trajectories lend them sting. Uses a searching jab to gauge range (left hand stays by chin in classic stance) and varies blows from arrow-straight lefts to looping rights which unhesitatingly follow-up advantages to the head and body. Straight left is most potent weapon which Moreno trails in with a forward stride, setting up other opportunities. In general, despite counterpunching ability, Moreno presses the action. Has not lost since a disputed four-round split decision (twice avenged) at age 17, in his first year as a pro, and made nine title defenses over three years. Won't have a problem with pro-Mexican crowd, having defended title in France, Germany, America and Venezuela. Handed Russian Volodymyr Sydorenko his first loss on the road and did the same to Nehomar Cermeno, traveling to Cermeno's hometown. Has a knack for doing just enough to win, registering four title defenses by split decision (three on the road). Did seem to tire late in some bouts, maybe the result of Moreno's legs betraying him after difficulties making weight. Only fought twice a year in last two years but past managerial problems were the cause of inactivity. Boxing is the family business; Moreno's publicist is his wife, the daughter of Hall of Fame boxer Ismael Laguna. Moreno is confident without being cocky, telling the press to expect better things. "You have to remember that the fight against Darchinyan was my first fight in the United States, so I was a little more reserved. Now, I'm very excited to be fighting in the United States again and you'll see a little bit of difference. I'm going to be the same boxer, style-wise, but you'll see a little bit more."
Verdict –
Styles make fights and the stylistic matchup favors the champion. Moreno is endowed with the reflexes and movement to deal with De La Mora's power and wants his challengers to be aggressive. Moreno is a precision puncher and his multiple connects are easily appreciated by judges. De La Mora's pressure tactics look good to fans but can be seen by judges as ineffective when unable to trap a foe. Moreno's ring generalship and countering ability at range wins the day on the scorecards, frustrating De La Mora with lateral movement and potshots from safe distances. Look for Moreno to lead De La Mora into straight left hands with pivots, though De La Mora could win a couple rounds early on volume as Moreno gauges him, looking for vulnerabilities. Moreno wins nine rounds to three, sending another exasperated challenger packing.
Eric Morel –
One of the bright lights emerging out of the 1996 Olympics, many thought Morel would develop into a major attraction, given a complete skill set, bilingual ability and ready smile. However, a combination of complacency and legal problems derailed a once-promising career, seven years in, and Morel is now attempting to regain some of that gloss at age 36. Born in Puerto Rico, Morel grew up in Madison, Wisconsin, boxing for the USA in the major competitions. A Golden Gloves champion, he was unlucky to draw Cuban Maikro Romero in the first round of the Olympics, losing 24-12. Because of his ability and amateur pedigree, was fast tracked by Top Rank to a title shot, winning the WBA flyweight title in his fourth year as a pro. Nickname of "Little Hands of Steel" is misleading since Morel has less than a 50% kayo ratio and is a boxer first who moves to set up combinations. Has not stopped a quality opponent since 2002. Would not call Morel a pure boxer but he prefers opponents come at him to pick them apart rather than hunting foes down with his speed and educated feet. That speed has diminished but remains world-class and dangerous, given his ability to time foes and use a slicing jab. Combination of talents earned Morel 33 wins to begin his career; no one came close to Morel on the scorecards before 2003 and he was getting consideration for pound-for-pound status. Made five defenses of the title before Venezuelan hotshot Lorenzo Parra dropped him in the third round, taking the title in an entertaining scrap. Morel immediately moved up in weight but was shockingly outclassed by Martin Castillo losing all but one round on every judge's scorecard. Entered that fight with a lot on his mind and was jailed seven months later, pleading no-contest to second-degree sexual assault of a drunken 15-year-old girl. Served a two-year prison sentence and has won 11 fights in his comeback. Best win in comeback, so far, was outpointing Heriberto Ruiz, when Morel's speed and jab allowed him to dominate from the outside. Also took apart Luis Maldonado last year, knocking down and cutting the former title challenger before registering a fourth round stoppage. The former champ says he is ready, "My age is nothing but a number. I'm in great shape; my speed is there and I have more power. Mares is not going to bring anything to the table that I haven't seen before."
Abner Mares -
I imagine Mares learned how to fight at family dinners, where he had to fend off 10 brothers to get his share of food. Mares grew up in a boxing family; his father was a pugilist, so "Lil' Abner" absorbed boxing via osmosis before stepping in the ring at age seven. It's somewhat of a rarity among elite Mexican fighters, given he was an accomplished amateur finishing with a 112-8 record. Mares brought home international medals and ended his run in the amateurs with a disputed loss in the Olympics. Was on top of then-fledgling Golden Boy Promotions' draft board, inking Mares after the Olympics, and he became the first fighter to debut with the company to win a world title. A smooth boxer-first/puncher-second-type with solid pop in both hands, Mares sports sophisticated feet that put him in a position to unleash with either hand. Uses his intellect to deliver well-timed flurries and in fights against elite-level opponents, was unafraid to stay in the pocket during offensive and defensive sequences. Impressed me reversing momentum in marquee bouts against Vic Darchinyan and Joseph Agbeko, fighting through adversity despite sustaining an early knockdown, cuts and point deductions. This is borne of Mares' great attitude, "I want to be remembered not as a fighter that was unbeaten but as a fighter who fought the best." Overcame another scare when a detached retina nearly ended his career and he has refused to reel in his aggressive style in the face of that injury. Mares has a pleasing style and personality, endorsing products in Mexico and is a potential star on both sides of the border- even though his image took a hit in the first Agbeko bout, when Mares could have easily been disqualified for low blows. Trained by Hall of Fame trainer Ignacio Beristain- who molded similarly-stylish Juan Manuel Marquez- early in his career while respected Clemente Medina presided over recent wins. Distance fights against Vic Darchinyan, Yonnhy Perez and Joseph Agbeko, in which Mares got stronger as rounds progressed, alleviated stamina concerns. Ability to ride out big punches from elite punchers revealed solid chin but defensive flaws should be addressed since Mares has the reflexes and technique to avoid punches. Mares was focused at the final press conference. "I'm not a knockout artist who possesses one-punch power. My style has always been to pressure forward. What helps me is that I can adapt to any style, so we hope to figure him out. I've fought top opposition and I've been able to adjust to every fighter."
Verdict –
Mares has proven himself an elite talent, navigating treacherous stretches against Yonnhy Perez, Vic Darchinyan and Joseph Agbeko, preparing him for wily veterans like Morel. Mares has a more complete game and decided age advantage, 10 years younger, and he will use both advantages to avoid Morel's backpedaling traps. Alternately, Morel needs to pick his spots to lead instead of playing the counterpuncher throughout. If Morel starts fast, which is not always the case, he has a chance to get Mares off balance and cause frustration. Morel's four-inch reach advantage aids him there, to go along with straighter punches from a distance. Still, Mares' reflexes and naturally aggressive demeanor will win over the crowd and judges, propelling him to a victory, sweeping the final six rounds of the fight after a nip-and-tuck start.
Prediction record for 2012: 80% (32-8)
Prediction record in 2011: 88% (138-19)
Prediction record in 2010: 85% (218-40)



Subscribe to feed