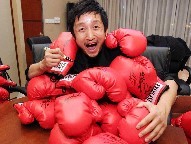 (Photo © Chris Farina / Top Rank)


While Zou Shiming - who is preparing for his fourth professional outing this weekend in Macao, China - is a two-time Olympic gold medalist, he isn't exactly Vasyl Lomachenko or Guillermo Rigondeaux when it comes to natural talent (and yes, this is the early frontrunner for "Understatement of the Year" for 2014). Yes, he had a huge amateur pedigree but his skill set isn't in the same stratosphere as those other two, who also captured multiple gold medals. But Shiming surpasses them in the ability to draw, already having created a franchise that Top Rank Promotions can draw from every few months in the Far East.

But the question is: Can this Chinese star actually fight? Will he ever become a fundamentally sound professional? Can he even take the next step to being a competent boxer?

The 3-0 Shiming, who faces Yokthong Kokietgym this Saturday at the Cotai Arena inside the Venetian Resort, admits that transitioning to the paid ranks was difficult, "Everything was totally new, even how to step, how to punch, everything. All of this was a new challenge for me," he said a couple of weeks back through his wife, who played the role of translator this day at the downstairs portion of the Wild Card Boxing Club before his scheduled sparring session.

When you see Lomachenko - who is challenging Orlando Salido for the WBO featherweight title on March 1st in just his second pro fight - or Rigondeaux, there is a certain elegance in their movements, a mastery of their craft. When you see Shiming, well...not so much. He's oftentimes awkward, uncoordinated and a mish-mash of out-of-sync movements. He admits that professional boxing and the amateur game is about as contrasting as can be and therefore, his adjustments to this level of the sport have been more difficult than expected.

"Most definitely because everything is much different than what I thought from before. Now [trainer] Freddie [Roach] just helps me to do everything to craft my skills. Freddie helped me a lot," says Shiming. The acclaimed trainer says of his Asian pupil, "He's really come a long ways. When I first started working with him, I thought he'd be champion with two fights or something like that. Then when we got to China, a lot of the amateur habits came back out so maybe it was not the most impressive win. And the second fight he did a little better; his third fight he did a lot better and I expect in the fourth coming up to be a helluva lot better. He's been looking really good in the gym. He's been sparring with "'Speedy' [Roger Gonzalez] and he gives 'Speedy' fits and he's really coming into the pro style very well."

On this day, Shiming does show technical improvement and throws a high volume of punches but it has to be said that Gonzalez, a seasoned featherweight, does seems to hold back a bit given the size - and perhaps skill - disparity between the two. But overall improvement, even of the incremental variety, is a step forward.

When asked what's been Shiming's biggest improvement, Roach states, "Combination punching and not just scoring a point and trying to get away or how fast you score it because that's who the amateur system has always been with the point system with the computer. So the thing is landing combinations, getting under and out after combinations, not standing in front of his opponents and just being more productive in there and he's doing that much, much better now."

Something noticeably improved in this sparring session is Shiming is planting and setting his feet much more. In the past, he hopped forward with every punch, not allowing himself to create any real leverage with his shots. "A lot of that went away but he still jumps in once in awhile, so he's not perfect but he's gotten a lot better; yes. And he punches a lot harder now also," said Roach.

The trainer cites a variable that makes this project even more difficult: the language barrier.

"I think this is the hardest part. Sometimes the translator doesn't understand what I'm talking about, the boxing language, so the translator doesn't really know what I'm trying to get across. So we've got the language barrier and being amateur for so long, it's a little bit difficult. It's all coming to fruition now and I think he's going to be champion within four fights."

Ok, about that, just how quickly will Top Rank move him?

Bob Arum says, "We're completely guided by Freddie's timetable and [Shiming] fights an eight-round fight February 22nd against a tough Thai kid. And then we're going to put him in this summer in a 10-round fight for a regional belt and maybe another 10-round fight, early Fall, and we hope to have him fight for the IBF title sometimes before the end of the year." As you see Shiming, if you didn't read his boxing biography coming in, you'd be hard-pressed to believe he could really be at this accelerated pace given he's a national icon and an ATM machine for everyone involved, what's the rush?

Well, the fact he's 32 is a huge factor.

"On one hand, you don't want to rush a guy like this but on the other hand, you're not dealing with a 21-year-old kid," Arum points out. "So you gotta balance everything out and between Freddie, [Top Rank matchmakers] Bruce Trampler and Brad Goodman, I think they'll do a good job [of matchmaking]. The kid has made tremendous, tremendous strides."

But as Shiming made nearly enough to defeat the likes of light flyweight champs Adrian Hernandez (WBC), Kazuto Ioka/Roman Gonzalez (WBA), John Riel Casimero (IBF) or Donnie Nietes (WBO) in the near future? Based on the form he's shown thus far, the consensus would be a resounding no. The hope is he improves rapidly and catches the most vulnerable beltholder on a bad night.

For now, Shiming is just focused on improving fight to fight. If anything, the foray into prizefighting has been both fun and dangerous.

"I'm very happy to be a professional boxer. For me, it's more free space to improve," said the always-friendly and amiable Shiming. "It's easier to knock somebody out," – something he has not yet done in a fight - "and it's easier to be knocked out. I think it's exciting."

POST-ZOU

The mere presence of Shiming is allowing this card (which will be aired on HBO2 on Saturday afternoon) to take place and allows fighters like IBF lightweight titlist Miguel Vazquez to make solid paydays that might not otherwise be available to them in the States. However, what happens to the Macao market once Shiming retires?

Arum admits he is uncertain.

"We don't know. So far, he's been on every card but we plan to have a card in May, which would not include him," said Arum, who says by that time, Roach would be tied up with Miguel Cotto, who will be in full-blown preparation to face recognized middleweight champion Sergio Martinez on June 7th, therefore unable to work with Shiming. "So he would probably fight in the beginning of July over there. We're trying to develop other Chinese fighters. It's not easy. We know also based on the reception for Manny [Pacquiao] that there is a huge Filipino audience both in Macao and Hong Kong and Manila is only an hour-and-10-minutes by plane to Macao and there are regular flights. So we feel that would be a fertile area for a guy like Nonito Donaire and Brian Viloria. They would operate really good over there and that's our hope."

On this card are also the likes of Akifumi Shimoda, Rex Tso and Ryota Murata.

"I think this does have life after Zou but do I know for sure? No," admitted Arum.

TNR

Here's this week's episode of "The Next Round" with Gabe Montoya and Yours Truly:

http://www.blogtalkradio.com/leaveitintheringradio/2014/02/18/maxboxing-live-the-next-round-episode-468

And our downloadable app:

https://play.google.com/store/apps/details?id=com.app_liitrboxing.layout&hl=en

FINAL FLURRIES

Main Events announced that a heavyweight bout between Steve Cunningham and Amir Mansour will headline its "Fight Night" series on NBC Sports Network on April 4th from the Liacouras Center in Philadelphia. There's a good chance Curtis Stevens will be in the co-feature that night...Well, I guess trading Steve Blake is something for the Lakers; right?...I didn't notice just how well Blake Griffin has been playing this year. He's been on a tear for the Clippers…Ican be reached at k9kim@yahoo.com and I tweet at www.twitter.com/stevemaxboxing. We also have a Facebook fan page at www.facebook.com/MaxBoxing, where you can discuss our content with Maxboxing readers as well as chime in via our fully interactive article comments sections.