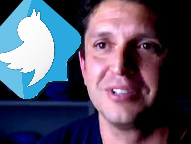 --


Heading into their November 23 HBO pay-per-view from Macao, China, at the suggestion of trainer Freddie Roach, both Manny Pacquiao and Brandon Rios agreed to undergo random anti-doping testing conducted by the Voluntary Anti-Doping Association (VADA). The non-profit testing group has most recently tested WBO welterweight champion Timothy Bradley, WBO junior welterweight champion Ruslan Provodnikov and UFC welterweight champion Georges St. Pierre. Nonito Donaire and Edwin Rodriguez have also enrolled in VADA's year-round testing organization. In addition, the president of VADA, Dr. Margaret Goodman, was honored last year on Jim Lampley's "The Fight Game" as "Person of the Year" for her perseverance on the anti-doping issue in boxing and paving the way toward a cleaner sport in the future.
However, ex-strength coach of Pacquiao, Alex Ariza, fired by Freddie Roach heading into this bout and now working with Rios, tweeted his uninformed issue with the company yesterday. He would do an interview with FightHype.com, further illustrating his lack of knowledge about the anti-doping testing process.

On Tuesday, October 22, 2013 at 2:10 p.m., Ariza tweeted out (following Rios giving blood and urine to a doping control officer at his Oxnard training camp), "Brandon's second test by VADA. VADA just confirmed they have yet to test Manny and there are NO plans to test him until China.. That's fair."
By the evening, RingTV's Lem Satterfield interviewed Dr. Goodman, who refuted the claim and confirmed both men had been tested thus far.
"
I confirm that both fighters have been tested by VADA. The results that we get go directly to the fighter or to whomever he designates from his camp. They go to the promoter, which is obviously Top Rank [Promotions], the China Commission and it goes to the Association of Boxing Commissions," said Goodman to Satterfield. "So we don't release results to the public. The fighter can release results to the public at any time. Any other details regarding testing or results will have to come directly from the fighters' camps, the promoter, the ABC or the China commission."
Ariza's tweet, filled with misinformation, sent Twitter abuzz. With 24,150 followers on the social media site (though only 21% of them are real, according to Twitter metrics site fakers.statuspeople.com, which measures such things. 31% of his followers are inactive and 48% are fake), Ariza gets some internet traffic.
A video surfaced early Wednesday via Elie Seckbach, a rogue YouTube videographer who acts as de facto PR to various fight camps who allow him access. But it's status was moved to "private" by midday and can no longer be viewed.
In it, Rios is seen giving blood to a female doping control officer who doesn't answer the questions of his team about Pacquiao's testing. However, a man seen leaning against the ring, the officer's male chaperone for the collection, made an offhand remark about Pacquiao getting tested in China.
The group begins to run with the idea that Pacquiao is not being tested and Rios says, "That motherfucker's on the juice right now."
The male chaperone is there to collect the urine from a male subject so the female, there collecting blood as well, does not have to. Industry standard protocol is that a doping control officer is there to watch the fighter pee into the cup so as to insure that the urine is in fact his. As evidenced in the video, the female doping control officer handled the blood extraction while the male chaperone responded to the queries by Team Rios.

From what I am told, the chaperone responding at all was wrong for a few reasons. Compound Ariza's lack of knowledge about how the process all works and this is where the confusion comes from. Speaking out of turn, shoddy reporting and irresponsible tweeting equals dangerous misinformation combo.
To break it down in simple terms, anti-doping testing is carried out by three different groups working as one but separate. Someone hires VADA to conduct testing, in the case of Pacquiao-Rios, promoter Top Rank, who promotes both fighters. In other cases, the fighter may pay the fee for him and his opponent to be tested.
Once the fighter is accepted into VADA's program, VADA contracts a World Anti-Doping Agency-accredited sample collection agency to visit the camps randomly but fairly. It is more than likely that each fighter will be tested the same amount of times with the same tests.
The sample collectors label each sample taken with a coded number called a "blind code." That code represents each fighter. The fighter's name is not put on the sample. No one at the lab, an entirely separate third party, will know who each code represents, hence the term, "blind code." This system is in place at the highest levels of sports testing from the Olympics to the Major League Baseball. It's how it works. Groups like VADA and USADA both use labs and sample collectors certified by WADA.
To return to Ariza's tweet for correction and clarification: a doping control officer is not an employee of VADA or USADA or any other group hiring him or her to collect testing samples. They are a middlemen in essence between the administrators who order a testing protocol and handle results management (in this case, VADA) and the lab who conducts the tests. VADA order their testing protocol; the sample collectors pick up the blood and urine, blind code it and give it to the lab. The lab tests it, sends the results to VADA, who passes them on to whomever the individual fighters sign off on. Only VADA and whomever is listed on the enrollment form by the fighter are allowed to know the results as they come in (in the event of a positive result, the results also get sent to Fight Fax, the relevant athletic commission, and the ABC). I highly doubt the unnamed male chaperone commiserating with Team Rios is on Manny Pacquiao's VADA enrollment form.
By midday Wednesday, FightHype.com got in on the Ariza act, printing an interview in which Ariza claimed he was "not very familiar with VADA." Ariza also claimed he had worked with WADA, a questionable claim. WADA is an agency that sets standards and accredits labs but only target tests per its own internally requested investigations. WADA doesn't oversee testing protocols in boxing. USADA and VADA use labs and collectors certified by them but no one in boxing is "doing WADA testing." That is an erroneous claim.
In fact, Ariza was working with Amir Khan when he had samples collected by VADA in the Philippines. Khan had agreed to be tested by VADA for his rematch with Lamont Peterson and was training with Manny Pacquiao overseas when the collectors came. According to Taz Khan, Amir's uncle, they collected from Khan twice in the Philippines. Ariza left that camp some time after the first collection to meet with Julio Cesar Chavez Jr. in Mexico.
When Peterson's first sample tested positive for testosterone, the Khan rematch was canceled and Khan's opponent became Danny Garcia. His promoter, Golden Boy Promotions switched testing agencies and used the United States Anti-Doping Agency (USADA) for the bout. Most importantly, Ariza's position as Khan's strength coach ended before the Garcia fight and Ruben Tabares stepped in. Perhaps Mr. Ariza worked with some other WADA.
The doping control officer and the male chaperone are not VADA officers. No one at VADA was present at the time of collection and the head of the company refutes the claim.
When reached for comment by Maxboxing.com, Dr. Goodman shrugged off the misinformation by Ariza and instead focused in on the health and safety of a fallen warrior, Frankie Leal, who passed away Tuesday due to injuries suffered in his final bout last weekend.
"
Whats sad is that a fighter died yesterday and all people can talk about is this?" referring to Frankie Leal and Ariza's erroneous tweet.
In gamesmanship, whether it is war between camps or war on an entity, it is perhaps better served to be honorable and correct than recklessly aggressive and dangerously wrong. When it comes to accusations of malfeasance, that same rule of thumb applies.
Please visit our Facebook fan page at
www.facebook.com/MaxBoxing
, where you can discuss our content with Maxboxing readers as well as chime in via our fully interactive article comments sections.