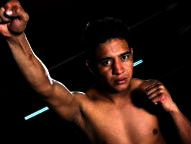 --


There are few things better than the unexpected win. The unexpected win scenario in boxing generally looks like this: An unheralded fighter possessing multiple losses is brought in to slaughter against a name fighter with bigger and better fights on the horizon. All the marquee man needs to do is get past this "tune-up" and the money will roll in.

The beautiful thing about boxing is that when the bell rings, fate drops firmly into the hands of both men. The better prepared fighter with a greater capacity to withstand pain and physical damage is generally the one who wins. Bigger name and better resume? More prominent promoter and odds on favorite? If preparation is on point and an opportunity presented is seized upon, none of these things matter once the bell rings.

A week ago, boxing's version of the "pick to the house" played out once again as Chetumal, Quintana Roo, Mexico-native Sergio Thompson, 22-2 with 20 knockouts, knocked down and cut open Golden Boy Promotions' star-in-waiting Jorge Linares, 31-3 with 20 knockouts, to score a second round TKO.

"I am descendant of the Mayans," a proud yet gracious in victory Thompson told leaveitintheringradio.com this past Thursday. "I have never had anything. I am very hungry. I took advantage of the big opportunity they gave me against a name opponent."

To make victory even sweeter, Thompson scored the win in his hometown at the Oasis Hotel Complex right there in Cancun, Quintana Roo, Mexico.

"I know I was supposed to be the victim that night but I came well prepared," Thompson, whose last name comes from his Belize-born paternal grandmother, explained. "I was a little nervous in front of my home crowd. My plan was to fight going backwards but I got hurt in the first round. But I came back strong in the second. I started feeling better, having more confidence as the fight went on."

One school of thought wonders why a fighter with such a high knockout percentage would be put in with Linares, who was fresh off an 11th round TKO loss to WBC lightweight champion Antonio DeMarco. Perhaps Linares' matchmakers felt that the men Thompson had stopped were of the fourth-tier variety. But looking deeper into his record, there is a hidden strength of character.

It was November 20, 2009 and a 10-0 with nine knockouts in a row Thompson was fighting Azael Gonzalez. At the time, Gonzalez was 6-10 with 3 knockouts. He had never beaten anyone of note and was there for young undefeated prospect to feast on. Instead, things went the other way and Thompson lost a majority decision. He bounced back and won four in a row, positioning for a WBC international lightweight title fight against Alisher Rahimov, 23-0 with 12 knockouts. Thompson dropped a split decision to Rahimov to collect his second loss. It was time for a change on a lot of levels.

"In the first fight [with Gonzalez] I was training in a gym in Cancun," explained Thompson, who was once a sparring partner for Guty Espadas and Marco Antonio Barrera. "It was a very fancy gym. I know a lot of people from the local hotels. I was really not taking it seriously. I was doing a little bit of partying. The biggest mistake I made was I went into the sauna and then right after I took a shower and caught a cold. Once I caught that cold I didn't feel the same in the fight. I felt drained after the sixth round. And so it affected it me in the fight. But I lost. I accept the judges' decision."

Following the loss to Rahimov, Thompson switched gyms and began to take his training to another level. Had he continued on his previous path, the thoughts about him going into Saturday's fight with Linares might have been true. He would have been just another opponent. Instead, adversity showed Thompson exactly who he is. Four wins later, Thompson exacted revenge on Gonzalez in an October of 2011 rematch. He knocked out Gonzalez in the seventh round.

"In the second fight, I started training in a gym in Mexico City and I started getting better sparring," he said. "I've been training there for the past year and a half."

One of the most important aspects of Thompson's development has been his activity. He fought six times in both 2010 and 2011. Heading into the Linares fight, he had stopped six of his last seven opponents.

"I attribute my preparation to that activity," said Thompson. "I have knocked out seven of my last eight opponents in the early rounds. I haven't been punished a lot or worn out. I am in constant training. I don't take fights unless I am well trained."



The Linares fight was short but sweet. Linares, a prodigious boxer out of Venezuela, came out jabbing and moving on his toes. Linares has all the punches and is an excellent combination puncher. But he has some flaws in his game. One is a tendency to bring his jab back low, exposing his biggest flaw: a suspect chin. Thompson, after weathering an early storm after getting stung by Linares in the opening moments of the fight, exploited that weakness.

In the second round, Thompson landed his right hand over that lazy Linares jab again and again. A barrage hurt Linares, splitting open his eyelid and sending him down to the canvas on his ass.

"I studied the way [Linares] throws the jab," said Thompson. "Every time he threw the jab, I came back with the right hand. When I connected with the right, I felt I connected with power and I hurt him. After that, it was just a matter of trying to land the right hand. Once he was hurt, I went for the kill."

Linares rose but the referee halted the action so that the ringside physician could look over the wound. Seeing how bad it was, the fight was immediately stopped. Thompson wept with joy as his team went wild around him. All the #1 contender Linares had to do was beat the #16 ranked Thompson. But on this night, excellent planning had torn into Linares' third weakness, old scar tissue, and ripped his plans to shreds.

"I was happy with the stoppage. Linares is doing a little bit of crying, saying it was a head butt," claimed Thompson who may have been referring to comments Linares made on his twitter account regarding a first round head butt. "People that know about boxing know that a head butt cut is horizontal not vertical. This was a vertical cut on his eyelid that required twelve stitches that required inside and outside of the cut. If they let the fight continue, I would have jumped on him and tried to finish the fight."

[Writer's note. On Linares' twitter account, he claimed it was only ten stitches].

Despite his comments about Linares' claim, Thompson still showed a fighter's class.

"I still have respect for him. I think of him as a good fighter," he said. "I respect his promoter. He can still do something big even though he has this loss. I respect him because he is the only man to hurt me inside the ring. Keep your head up and you'll be back."

Now to the future. You'd think a man who beat the number one contender would assume that position, right? Earlier in the week, WBC president for life Jose Sulaiman said that Thompson would not get a shot at titleholder DeMarco, citing that the Linares fight was only a semi-final eliminator. When asked about it on Thursday night, Sulaiman's claim seemed news to Thompson.

"I am little bit confused. I had dinner with the Governor of Quintana Roo and Jose Sulaiman Wednesday night. They told me they are working with Antonio DeMarco's people on making the fight and bringing it to Mexico," Thompson said. "As far as I know, I am going to fight for the title. Another name mentioned was Yuri Gamboa as a possible opponent."

DeMarco-Linares II was set for July 7 in Los Angeles. With the fight scrapped for obvious reasons, DeMarco has distinguished himself as a real champion by stating publicly, as reported by boxingscene.com's Miguel Rivera, that he would welcome Thompson getting his title shot next.

For now, Thompson savors his victory and will leave the politics to the politicians.

"I am a fighter who was forgotten but given the chance, I came better prepared than ever," Thompson proudly stated. "Thanks to my team and my corner, I had a great camp."