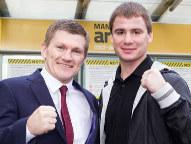 (Photo © Mark Robinson/Hatton Promotions)


After three-and-a-half years, one of Britain's favorite fighters has unretired and decided to give boxing another shot; the return of Ricky Hatton is box office news in Britain. This platform has given several other fighters a huge opportunity to showcase their skills on the undercard, one notable fighter is one Hatton actually trains, Belarus light middleweight Sergey Rabchenko. The 26-year-old made a statement over the summer running his record to 21-0 with 16 wins inside the distance when he stopped Ryan Rhodes in seven rounds to claim the vacant European 154-pound title. He gets back to work this weekend making his maiden defense when he meets Frenchman Cedric Vitu, 35-1 (15). Whilst being a little way from the very best at light middleweight, Rabchenko is very much a work in progress. One of the members of his management team, respected agent/manager Philippe Fondu (who has also worked with many top fighters from the former Eastern bloc including Alexander Gurov and Roman Karmazin) speaks glowingly of his fighter's ability, "Sergey has an immense natural talent, can punch and has a good chin. He is dedicated and ambitious but in the same time, he is respectful and I truly believe he'll go all the way." Currently, Rabchenko is ranked in the top 15 at light middleweight by three of the main sanctioning bodies number five in the WBC, number seven in the WBA and number 13 in the IBF.

Anson Wainwright - Over the summer, you won the European light middleweight title, stopping Ryan Rhodes in
seven
rounds. Could you talk us through that fight?
Sergey Rabchenko - Ryan Rhodes is, without a doubt, a good fighter. He has a good punch with both hands. He has a lot of experience, both in regular bouts and fighting for titles. Before the fight, in an interview, he said that my experience in long battles is too small and that, at the end of the fight, I would lie down on the floor of the ring. But no, it was not the case as I was under the leadership of Ricky Hatton. I took a full course of training for 12 rounds, physically and tactically, which gave its fruit, and in the seventh round, I knocked him out

.
AW - On 24th November, you meet Cedric Vitu. What are your thoughts on him as a fighter and what he brings to this fight?
SR - There is no doubt that Vitu is a good boxer. He is a southpaw but it does not bother me much either because I have a lot of experience against these kind of fighters. Yes, his style is aggressive; he's physically always in good shape but I do love to fight too and I will do what is needed to win this fight

.
AW - Your fight takes place on the undercard of Ricky Hatton's much anticipated return. What are your thoughts on appearing on such a prestigious card?
SR - It is a great honor to box in the same show as Ricky Hatton and there is no doubt that this will be the biggest arena in which I have ever performed but I'm going to dedicate myself completely to this fight because I come to box and not be afraid of a large number of spectators

.
AW - Without getting ahead of ourselves, what are your plans for 2013?
SR - Indeed, let's not get ahead of anything now because I take one fight at a time on which I focus…and I'm ready and planning only to win

.

The future is dealt by my management's team.
AW - Who are they key members of your team?
SR - There is no doubt that, for now, the main part of the training team is Ricky Hatton with his assistant, Mike Jackson. Ricky gives me a lot of experience in preparing for the fight and for that, I am so thankful to him. For the organization of my professional career and my position in the ratings, it is certainly Philippe Fondu and Valery Kaplya that are the best I could dream of.
AW - I'm sure you've looked at the world scene. Could you give you thoughts on your division and the current champions like the WBC's Saul Alvarez, WBA "super" champion Floyd Mayweather, WBA "regular" Austin Trout, the IBF's Cornelius Bundrage and the WBO's Zaurbek Baysangurov?
SR – Yes, in this weight division, really, there are so many good fighters, these ones being better than the others and, indeed, most of them are great champions. Trout fighting against [Miguel] Cotto, well, I

like

Cotto.
AW - You're from Minsk in Belarus. There aren't many top boxers from there. What is boxing like in your homeland?
SR - I am from Minsk indeed and we also have a lot of good and promising guys but, unfortunately, I don't have time to watch them

.
AW - If you could, talk us through how you grew up and became interested in boxing.
SR - I enjoyed fighting since I was a small kid and once leaving the swimming pool, I saw an advertisement about a boxing club and decided to try it. From then, I was involved in it, thoroughly and irrevocably. I became so, year after year, totally part of myself and my favorite sport. I had a lot of fights in amateur boxing but then moved to the pro game where I've successfully performed to this day

.
AW - Many fighters from the old Eastern bloc have very good amateur careers. Could you tell us what your amateur career was like? What titles/tournaments you won, if you fought anyone of note and what your final record was?
SR - My career as an amateur boxer is quite good as, after a quick start, I caught up and everything went very quickly. I performed 228 fights with 208 wins but when I reached 19 years old, I stopped loving the amateur sport. It was not any more interesting to me because I felt it didn't give me the opportunity to perform to the best of my capacity. I am not really interested to talk about my amateur accomplishments. It's the past but I can say with confidence that my extended amateur experience has proved a positive impact on my career as a professional.
AW - When you're not boxing, what you enjoy doing? What are your hobbies and interests?
SR - During my spare time, I like to relax and I love to cook because it really allows you to turn off the stress of the sport completely. I also love to drive a car, just to ride, with no goals.
AW - What are your goals in boxing?
SR - I want to be a world champion and retire undefeated.
AW - In closing, do you have a message for the light middleweight division?
SR - Yes! Soon, very soon, I shall come to you and I will give you some good fights

.
Please visit our Facebook fan page at www.facebook.com/MaxBoxing, where you can discuss our content with Maxboxing readers as well as chime in via our fully interactive article comments sections.