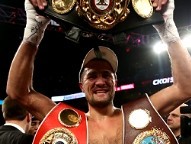 Photo © David Spagnolo, Main Events


IBF, WBA and WBO champion Sergey Kovalev continued his march through the light heavyweight division by stopping former WBC titleholder Jean Pascal in round eight Saturday night at a rocking Bell Centre in Montreal, Quebec, Canada.

The opening stanza revealed the differences in styles between the two fighters.

Pascal is a boxer in an unorthodox way.

Kovalev (27-0-1, 24 KOs) can flat out punch.

Pascal (29-3, 17 KOs) shot his jab and moved away. Kovalev stalked with purpose. He went to the body. Pascal, trained by former champion Roy Jones, wiggled and did his best Jones impersonation.

Problem was he didn't land anything solid.

In round two, Kovalev connected with a strong right hand. Pascal landed a left hand to the face. Kovalev looked surprised. He fired a heavy right that seemed to stun Pascal. The hometown hero let fly with a left hook that glanced off the temple of Kovalev.

Pascal threw a hard right that just missed in round three. Kovalev found Pascal with a lead blow. Pascal worked the body. A right hand connected. Kovalev stunned Pascal with a big left hook to the chin. A left-right combination caused Pascal to topple into the ropes.

Referee Luis Pabon began to count. Pascal's legs shook as he tried to steady himself.

Kovalev backed Pascal into the ropes and unloaded. A number of punches landed. Pascal countered with a brilliant right of his own. The blow stopped Kovalev in his tracks. A few seconds later, two more hard shots connected. Pascal was showing incredible heart.

Pascal looked fully recovered in round five. Instead of using his legs, he decided to stay in the pocket and punch with the heavy-handed Kovalev. The strategy looked suicidal until Pascal landed another counter right hook. Kovalev returned fire to the body and head.

Kovalev went back to working his long jab in round six. Pascal stunned Kovalev with a three-punch combination. Pascal's quicker hands were paying dividends. Kovalev ran into another right hand, but he didn't appear hurt.

Pascal's right eye was swelling badly as round seven began. Kovalev was the busier boxer. His left hand worked overtime. Pascal whiffed with a number of hard blows. A Kovalev counter left staggered Pascal at the end of the round. He stumbled back to his corner.

Kovalev slipped seconds into round eight. He was apparently convinced that Pascal hadn't recovered from the left hook he had landed at the end of the last round.

After a delay, he started unloading blows. Pascal was very shaky. He wobbled into the ropes.

A whipping right hurt the former champion badly. A follow-up blow made Pascal lean forward. The referee had seen enough and stopped the fight.

The time 1:03 of round eight.

"How I started I didn't like," said Kovalev in the ring. "I got him with the right and he was mine. I did my job. It's boxing."

"It was action fight," said a disappointed Pascal. "I did my best. That was a bad stoppage."