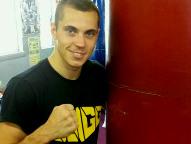 (Photo © Steve Kim)


As you see young super bantamweight hopeful Scott Quigg, who hails from the United Kingdom, and you witness his hard-charging style, replete with a variety of body shots (most notably a well-placed left hook downstairs) you swear you're seeing a classic Mexican fighter in there. Guess what? Quigg, who is undefeated at 24-0-1 (with 17 stoppages) doesn't disagree with this assessment.
"To be honest, I've been influenced a lot by them," he admitted this past summer while he and his stablemates spent time at the Wild Card Boxing Club in Hollywood, California. "I like the way they fight; they're so loose and relaxed and I want to give fans value for fights and with an exciting style like the way I've got and the way I'm best at, by taking things out of Mexican fighters, it'll do me good."

Asked who he admired, Quigg stated, "I was a big fan of Ricardo Lopez; I watched a lot of him, [Marco] Antonio Barrera, [Erik] Morales, Juan Manuel Marquez - all of them. They're all tough fighters and you can learn so much in watching them."
When asked if his charge had a lot of Mexican in him, his trainer, Joe Gallagher, answered, "What we're trying to do with Scott Quigg is, everyone is searching for the next Ricky Hatton and people have tried to label Scott as the next Ricky Hatton. Scott Quigg isn't Ricky Hatton; I reckon he's more Miguel Cotto." (who, of course, is Puerto Rican). "There's brain behind the process. It's not bull-in-china-shop material. But like we said, like the Puerto Ricans, the Mexicans, and that's what we're trying to do with Scott Quigg: have a brain as well as the brawn. And he's a very intelligent kid in the ring."
Down the line, you can imagine a showdown between Quigg and another talented young British 122-pounder, Carl Frampton, being the U.K. version of Barrera vs. Morales. "We're both good fighters and we both want to prove who's the best," said Quigg. "No one would take a backward step. It's about going in there and giving the fans what they want to see and I'm very confident that I'd come out on top." Frampton is just a year older than Quigg at age 25 and has a record of 15-0 with 10 knockouts. It's a fight that still needs some marinating and Quigg realizes this. "There's more to it than 'I want the fight; Carl wants the fight.' There's more to making it happen with the promoters and television and the business of boxing."
But hold on, before you start mapping out any plans, Quigg has a "Bin Man" he must get through this upcoming weekend at the Manchester Arena. During his first encounter with the respected Rendall Munroe, the fight was halted and ruled a technical draw in the third round as a bumping of noggins left Munroe cut above the right eye and deemed unable to continue. Early on, it seemed Munroe's southpaw style was giving Quigg some trouble - but there was still plenty of fight to be had.
"If you watch most of my fights, in the first round, I rarely throw a punch. I'm just lining him up. The way they're moving, see what they're thinking and then after the first round, I open up and get into it. I felt so comfortable in there, I could see everything he was doing. But obviously a clash of heads caused the fight to get stopped. So it's just about going in there and this time proving what I was going to do on the night," said Quigg.
Munroe is a solid professional and coming into that first affair, had rebounded with three victories after an unsuccessful attempt to win the WBC junior featherweight title against Toshiaki Nishioka. It's the type of hurdle all young contenders need to overcome to prove they are ready for the world.
"He's tottering," said Gallagher, of his boxer's progress and standing in the business, "I think he's very much like Barry McGuigan when he was on his ascendance. Everyone was asking questions before he fought Juan LaPorte. That announced Barry McGuigan on the world stage and then he also went and beat Eusebio Pedroza. I think Scott Quigg, when we go back and get our win over Rendall Munroe, which I'm confident of doing - Rendall Munroe is a good fighter. He had a great performance with the Japanese fighter who everyone recognized as the number one kid at 122 - I think Scott Quigg then will have announced himself. I think he has two or three fights, you have to remember this is a kid with no amateur experience and beat Jason Booth, stopped him. Booth has since gone the distance with a few fighters like Jamie Arthur, who no one's stopped - he stopped. Rendall Munroe, we'll take care of him and I think that will be [Quigg]'s breakout performance."
Quigg says, "I reckon this fight coming up, I think if I do a good job on him, I think I'll cement that I am ready to move up to the top ones in the world. But you're never the finished article. You're always learning and I think there's so much I can improve and I can be miles better for it if I keep learning, keep training hard. I think there's still a lot more from me to come."
MACHO TIME

A lot has been written and said about the recent demise of Hector Camacho. What I'll remember most about the "Macho Man" was just how brightly he shined early in his career (I remember national news stories on how he was the heir apparent to a recently retired Sugar Ray Leonard) and how fast and dynamic he was against Rafael "Bazooka" Limon in 1983 in San Juan, Puerto Rico in a fight televised nationally by CBS for the vacant WBC 130-pound title. For awhile, he shone incandescently and his career arc seemed limitless.

This was until a fateful summer night in 1986 at Madison Square Garden when his chin was touched in a way it had never been before by a heavy-handed fellow Rican, Edwin Rosario. But while Camacho earned a razor-thin decision that night in capturing the WBC lightweight title, he also kept his unbeaten record intact. Something was forever altered with Camacho, who never quite had the same thirst for combat ever again. In short, he wasn't so "Macho" after that and one of the most exciting boxers in the sport suddenly became one of its biggest spoilers.

(I coined the term "Rosario'd" for fighters whose careers are forever changed - for the worse - after getting hit hard for the first time in their professional careers.)

But through the years, because of outlandish personality and marquee name, Camacho was still able to stay relevant through the years and share the spotlight against the likes of Julio Cesar Chavez, Felix Trinidad and Oscar De la Hoya.

Long live the "Macho Man"; whatever he was as a prizefighter, he was a character through and through. The type that makes boxing so much fun to watch and cover.

WEEKEND FLURRIES

Will Rosinsky returns to the ring on December 19th at the Roseland Ballroom in New York. But wherever you are, I'm sure you'll be able to hear his wife at ringside....Part II of "24/7" for Manny Pacquiao-Marquez IV on HBO debuts on late Saturday night at 12:15 a.m. (which is technically Sunday morning, right?)...I think Berto-Guerrero can go either way. Honestly, I don't feel all that great on my Berto pick...Ricky Hatton's return to the ring versus Vyachaslev Senchenko airs on Showtime at 5 p.m. ET/PT...There's a good chance that WBC featherweight titlist Daniel Ponce de Leon faces Jayson Velez (who fights at the Garden on December 1st in February)...I know it's easy to rip Tony Romo but, good grief, that Dallas O-line is bad. Erik Williams and Nate Newton right now could do a better job...Yes, it's rivalry weekend in college football. Where did this season go? It seemed to just fly by...Is Gary Bettman the worst modern-day commissioner in all of professional sports?...Funniest show on TV right now is anytime the New York Jets take the field...I can be reached at k9kim@yahoo.com and I tweet at www.twitter.com/stevemaxboxing. We also have a Facebook fan page at www.facebook.com/MaxBoxing, where you can discuss our content with Maxboxing readers as well as chime in via our fully interactive article comments sections.