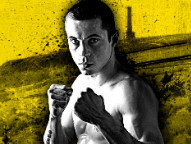 --


In a coming-of-age fight late last year, Scott Quigg lived up to his billing as one of Britain's best up-and-coming fighters when he dispatched grizzled veteran Jason Booth, impressively forcing his elder counterpart to retire at the end of the seventh stanza and claim the British super bantamweight crown in the process. The 23-year-old from Bury in the Northwest of England boasts a perfect 23-0 (16) record and makes the first defence of his title on Saturday against Jamie Arthur at the Reebok Stadium in Bolton. If all goes well, Quigg hopes to win the coveted Lonsdale belt outright this year and even move on to European stage. He has higher aspirations and is casting a gaze over the world scene where he's ranked high by both the IBF and WBA at number three.
Anson Wainwright

- You make the first defence of your British title when you meet Jamie Arthur. What are your thoughts on him and the fight?
Scott Quigg - I'm preparing for a very tough fight as I have a lot of respect for Jamie. He's had a good career. He's a former Commonwealth champion at super bantamweight and also challenged for the British featherweight title so he brings experience at championship level and you have to respect that but I'm also very confident in my own ability and believe I'll win in good style.
AW - You impressively beat Jason Booth for the British title in your last fight. Looking back, what can you tell us about the fight? How happy were you with the performance?
SQ – I think that was my best performance so far and it needed to be as it was my biggest test. I also shocked a lot of people by the way I won and how I was so dominant over such a much more experienced fighter who was proven at world level as he showed when losing to then-IBF champion Steve Molitor on a split decision.

AW - Without getting ahead of ourselves with the Arthur fight coming up, what are you looking to achieve in 2012? Perhaps the European title?
SQ - I would love to win the Lonsdale belt outright as it's a very prestigious belt and means a lot to me but, as you say, if the chance came to fight [European champion] Kiko Martinez, I would jump at it as I believe I could beat him and that would propel me towards the next level. So my plans for 2012- without disrespecting Jamie Arthur, as I know he will be a very tough opponent and need to be at my best to beat him- I would like to end 2012 as British and European champion.
AW - Last year, both you and Carl Frampton both won domestic titles and it's one of the fights people in Britain and Ireland would most like to see. What are your thoughts on a potential meeting?
SQ – Me and Carl are on a collision course in 2012. We're two very good upcoming fighters that are heading the same way and both have the same ambitions, so as long as we both keep taking care of business, we will have a showdown to prove who's best. And I'm very confident that will be me. I don't have any doubt at all.
AW - You won a WBA super bantamweight eliminator last summer.

Guillermo Rigondeaux

recently beat Rico Ramos for that title. What did you think of that fight?
SQ – The fight went just how I thought it would. It was a very defensive performance by Ramos and there wasn't very much action as they are both natural counterpunchers but the difference was Ramos had no offensive attacks that could bother Guillermo. And in the end, Guillermo's class, power and superior skill was too much and Ramos didn't have the experience needed to overcome a fighter of that calibre.
AW - The super bantamweight division is pretty strong on the world scene. What are your thoughts on the division and the other current champions, the WBC's

Toshiaki Nishioka

and the IBF's Takalani Ndlovu? Also, how do you see the Nonito Donaire-V-Wilfredo Vazquez Jnr. fight going for the vacant WBO title?
SQ - The super bantamweight division is very strong at the minute. You have Toshiaki Nishioka, who I've seen quite a lot of as he beat a fighter from these shores, Rendall Munroe, who gave a good effort but Nishioka's speed, timing and overall boxing skill was too much for Rendall. I also seen him beat one of the great bantamweights, Rafael Marquez, and I thought he beat him pretty comfortable so that shows the pedigree he has there. I've not seen much of Takalani Ndlovu but as I'm highly ranked by the IBF, I will be taking a closer look at him as he may be a future opponent. The fight between Nonito Donaire and Wilfredo Vazquez Jnr., I see Nonito having too much skill and speed for Vazquez and if he can carry the power up to super bantamweight- which I think he will- I can see a late stoppage.
AW - Who are the key members of your team? Also, where do you regularly train?
SQ - The key members of my team are my trainer, Joe Gallagher, my nutritionist, Ric Moylan, my manager, Paul Speak, and my promoter, Ricky Hatton. They all play a crucial part in my career and hopefully, they can help enjoy a successful journey to becoming a world champion.
AW - Can you tell us about your typical training day?
SQ -

A typical day includes a two-to-three-hour workout in the morning, which varies from strength-and-conditioning work to circuit work or technical work and pad work or sparring but depends on when you're fighting and then you have your plan worked out so you cover everything that needs to be. My running varies from distance to hill running to track work and road running. Also, I do work in the pool; that's all in the evening. I'm very fortunate to have the sparring I do at the gym. I regularly spar British lightweight champion Anthony Crolla, former British featherweight champion Stephen Smith and Joe Murray, a world's bronze medalist and former Olympian, who's currently 11-0 as a pro. So the sparring I get in the gym is high quality.
AW - You travelled over to Los Angeles and trained at the Wild Card under Freddie Roach. How did that come about and how did it go?
SQ - I chose to go over to the Wild Card to mix in and see what I had to offer against some of the world's best fighters. I didn't have a lot of amateur experience neither so this was a way to gain some experience by training alongside and sharing the ring with world champions and surely some future world champions. I didn't get to spend much time with Freddie as he's very busy but I did train a lot with Jesse Reid, which I have to say, I felt I learnt a hell of a lot from him. He made my trip very worth my while as he got me to share the ring with Guillermo Rigondeaux, Jose Benavidez Jr. and many more. And I felt like I proved to myself that I belong in with the best, the way I handled myself.
AW - Tell us about your life away from boxing and how you like to spend your time?
SQ - My life away from boxing is pretty simple. It's still boxing really as I live a very clean life. I don't drink or go clubbing. I'm a family man. I like to spend quality time with my family and girlfriend as boxing is a sport that you have to make a lot of sacrifices for and sometimes, you have to be away from your family to fully focus on boxing. So when not preparing for a fight, I like to make up for lost time with the family, go on holiday and relax before it's time to go to work again.
AW - What fighters did you like growing up? Have you met any of them?
SQ - The fighters I liked and watched growing up was Mike Tyson, Nigel Benn, Chris Eubank, Naseem Hamed. They're the fighters that I used to stay up and watch and think, "I wanna be like them." I had the privilege to be on the top table with Nigel Benn at a sportsman's dinner and to meet him and get to ask him questions about his career was a real honour.
But my favourite fighters I get real joy out of watching are Wilfredo Gomez, who is my all-time favourite fighter, Ruben Olivares, Orlando Canizales, Alexis Arguello and Marco Antonio Barrera.