Saul "Canelo" Alvarez hangs up, Josesito Lopez answers the call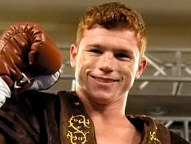 Saul Alvarez (Photo © German Villasenor)


Last week, after much hoopla, tragedy and plain old bad luck, Golden Boy Boxing finally decided on an opponent for WBC junior middleweight contender Saul "Canelo" Alvarez, 40-0-1, 29 knockouts. Amid a wide open field of contenders/titleholders that include Vanes Maritrosyan, James Kirkland, Erislandy Lara, Cornelius Bundrage and Austin Trout, it was junior welterweight Josesito Lopez who got the call.

In a Mexico vs. Mexican-American clash September 15 live from the MGM Grand the two will square off with each other and a rival company's Pay-Per-View (PPV) offering. The card will be a triple header televised on Showtime with Jhonny Gonzalez defending his WBC featherweight strap against Daniel Ponce De Leon in what should be an excellent fight and like a fight between Marcos Maidana and Jesus Soto Karass in a welterweight showdown. A formal announcement will be made Tuesday afternoon at a downtown Los Angeles event to formally announce the card which is open to public and select media.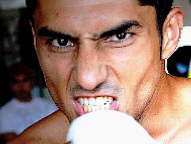 Josesito Lopez

In lieu of the originally planned Paul Williams/Saul Alvarez Showtime PPV to rival hated adversary Top Rank's Sergio Martinez vs. Julio Cesar Chavez, Jr middleweight title PPV clash on the same night in the same town at the Thomas & Mack Center, Golden Boy had tried to sign up James Kirkland for the job. Kirkland wouldn't have been ready for September 15 due to a shoulder injury he suffered in his last fight. Initially, Kirkland appeared ready to return sooner than his early October schedule to face Canelo for a career-high payday. But after terms seemed to be agreed to, Kirkland asked for more money since his shoulder was not 100%. In any case, Kirkland was not ready for the September 15 date Golden Boy was intent on keeping. They moved on.

Victor Ortiz was decided on to replace Williams, who had been paralyzed from the waist down in a motorcycle accident coming home from a bachelor party. The problem was Ortiz still had to get past Lopez who had replaced Andre Berto after he tested positive for Nandrolone traces under the Voluntary Anti-Doping Association (VADA) testing protocol he requested leading into their aborted rematch. Somebody forgot to tell Lopez he was supposed to lose. Instead, he broke Ortiz's jaw in the fourth. He broke it further in the ninth and locked it open, prompting Ortiz to ask the ref jack Reiss to end the fight and his chances of a Saul Alvarez PPV payday.

Justice is rare in boxing. It would probably be easier to remember the guys who upset the applecart and were never rewarded than it would be to name the underdogs who pulled off the upset and were rewarded with what was promised to the man they put down. In this case, justice prevailed.

After the victory over Ortiz, Lopez announced he had signed with Al Haymon, the uber-manager who handles Floyd Mayweather, Jr, Andre Berto, Antonio Tarver, Chris Arreola, Adrien Broner and a galaxy of future HBO/Showtime darlings. Amid a week or so of mystery and Oscar De La Hoya tweeting "History!!! Be a part of it!!!!" time and again, Lopez emerged as the man to whom Golden Boy would look once again to fill the void.

When the news broke that Lopez was the choice, social media went nuts with happiness for who my Leaveitintheringradio.com co-host David Duenez called "The Riverside Rocky" Lopez and derision for Alvarez, who won his belt at a 150 pound catchweight with a welterweight named Mathew Hatton and who hadn't fought a significant challenge since then. Sure he'd taken on some names like Shane Mosley and Kermit Cintron but no one who had pusged even remotely close to his limit.

Rather than face southpaw contender Erislandy Lara or fellow titleholders Austin Trout and Cornelius Bundrage, Lopez was chosen. Fans were outraged that the kind of justice they wanted, for Canelo to face a true junior middleweight, was not going to happen.

But in their anger, fight fans didn't take into account several factors.

First off, Alvarez was willing to face Paul Williams. "The Punisher" had looked solid in his bout with Nobu Ishida and was given a solid chance to win against Alvarez. When that fight fell through, the WBC champion had no problem facing James Kirkland, who was the number one contender until his injury. Kirkland passed on fighting injured. Golden Boy did not want to wait for him. Those things are Canelo's problem but not his fault.

Another factor is that following the Trout/Rodriguez fight in June, Richard Schaefer stated he wanted Canelo to begin his unification run at 154 pounds. While WBC President for Eternity Jose Sulaiman does not like the idea of unification anymore because the WBC must protect its brand, Schaefer seemed intent on making a tournament for Alvarez to compete in. Seeing as how Lara and Trout are also with Al Haymon and the coziness of his relationship to Golden Boy, all fans need to do is enjoy Alvarez/Lopez and be patient.

On a sidenote, Trout showed he can be tricky with Rodriguez but not exciting. As good a fighter as he is, no one came out that fight clamoring for Canelo vs. Trout except perhaps Trout.

Also, Trout and Lara are tough style matchups. Trout is a southpaw pure boxer while Lara is a Cuban southpaw boxer-puncher with a strong amateur pedigree.

Also, Alvarez is normally a busy fighter. In 2010 he fought five times, in 2011, four. This year it is has been once. Back in the day, a fight with a crowd-pleaser like Josesito Lopez, who is hot right now, is a no-brainer. This fight can and will be sold. How well it does against a legit fight that has a star possibly bigger than Alvarez fighting for the real middleweight title is anyone's guess.

Why it had to be September 15 is not hard to guess. The obvious answer is that Golden Boy won't stop at anything to compete on any level with Top Rank and vice versa. Had this been two competing PPVs, it could have been a disastrous night for one of the PPVs. Now, DVRs will simply be working overtime. In that sense, it's a win for boxing fans that sit at home and watch on TV. That's one long fight party.

For the fight fan who pays to see big names live a few times a year, it's a bit like parents asking their kids to choose who they want to live with. Certainly for the press it will be that way when it comes time to turn in a credential application.

Last Thursday night, Canelo Alvarez and Josesito Lopez stopped by leaveitintheringradio.com to discuss the fight via phones. Alvarez was up first following a training session. He expressed relief that finally an opponent had been found.

"I am very happy that I finally got a fight," he said. "Three opponents couldn't make it to the fight. I am very happy and training hard."

Alvarez expressed his love for boxing and all that it has brought him.

"I like the sport. It's my life. I am very happy with the skills that God has given me," Canelo said.

My co-host asked him if he kept up with his division's ratings, fighters and boxing in general.

"I watch a lot of fights," Alvarez answered. "I watch fighters from different divisions."

Then Duenez asked if Alvarez was affected by the negative reactions to the fight. Fans thought they were getting a fight in Williams/Ortiz and Kirkland in which Alvarez, always a heavy favorite, would finally be challenged by a man of equal or greater skill and experience. Instead, they are getting a career junior welterweight (140) who recently moved up to welterweight for the first time, jumping up yet another weight class. All in one year and two fights. Once again, it is Alvarez' opponent who has to do the uphill climbing.

"I understand that many people are never happy," said Alvarez. "I believe that Josesito Lopez earned the shot by beating Victor Ortiz. Pacquiao moved from (smallest division) up to junior middleweight. I believe that Josesito is doing the same thing."

Talk turned to the future. Above Trout, Lara and Bundrage there looms two giant names at 154 pounds: Floyd Mayweather, Jr and Miguel Cotto. Alvarez stated what sounded like penciled-in plans for a fight with Cotto in December should he be victorious in September.

"I personally want the best," stated Alvarez. "I would love to fight Cotto in December. If December is not possible then May of next year. I have always asked Oscar for the best fighters in the division. I have also asked Richard Schaefer. I am ready for the best. I am looking at Cotto. That is who we are targeting next. I believe Cotto is top pound for pound. IF Cotto is not available then I will fight Mayweather. I am ready for the best."

Alvarez has his own promotions (Nobu Ishida is one his fighters, in fact). With his ratings and attendance figures, he has a chance to be what De La Hoya is: a crossover fighter who calls his own shots. Already, he is part of the opponent selection process. And he is only 21.

"I definitely give my opinion to the ones who make the decisions," explained Canelo, who is Golden Boy's blue collar version of Julio Cesar Chavez. "But my team makes the choices. My job is to get ready for the fight."

Then came the kicker. The tone had been relaxed and calm, Alvarez not exactly opening up but not being a totally closed book either.

"What do you think is the responsibility of a champion?" asked Duenez.

"I feel that I need to prepare 100%. Give 100% and do things right," answered Alvarez.

"When you say do things right," queried Duenez, "do you mean in your own division?"

Then there was silence. And a long pause of dead air.

"Hello?" asked Duenez but Alvarez, insulted by the question it was later relayed, had hung up. Hopefully he responds to the pressure Lopez will surely put on him better.

Later in the show, true to form, we called Josesito Lopez after a workout and he answered.

"Opportunities like this don't come too often to fighters like me," said the Riverside native. "I am ready to fight anybody. It doesn't matter who. Give me an opportunity and I will take it. I don't have anything to lose. What is better than this? Back to back I found good opportunities. With Victor Ortiz I took full advantage and I plan to do the same with Canelo."

When you look at Josesito Lopez, you see a tall, lanky natural 140 pounder who turned pro at 131 ½ pounds. He barely moved up to 147 pounds this past June and even then he weighed 144 ½ on fight night. Still, at 5'9" with a 69" reach to Alvarez' 5'9" and 71" reach, Lopez feels in his physical element.

"People don't know. I understand their concern but people don't know. I am a bigger guy," explained the humble and easygoing Lopez. "I walk around pretty heavy. I have to shrink down to the forty division. With the amount of time I have to prepare, I have a great amount of time to prepare physically for Canelo. I know it is not going to be easy but I will be at the top of my game and be stronger and faster than ever."

Lopez was a late sub for the Ortiz fight and yet he came in and broke the man's jaw twice. With this fight and a full ten weeks or more to prepare, Lopez feels confident he can get to where he needs to be.

"I've got a great strength and conditioning coach working with me, Herb Larkin and he has helped me get stronger and get faster. Our plan is not necessarily to bulk up and get big," said Lopez. "We don't have to worry about the weight. We just have to be at the strongest and most well-conditioned as we can. We have plenty of time to get in a great strength and conditioning program. I am going to be at my strongest, fastest and very best for this next fight."

He is going to need to be. Ortiz was a perfect litmus test for what Lopez is about to undergo. Canelo is looking at Cotto possibly the way Ortiz was looking at Canelo. "I just have to roll through Lopez and I am good." Lopez knows all too well what he has to do and feel's confident going forward and upsetting the order of things once again.

"Alvarez is a superstar. He is a good fighter. He is a fighter just like Ortiz that is vulnerable to getting hit," said Lopez. "Once again, they might underestimate me again. I am a 140 pound to them. I am going to train as hard as I can and as good as possible. I have plenty of time to get ready for this fight and prepare. I had four weeks to prepare for Ortiz. I have twice the amount of time to prepare. I will fight anyone. It doesn't matter who. I fear no one. I am ready to fight. I am ready to challenge and take the biggest challenge out there and that is Canelo."

As confident as he is, the idea of moving up to a new division a second time in as many fights is one Lopez did not expect. No one did.

"Exactly," laughed Lopez. "Even before my last fight I mentioned to my pops 'Hey. I am fighting Ortiz.' He was like "Ai guey, what the hell?' He said 'El es demasiado grande' ('he is too big'). But I take it from him. He told me before 'The bigger they are the harder they fall.' Size doesn't matter to me. Just like I mentioned before, Victor Ortiz looked like max muscle, big upper body fighter but I can punch as hard as Victor Ortiz, you know? With this, I know I have a way bigger task ahead of me but you know what? I am just going to prepare as much as possible and leave everything in the ring just like with Ortiz. There is a no better feeling than to prove 98% of the people wrong."

In Alvarez, Lopez sees the prototypical Mexican fighter. Alvarez is not an explosive puncher but rather a physical presence that is going to pressure and punish you with heavy hands all night.

"Canelo has that style where he is going to come down and break you down," explained Lopez. "He is going to come forward and come forward and break you down little by little. He doesn't have that explosive, 'I am going to finish you'- style. I have had a few chances to watch his fights. He is just a good Mexican fighter and we really got to get a good game plan, see some tapes and see what we can do to take advantage of some of his flaws."

The odds are stacked against Lopez once again and he loves it.

"You know what? I can't complain. I love that position. I am always going to be in that position," smiled Lopez. "I am not necessarily going to be guy who is supposed to win; especially with a guy like Canelo. I didn't really expect people to believe in me for Ortiz and I definitely don't expect a lot of people to believe in me with Canelo, you know? But I have the few people I need to believe in me to believe and that's all I really need."

Should make for an entertaining night.



Subscribe to feed