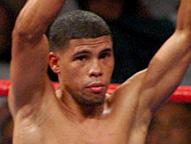 (Photo © German Villasenor)


Saturday was a busy fight day. Here are the highlights as I saw them.

In Puerto Rico, Juan Manuel "Juanma" Lopez returned to the ring for the first time in nearly a year looking slow as ever but patient in his approach as he stopped Aldimar Silva Santos at 1:04 of the ninth round in Bayamon, Puerto Rico. The fight was Juanma's first following his suspension for accusing referee Roberto Ramirez Sr., who stopped his fight with Orlando Salido last March, of doing so due to a gambling problem. The fight also marked Juanma's first foray above 126 pounds.
Overall, the fight showed just what Juanma has had problems with all along, (stamina late, guys who move and punch on the run, lack of speed) are there more than ever above his once dominant weights of 122 and 126 pounds. This Juanma might be fun for some wars but he might be in gatekeeper territory.

Reportedly, Lopez sparred over 160 rounds for this fight, a first for him. Perhaps working smarter (not killing himself to make 122, 126 for years, sparring less but exercising in a way that maximizes strength, speed and power) would have prolonged what is looking to be a career cut short by wars and efforts to make weight.

In Las Vegas, Nevada's Cosmopolitan casino, 2012 super bantamweight Olympian Joseph Diaz, Jr improved to 2-0, 1 KO by stopping Jose Ruiz, 2-3 in the second round via two nasty sets of uppercuts to the pit of Ruiz' stomach in the second. The technical knockout came at 2:46 of the second round. Diaz was poised in his attack, digging deep to the body and keeping desired range like a seasoned pro. He's going to be a fun TV fighter and in this writer's opinion, a star in the sport. The knockout was the first of Diaz, Jr's pro career.

Oak Creek, Wisconsin by way of Las Vegas, Nevada's Luis Arias looked like a 163 ½ pound problem while scoring a second round knockout of Joshua Robertson, 3-1, 1 knockout. Arias is a crafty, patient fighter who sues his lead like a shield and a battering ram in equal measure. I like the way he picks off shots with his forearm and delivers power from the rear. He about knocked the beard off poor Robertson, who had height and well, height, over Arias. Other than that, this one was all Arias.

With Floyd Mayweather's "The Money Team" management company behind him, no doubt we will see this exciting fighter again and again. The time was 2:48 of second round.

Speaking of knocking the hell out of someone, Cleveland, Ohio's Mickey Bey, a fighter not normally known for his punching power at 19-0-1, 10 knockouts, scored what is arguably knockout of the year over Robert Rodriguez, 7-3, 3 knockouts.

Bey hadn't fought since November of 2011 so he took his time to shake the rust. In the third round, Bey found his rhythm and the timing of Rodriguez who had a leakier defense than the Washington Generals. Bey detonated a left hook on Rodriguez' chin, putting him down hard for a long count. He bravely rose another left hook hammered Rodriguez back to the canvas permanent-like at 1:47 of the third.

More Mickey Bey.

The main event was East L.A.'s Frankie Gomez, 15-0, 11 knockouts, out-worked Lanard Lane over ten rounds of spotty action. Gomez said he wanted to go ten rounds in this his first scheduled ten rounder and he fought that way. Exploding in spots, particularly early, Gomez showed an ability to string shots together.

Lane did a lot of standing around and staring at Gomez. Early on, he would stick Frankie in the chest or face with a jab. In the fifth, Lane turned away from Gomez and took a shot to the side of the head for his troubles. Lane complained but the ref gave no mercy and Gomez unloaded on him. Lane never truly seemed in trouble. Towards the middle of the fight, when Gomez had unloaded some long combinations with no rhyme or reason, Lane could have taken advantage of a tiring Gomez. But he didn't.

And that was the fight.

Gomez would explode, eschewing a jab save for a quick flick of one before unloading rights and lefts and a sweeping uppercut. Lane would maneuver away. Jab, right hand, maybe. Rinse, repeat.

Scores were 98-92 and 100-90 twice.

You can email Gabriel at maxgmontoya@gmail.com, follow him on Twitter at www.twitter.com/gabriel_montoya and catch him every Monday on "The Next Round" with Steve Kim. You can also tune in to hear him and co-host David Duenez live on the BlogTalk radio show Leave-It-In-The-Ring.com, Thursdays at 5-8 p.m., PST.
Please visit our Facebook fan page at www.facebook.com/MaxBoxing, where you can discuss our content with Maxboxing readers as well as chime in via our fully interactive article comments sections.