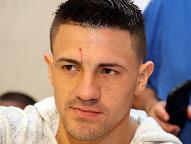 (Photo © Tom Casino / SHOWTIME)


While Guillermo Rigondeaux faces Nonito Donaire this weekend in a high-profile junior featherweight showdown at Radio City Music Hall in New York City, another Cuban lefty continues his climb up the boxing ladder the night before. Lightweight Angelo Santana faces Bahodir Mamadjonov at the Treasure Island Casino in Las Vegas (Showtime,

10 p.m

., ET/PT).

Like many other Cubans defectors, he doesn't speak much English (as of yet) and his story has to be told by others. His journey to America took place in 2007.
"Manny Fernandez, who's the co-manager, called me up one day and says, 'I have this tremendous Cuban fighter. He just literally swam over here,'" says Rick Glaser, veteran fight agent and matchmaker, who works for Don King Productions. "[Fernandez] told me the story; he says, 'What should I do with him?' I say, 'I'm going to bring him to Don King.' They call [Santana] 'La Cobra.' Don and I call him 'The Swimmer.' Literally, this guy swam over. We just liked everything about him from the first day. Just his attitude, he's a good-looking guy and even though he doesn't speak English, you can see he's nice. He shakes hands and he's very personable and he's got a touch of charisma even though he doesn't speak the language."

Santana spoke loudly in his "ShoBox" debut this past November when he impressively halted the unbeaten Juan Garcia in Miami. He floored Garcia a couple of times before finishing him off with a big left in the fifth frame. Gordon Hall, executive producer of the series, commented, "When I shook his hand, he had big hands; that's the first thing I thought. Then after seeing him fight, obviously, we knew that he was an established amateur and he certainly had a 'Knockout of the Year' candidate. He's a power-punching fighter."
Glaser's assessment of the Cuban is such: "What I like about him is that he trains every single day whether he has a fight or not. He's always in shape, around his weight, walking around his weight at '40, '41 and he fights at '35. He's a tenacious guy once he gets in there in the ring. He punches tremendously with both hands. He's got a tremendous chin and he's been sparring with world-class fighters since he came over and was a pro debut guy. He just has what it takes to become a world lightweight champion." And unlike many of his countrymen, discipline was not ditched at the border with Santana. "Most of the Cubans that came over," continued Glaser, "like [Joel] Casamayor, [Santana] came over at 119 pounds in the amateurs and in the pros, he's 130. He's fighting at '35 and he was a '32-pounder in the amateurs. In his early fights, he was a '30-pounder. So my point is he's where he's supposed to be for his weight class as he's maturing, where these other guys are way out of their weight class. [Ramon] Garbey fought at 165 in the amateurs; he couldn't even make cruiserweight when he came over here. They're all like that.
"He's totally different. He's well-grounded. He's a different guy. He doesn't hang around like other Cuban fighters. He's not a go-to-Disney-type-of-guy after a fight."
Through his co-manager, Sebastian Sauleva, Santana - who doesn't say all that much - said of life in the States, "I have adjusted very good." And for what he likes best about this country, he said simply and tersely, "Liberty and opportunity." It's enough to make his promoter bellow, "Only in America!"
So there is such a thing as a disciplined and hassle-free Cuban boxer, one free from all the usual…umm…issues (to put it kindly) normally associated with them? "First of all, he comes from a good family. He's a very good kid," explained Sauleva. "He has a good girlfriend. But most of all, he comes from a good family."
Right now, Santana is 14-0 with 11 stoppages to his credit (after an amateur career that saw him go 189-3) and he's still just 24 years old. He could be on the fast track to a title.
"If he wins

on Friday night

, he should get another 'ShoBox' date this summer. Then after that, we're probably going to fight [WBA lightweight titlist] Richie Abril. The kid will be number one in the world in the WBA and two Cubans in Miami, we should draw a big crowd. It'll make history; two Cubans have never fought each other for a world title," said Glaser, who is sky-high on Santana. Sauleva is a bit more effusive, stating, "He's gonna become another [Manny] Pacquiao, another 'Manos de Piedra' [Roberto Duran], people like that."
OK, let's pump the brakes a little bit here.
Hall puts things into perspective, saying, "Santana looks really impressive and I really think he has the possibility of going to the next level."
The latest name in the mix to face Willie Nelson June 29th on HBO is Javier Maciel after Damian Jonak turned the fight down...It looks like Darley Perez is getting the assignment against Yuriorkis Gamboa on June 8th...Hall says the May 10th edition of "ShoBox" will have Dierry Jean vs. Cleotis Pendarvis and John Thompson vs. Tureano Johnson...The opening bout on Friday night has Amir Imam versus Jeremy Bryan...Vic Darchinyan is now fighting on May 11th in Laredo, Texas on an UniMas card...A special edition of ESPN2's "Thursday Night Fights" takes place on May 2nd from Corona, CA as Mauricio Herrera takes on Ji-Hoon Kim and Miguel Acosta faces Miguel Gonzalez...Have my Padres been mathematically eliminated from post-season play yet?...So the Red Sox sell-out streak has come to an end? Blame Bobby Valentine
…I can be reached at k9kim@yahoo.com and I tweet at www.twitter.com/stevemaxboxing. We also have a Facebook fan page at www.facebook.com/MaxBoxing, where you can discuss our content with Maxboxing readers as well as chime in via our fully interactive article comments sections.