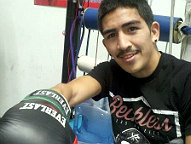 (Photo © K9 Photos)


WBC junior featherweight beltholder Leo Santa Cruz will be hosting a bowling tournament for the Lupus Foundation of America this Sunday afternoon at Pinz Bowling Center (11 a.m.-1 p.m.) in Sherman Oaks, California.

"

It's a benefit to do something good," said the soft-spoken Santa Cruz last Friday morning before his day's training session at the Who's Next Boxing Academy in the City of Industry.

Lupus is something Santa Cruz is quite familiar with given his older brother is afflicted with it. "He's doing a lot better," he said. "From the last time he was in the hospital, he's gotten a lot better and now he comes to the gym and helps out."

As his profile grows, Santa Cruz understands he can help out such worthy causes.
"I'm barely learning little by little but I am trying to get a lot of people to know about it and make an impact. We'll see how it goes and hopefully everything goes good and we do a good thing," said the young man who returns to the ring on December 14th in San Antonio versus Cesar Seda. "If I get more popular, we'll be doing more things for stuff like cancer, help all the people we can. I'm willing to do these things.
"

That's one of the things that's always been on my mind, to help people that need it and wherever I can, I'm going to try to do that and do what I can."
Pinz Bowling Center is located at 12655 Ventura Blvd, Sherman Oaks, CA 91604