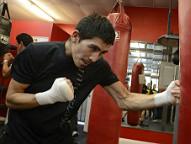 (Photo © Gene Blevins - Hoganphotos /Golden Boy Promotions)


The last time CBS televised live professional boxing was in July of 1997 as Bernard Hopkins stopped Glen Johnson in 11 grind-'em-out rounds. Now, to put into perspective just how long ago this was, Hopkins was still a relative unknown in the boxing world and in the early stages of his historic middleweight title run. And it was Johnson's first professional loss (yeah, it's been that long). Then there's this fact: When this fight took place, IBF bantamweight titlist Leo Santa Cruz was all of nine years old.
The reason Santa Cruz is referenced is because he is headlining the network's return to the sport on Saturday afternoon (4:30 p.m., ET) when he faces Alberto Guevara at the Los Angeles Sports Arena. The young man who has had a big 2012 knew shortly after his November 10th appearance at the Staples Center that he would be back in action on this date. Santa Cruz assumed it would be on Showtime, where he has made three consecutive appearances.

Soon word leaked out that he was going to appear on "The Tiffany Network."
"My first reaction was, 'I'm not going to fight on Showtime?' But it got explained to me that this is more exposure and everything. I was like, 'Oh, OK' and I was better and everything. I relaxed."
You can forgive "Teremoto" for his ignorance. He's a prizefighter, not a programmer, and he's a rather unassuming sort. You tell him to fight and he'll do it. It doesn't matter if it's on Showtime, CBS, Televisa or PBS. But he's also from a generation that never got to see boxing on a regular basis on ABC, CBS or NBC (which has had a few cards this past decade). He probably has no real inkling who Gil Clancy and Tim Ryan are but he understands now just how big a stage he's on.
"Oh, yeah, channel two, everyone sees it. It's a channel that comes on regular TV. A lot of people are supposed to see it. It's a great opportunity for the fans, for my people, to know me and know who I am," said Santa Cruz, who comes from a fighting family. His older brother, Jose Armando - a former lightweight contender not too long ago, says, "I told him this is really good exposure for him. So he's excited and he's really happy to be fighting on such a big crowd where everyone can see him."
The choice made by Golden Boy Promotions and the network to go with Santa Cruz wasn't made randomly. With a combination of his fan-friendly style and recent run, it made him the ideal candidate to be on this stage. Golden Boy's CEO, Richard Schaefer, explained to Maxboxing (via email):
Leo Santa Cruz is today one of the most entertaining fighters in the world, irrespective of weight class. To get boxing back on the #1 network in the United States is a huge accomplishment for boxing. One has only one chance to make a great first impression so I wanted to make sure that we have in this slot a fighter who we know will entertain and create the all important first impression. The lead in to his fight is NCAA Basketball so there will be a HUGE audience- we want to ensure that we will make out of these sports fans new boxing fans. That is why we send in one of our prime weapons LEO SANTA CRUZ- Santa Cruz is coming to town!!
For many years, it seemed like a pipe dream for the "Sweet Science" to return to terrestrial airwaves. Now you see boxing on CBS and NBC on back-to-back weeks (on December 22nd, a rematch between Tomasz Adamek and Steve Cunningham takes place on "The Peacock"). So is this an aberration or perhaps further proof that boxing hasn't died in this country? Stephen Espinoza of Showtime (which is under the corporate umbrella of CBS) says of the possibility of more boxing on the network (in over 120 million homes compared to Showtime, which has approximately 25 million subscribers),

"

It will depend on how the show performs, both in terms of ratings and entertainment value. If we get an entertaining show with good viewership - and Leo Santa Cruz gives us a very good shot at both - then we could see more of this in the future. Saturday afternoon boxing on network television is a tremendous opportunity for the sport and I hope boxing fans will make a concerted effort to support it."
So yeah, Santa Cruz isn't just under pressure to win but to provide an entertaining fight. But then, isn't that expected with all his bouts? Quite frankly, it's what he expects from himself. "There's always big pressure because you want to have the fans see you and that's always my main focus when I'm going to fight. That I always want to please the fans, I always want to give them a good show. So that's always the pressure. I don't really worry about the fighter or the opponent. Mostly it's the fans because I want to give the fans a good show and I want to impress them."
(Wanting to please the fans? This guy will never make any pound-for-pound lists with this attitude.)
To prepare for this assignment after his crowd-pleasing ninth round stoppage of Victor Zaleta mere weeks ago, he took all of five days off. He admits, "I feel a bit tired; I've been sparring and my arms feel a little bit tired but the day off the fight, I'll feel good because I let my body rest a few days before and once I get up there in the fight, I feel really good." As for any adjustments made for this camp, he explained, "Before, I'd spar five weeks and then this one, I had only two weeks of sparring. We changed a little bit because the last fight was really tough but I still think I'm going to be ready. I'm still training hard."
Honestly, Santa Cruz couldn't train any other way if he tried.
"He's always been like this since he was small," explained his brother last week at the Boxing Academy in Santa Fe Springs. "Like right after a fight in the amateurs, he'd do the same thing."
This has become so customary that he really knows of no other way. As for the longest duration of time he has ever spent away from his office?
"The longest I think...is one week," said Santa Cruz, who has a mark of 22-0-1 with 13 stoppages to his credit. And quite frankly, he couldn't stand this siesta. "My body relaxed and everything but then in my head, I'm thinking, 'How 'bout if they call me to fight? I'm not going to be ready.' So it doesn't feel good. Psychologically, it affects you. You think, 'Ah, maybe they might call me.' You just don't feel comfortable and you go back and train again."
This disciplined lifestyle has been ingrained by his father/trainer, Jose. Boxing really is Santa Cruz's life. When you ask what he does for fun or if he has any hobbies, he talks about his family going over to play cards at his grandmother's house, hitting bowling lanes or fishing with his father. "I don't go to clubs; I don't have friends where we go drinking. I don't do that," said Santa Cruz, who describes himself as a "family guy" - and he doesn't mean Peter Griffin.
The philosophy is very simple: The best way to get in shape is to never get out of it.
"I think it is because once you get out of it a few weeks, sometimes it helps and sometimes it doesn't because you feel lazy and you want to work as hard as you were training. But for me, I want to be up there, so I focus and come back the same," he says. Don't expect him to be Dick Vermeil, in other words, burnt out. It's clear; boxing isn't just what he does. It's what he loves and all he knows. He'd have it no other way. But Santa Cruz admits, this recent workload, which will see him perform five times this year (more impressively, four times since June) has fatigued him a tad bit. "Yeah, maybe. I think, body-wise, it has felt really tired," he says.
By today's standards, Santa Cruz is as active as any 12-round fighter on the planet. It's been a huge year for him. He went from a young prospect to a titleholder, who quickly gained fan support as he starred on Showtime and now he gets the spotlight on CBS. If anyone has earned a bit of a respite, it's this guy.
"We were talking about it and yeah, I'll probably take a few weeks off," admitted Santa Cruz, whose idea of a vacation is probably a lot different than most other boxers. "Maybe one or two weeks off and probably try to fight again by March - because we do need a little bit of rest. I think I need it."
It's a busy week for Golden Boy as they work toward this weekend. They have events open to the public all week leading into Saturday (culminating with a fan-fest and day/night doubleheader at the Sports Arena) and doing "Toy Drive Events" where anyone bringing a unwrapped, unopened toy valued at $20 or more will receive tickets to the Amir Khan-Carlos Molina fight (the Leo Santa Cruz portion of the card will be free to the public).
Here's the Golden itinerary moving forward:
12:00 p.m.
December 15
Final Press Conference
Location
: JW Marriott Los Angeles L.A. LIVE - Gold Ballroom Salon 1
(900 W. Olympic Blvd.; Los Angeles, CA 90015)
Parking:
Limited parking validations for valet parking will be provided to accredited media.
12:00 p.m.
- Media Arrival/Luncheon
1:00 p.m.
- Press Conference Begins
12:00 p.m. Golden Boy Holiday
Toy Drive
with Special Appearance by
Oscar De La Hoya
Location:
Golden Boy Building Lobby
(626 Wilshire Blvd.;
Los Angeles, CA 90017)
2:00 p.m.
December 15
Official Weigh-In -
OPEN TO THE PUBLIC!
Location:
L.A. Memorial Coliseum At The Olympic Statues
(3939 S. Figueroa St.; Los Angeles, CA 90037
- Main Entrance On Figueroa St)
Parking:
L.A. Memorial Sports Arena - Lot A
10:00 a.m. Oscar De La Hoya Foundation Charity Toy Giveaway
*GBP TOY DRIVE EVENT
Location:
L.A. Memorial Sports Arena (3939 S. Figueroa St.; Los Angeles, CA 90037 - Main Entrance On Figueroa St.)
12:30 p.m. L.A. Memorial Sports Arena Doors Open For Afternoon Boxing Event
1:00 p.m. First Fight Begins For Afternoon Boxing Event
1:30 p.m. SHOWTIME Boxing on CBS Broadcast Begins
3:00 p.m. Media Luncheon & Press Availability with Devon Alexander
Location:
L.A. Memorial Sports Arena - Arena Club
3:00 p.m. Holiday Fanfest Begins
Location:
L.A. Memorial Sports Arena (3939 S. Figueroa St.; Los Angeles, CA 90037 -
Main Entrance On Figueroa St.)
4:00 p.m. L.A. Memorial Sports Arena Doors Open For Evening Boxing Event
4:05 p.m. First Fight Begins For Evening Boxing Event
6:00 p.m. SHOWTIME EXTREME®
Telecast Begins
7:30 p.m. SHOWTIME CHAMPIONSHIP BOXING®
Telecast Begins
Found this email that I received on Tuesday interesting:
Hi Steve,
BennLimes here from the Twitterverse. I wanted to share an interesting story from last week. I have a friend here at work who I regularly talk sports with. He like myself is a passionate and knowledgeable sports fan. He also knows that I am a big boxing fan and besides a few probing questions from him we rarely discuss the sport because I understand he is generally uninterested. However, last week he told me that he and his buddy were considering ordering the Pac-JMM fight and asked me if I thought it was worth it for them to do so. I told them yes because Pac and JMM have always had close fights and both fighters, especially Pacquiao, are action fighters who are fun to watch. I really didn't give it another thought until yesterday my friend came into work after watching the fight Saturday night and immediately wanted to talk boxing. More importantly he said this exact phrase to me, "Me and my friend want to watch more fights. When is the next fight worth watching?" I was a little shocked to hear him say this but immediately started telling him about Leo Santa Cruz and his fight on CBS this Saturday. I guess the reason I wanted to relay this story was because it shows that sport fans are for the most part sheep. My friend was just a sports fan and heard all this noise about a fight and felt compelled to watch it. What really sold my friend was clearly the quality of the fight. What the boxing industry needs to do is tell people about the fights that will sell people on boxing. To me the biggest mouthpiece for sports is ESPN and more specifically SportsCenter. An idea of mine that may be incredibly unrealistic is the following: a fight like Rios-Alavarado II on ESPN or ESPN on ABC. Naturally ESPN likes to promote the things that will be appearing on their airwaves. They can use SportsCenter to interview the fighters and their plethora of platforms to sell this fight and explain how the first fight was a war. I understand ESPN's budget for boxing is small and a fight like Rios-Alvarado II commands a lot of TV money but I feel like with some outside the box thinking on the part of promoters a set up like this can occur. Just a thought and a story I wanted to share. Enjoy your and hope you're enjoying the fights.

Thank you,
Ben Limegrover
Ben, thanks for writing in. A few points…
Yes, the fourth edition of Pacquiao-Marquez and the action and drama it provided has been great for boxing. And I think what you wrote about Santa Cruz, in many ways, vindicates the decision to put him on CBS. This is a guy who has earned this shot and because of his discipline and sacrifices, is able to answer the bell on short notice.
Now, to your last point, I couldn't agree more and I've said it before, while the ESPN/HBO PPV partnership is great for the major pay-per-view fights, the reality is that most fights involving the "Pac-Man" and Floyd Mayweather are already covered by ESPN. Fights like the one you mentioned and many others are those that never see the light of day on "SportsCenter" or the other platforms on the "Worldwide Leader." Just think about it; boxing is an established, global sport with a great tradition but is on "SportsCenter" probably less than 10 times a year.
The current deal between the two networks only helps the one percent of boxing.
Also on the CBS telecast will be 2012 U.S. Olympian Joseph Diaz in his pro debut...Official numbers from the NSAC for Pacquiao-Marquez IV say it did a gate of $10,888,890 at the MGM Grand Garden Arena, sold 15,403 tickets with no unsold tickets and 908 comps...Bob Arum tells Lance Pugmire of the LA Times that with Pacquiao-Marquez V now a priority, a rematch between Brandon Rios (who was slated to face Pacquiao if he would've won last weekend) and Mike Alvarado is being talked about...As for Tim Bradley, I'm hearing that his February 9th slot on HBO could be moved...

Here's the ticket info for the HBO triple-dip at the Theater of

Madison Square Garden

in New York on January 19th: http://www.theateratmsg.com/events/2013/january/world-championship-boxing-tripleheader.html and for the February 9th show at the Barclays Center in Brooklyn with a main event of Danny Garcia versus Zab Judah:
http://barclayscenterots.com/Special_Offer_Boxing_MM.html
...Manager Frank Espinoza confirmed that a fight between featherweight beltholder Daniel Ponce de Leon and Puerto Rican Jayson Velez will take place on March 9
th
at the Barclay Centers on Showtime....So how does this development affect a potential fight between Adrien Broner and Ricky Burns?:
http://www.dailymail.co.uk/sport/boxing/article-2246279/Ricky-Burns-fight-Jose-Ocampo-withdraws-ExCel-clash.html
...The Lakers just aren't very good; in fact, they are flat-out bad...Uh, NFL commish Roger Goodell has some explaining to do, doesn't he?..."Nashville" is my TV "Rookie of the Year"...I can be reached at
k9kim@yahoo.com
and I tweet at
www.twitter.com/stevemaxboxing
. We also have a Facebook fan page at
www.facebook.com/MaxBoxing
, where you can discuss our content with Maxboxing readers as well as chime in via our fully interactive article comments sections.