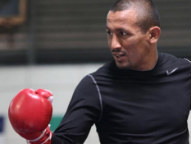 --


On the night of March 10th, Orlando Salido participated in probably the best prizefight of 2012. Once again, having to go to the island of Puerto Rico, he faced Juan Manuel Lopez in a rematch of their entertaining scrap from the previous year. This time around, "JuanMa" was in much better condition and able to absorb much more from the hardnosed Mexican while dishing out his own fair share of leather. He actually floored Salido in the fifth before the defending WBO featherweight king slowly wore him down. After a pulsating ninth frame (http://www.youtube.com/watch?v=D3Joh5OBcns), Salido finally subdued the Puerto Rican star at the beginning of the tenth.
"Siri" had done it again but it came at a heavy price. Heavy, dark bruising underlined both eyes. This was a hard-fought victory, the kind that can shorten a career- even in victory. This Saturday night, he gets back into it, facing Moises Gutierrez in Tepit, Nayarit, Mexico.
"I only took a couple of weeks off for everything to go down, the swelling, the soreness, everything," said Salido through Top Rank publicist Ricardo Jimenez last week. "But it was a tough fight; I definitely felt his punches more than the first time. I knew he was going to be well-prepared; that's why I knew I had to be well-prepared." He admits that from a physical perspective, the rematch with Lopez was the most taxing he has ever been through. "I felt it was the most competitive fight I've been in and he's one of the strongest guys I've faced."

"Without a doubt," he stated. "I feel that I'm at my peak right now. That's why I want to face the best and see what I can do against the best. I think I'm capable against anybody at this weight."
After years of journeyman status and living in the considerable shadows of Marco Antonio Barrera, Erik Morales and Juan Manuel Marquez, Salido has now carved out his own niche among boxing fans who are appreciative of his no-nonsense, blue-collar style. Like a recently retired Glen Johnson, he did it the hard way and the public seems to have embraced that.
"I feel like the fans are aware of who I am, even the press; everyone is more aware of who I am and what I'm capable of doing," says Salido, who is 31 years old and has been a pro fighter for over half his life. "And that's very nice; it makes me feel good." However, don't expect complacency to set in. Guys who grew up in the conditions he did will always be hungry to a certain degree. "I'm finally getting my just due, not only from the fans but from the Mexican press. It's important to get all the recognition for everything that you've done and I'm still hungry because I want more. I know how hard I fought to get here, so I do know how hungry I have to be to stay here."
Salido should have a relatively easy time versus Gutierrez. This wasn't designed to be anything more than just a stay-busy affair and it's not even clear on BoxRec (boxrec.com/list_bouts.php?i=boxer) if this is a title fight or not (one can only assume since it's a 10-rounder that it's a non-title outing). That said, back in December when he faced the lightly regarded Weng Haya, Salido was dumped hard to the canvas twice before scoring an eighth round stoppage. A loss would have put his rematch with "JuanMa" in jeopardy. "The way I look at it, every fight is important. Everything I've gained can go bad in one night. So I'm motivated because I know I need to keep winning because I do want bigger fights and I do want bigger names," said Salido.
At stake could be a showdown with rising contender Mikey Garcia in a fight that could take place in the fall on HBO or even on the undercard of Manny Pacquiao's next outing. Garcia is scheduled to be on this show this weekend.
"I know [Garcia]'s an undefeated fighter; he's a tall guy for that division and I know he's a very good boxer," Salido said of his potential foe, "but the way I look at it, he hasn't faced nearly the competition that I've faced, the opponents that I've had in my career. He certainly doesn't have the experience to fight a guy like me and that's the way I look at it. It'll be interesting to see what he can do with me more than I can do with him."
What was once an unusually active August for boxing took another blow as the August 11th bout between IBF light heavyweight titlist Tavoris Cloud and Jean Pascal at the Bell Centre in Montreal was postponed due to a training injury suffered by the challenger. There had been talk of this bout being placed on October 13th but Showtime, which is televising this fight, will most likely not be available on this date.
It points out again how crippling postponements are because to reschedule them, you need a lot of things to come together, from the availability of the venue (the Bell Centre is the home of the Montreal Canadiens, who could be in the middle of an NHL lockout) to openings in the programming schedule of the network and the health of the recovering fighter.
It's not clear when we'll end up seeing Cloud get it on with Pascal.
Lem Satterfield was full of news from Golden Boy Promotions, whom announced among other things that a rematch between unified junior welterweight champion Danny Garcia and Erik Morales would be featured at the Barclays Center in Brooklyn, New York on October 20th on Showtime (http://ringtv.craveonline.com/blog/174043-garcia-morales-ii-malignaggi-quillen) This card will also include Peter Quillin and Paulie Malignaggi.
Not to be an opinionated boxing writer but while I know there may have been a rematch clause held by Morales, I wonder if this fight really fits in this jurisdiction. Just my opinion but a fight against Zab Judah- who hails from Brooklyn- would seem to make more sense.
And the September 8th card featuring IBF welterweight titlist Randall Bailey and Devon Alexander (with a co-feature of Lucas "The Machine" Matthysse versus Ajose Olusegun) will take place at the FedEx Forum in Memphis, Tennessee (http://ringtv.craveonline.com/blog/174045-bailey-alexander-headed-for-memphis-tenn). Honestly, Matthysse-Olusegun is the fight I'm most looking forward to on either network that evening (as HBO has Andre Ward vs. Chad Dawson from Oakland).
Also, it looks like Adrien Broner will return on October 6th in Atlantic City (http://ringtv.craveonline.com/blog/174047-broner-mitchell-possibly-thurman-in-atlantic-city-on-oct-6) with Seth Mitchell returning versus Johnathon Banks. OK, I'll say it right now; I'd love to see Broner take on Henry Lundy- who still has to take care of some business this Friday night - in what would be a very legitimate match-up of speed, quickness and style. I'd like to see "The Problem" face a guy who's the athlete and technician he is. Yeah, Lundy is a bit chinny but he also has a lot of physical tools.
Main Events announced the signing of Steve Cunningham, who will now campaign as a heavyweight...I'm told the Salido card will be on TV Azteca. Uh, OK, let's see about that; they have a way of not always showing what they promise...SHO Extreme on Saturday will air that night's undercard featuring George Groves and Hugo Centeno before the main card at the HP Pavilion...Is it just me or is this the worst class ever for "Kitchen Nightmares"? Seriously, if I was Gordon Ramsay, I wouldn't give any of them a restaurant. Now, the contestants on "Master Chef," now that's a quality roster of contestants...I'll say this about the new Dodgers ownership, they are going all in...I can't lie; when Mike Leach is on the mic, I listen in, regardless

...

I can be reached at k9kim@yahoo.com and I tweet at www.twitter.com/stevemaxboxing. We also have a Facebook fan page at www.facebook.com/MaxBoxing.