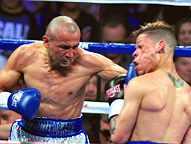 (Photo © German Villasenor, MaxBoxing)


To get noticed, let alone break out of the fight factory/hotbed that is Mexico, boxing is no easy feat. Gyms everywhere are crammed with hopeful young pugilists looking to make their mark in the country's beloved sport. Or like many desperate young fighters, they are looking for a way to get out of what can only be described as difficult circumstances in life. This was certainly the case for a young Sonora, Mexico-born Orlando "Siri" Salido, who turned pro at age 15.
Looking to do what he could with what ability he had, the young featherweight, as hard as they come, would eventually make his mark. But he travelled the toughest roads boxing had to offer to get there.
Turning pro 1996 in his native Mexico, Salido, 40-12-2 (28), fought as many tough, young Mexicans do. He fought everyone and anyone put in front of him for little money. While these work conditions seldom lead to glowing résumés, they do benefit a young fighter in terms of gaining a wealth of experience that can pay great dividends down the line if you survive long enough.

After turning pro, Salido amassed valuable experience along with a pedestrian 11-7-2 record in his first 20 bouts. Despite the seven losses among them, the tough, gritty featherweight kept improving. By the summer of 2001, he started to show a markedly improved skill set while maintaining an ingrained toughness built on years in the unforgiving club fight trenches early on. In the fall of 2001, Salido decisioned former long time World Boxing Organization (WBO) champion Regilio Tuur over eight rounds in New York City. This was the start of a turning point that saw him take some major steps from legitimacy to serious contender. In his very next outing, he lost a razor-thin, majority decision to former World Boxing Council (WBC) featherweight champion Alejandro Gonzalez in a very close fight.
In his next fight just three months later, Salido beat undefeated future world title challenger Lamont Pearson over 10 frames. This bout would be the start of a strong, nine-bout undefeated streak that would include wins over former world title challengers Carlos Gerena and Radford Beasley. The run vaulted him into his first world title shot but the task at hand was a tough one. "Siri" would face rugged Mexican legend Juan Manuel Marquez for his World Boxing Association (WBA) "super" and International Boxing Federation (IBF) featherweight titles at the MGM Grand in Las Vegas. While Orlando would lose a 12-round unanimous decision, it was a fight that changed the mentality of the constantly improving Salido, who said, "That fight showed me I could fight amongst the best in the world in my division." The bout also changed the boxing world's perception of Salido as he was now seen as a fighter who had gone from a potential contender to a serious player in his division.
Never one to take the easy route, his next fight in the spring of 2005 saw him defeat former world champion Cesar Soto over 10 rounds. Just two fights later, Salido stopped future world title challenger Rogers Mtagwa in five rounds. Again, two fights later, it looked like he had finally realized his dream when he beat IBF champion Robert Guerrero. However, the bout was ruled a "no-contest" after Salido failed a post-fight drug test. "Siri" got right back on the horse and put together four wins, taking him into the fall of 2008 when he was awarded a shot at IBF champion Cristobal Cruz, who had won the title vacated by previous titleholder Guerrero.
In a heartbreaker, "Siri" found himself on the wrong side of a close, split decision loss. After two wins in the summer of 2009, he was again awarded a shot at Cruz and his IBF world featherweight title. This time, Salido dominated and picked up a 12-round unanimous decision, claiming the belt. The hardscrabble kid from Mexico who started his career as a tough-but-undistinguished, opponent-level fighter, had worked his way to the championship of the world - and he did it the old way: one tough fight at a time.
After losing the title in his first defense four months later to undefeated Cuban star Yuriorkis Gamboa, much of the boxing world felt that, while respecting Salido as the quintessential overachieving tough guy, his title run was done. More than likely, so were his days as a world title threat. His reputation as a remarkably tough, crowd-pleasing slugger, however, did award him another title try and he was ushered into the hometown of huge Puerto Rican star Juan Manuel Lopez in April of 2011. To everyone's surprise but his own, Salido battered the heavily-favoured, hometown champion, stopping him in eight rounds and winning the WBO featherweight title. The win capped a career-long battle for legitimacy and elevated the friendly, well-spoken, Phoenix, Arizona resident to the elite level among featherweights.
Salido looked to make the second defense of his title in January of last year against hot, undefeated prospect Mikey Garcia of Oxnard, California. Garcia had shown he possessed some serious pop in dispatching 26 of 31 fighters inside the distance. One of boxing's fast-rising stars, Garcia beat Salido in eight rounds via technical decision.
While pondering his next move in the game, a great opportunity landed on his door step in the form of a WBO title shot against Orlando Cruz in October on the undercard of Timothy Bradley vs. Juan Manuel Marquez in Las Vegas. Realizing title opportunities were going to be harder to come by as the years and the losses mounted, Salido came out strong and determined, stopping Cruz in seven rounds. "Siri" was once again a world champion.
Now entering 2014, while only 33 years of age (but with 18 years experience – to the exact day - in the game), Salido is being lined up as the B-side for rising Russian amateur star and 2012 gold medalist Vasyl Lomachenko's world title shot. Because Lomachenko, a surprising 1-0 (1), had six fights in the "World Series of Boxing" league (fought under professional rules), some would say he has had seven bouts. But whether he has had one bout or seven, he will face the vastly more experienced fighter in Salido on March 1st. However, Lomachenko's promoter, Top Rank Promotions, always has the wheels in motion for the bigger end game, that being a possible matchup later in 2014 between "Hi-Tech" and its other undefeated star, World Boxing Association (WBA)/WBO super bantamweight champion Guillermo Rigondeaux.
Lomachenko looked calm and relaxed, belying his lack of pro experience, in his Top Rank debut win. He used a good defense and strong power shots to beat Jose Ramirez, 25-4 (15), via fourth round KO on the same October 2013 Bradley-Marquez card in which Salido beat Cruz to capture the WBO title. However, Vasyl is facing a hardnosed, tough-as-nails fighter in "Siri." Salido has never had anything handed to him and he won't relinquish his WBO hardware without putting up a serious fight. He will rumble hard all night long to defend it and despite a lot of wars - and 18 years of punching for pay - he still loves to bring it. While it is certainly not out of the question to imagine Lomachenko outboxing Salido, the former amateur star must realize he is going in with a guy who knows no other role than that of the underdog and more often than not, has refused to play nice.
They don't make many guys like Orlando Salido anymore. He may one of the last of a dying breed. He is an old-school tough guy with two moves in the ring: forward and aggressive. Glossy records and amateur accomplishments mean little to a guy fighting to survive in a game that should have chewed him up and spit him out years ago. The fact that Salido started in boxing's basement and is still a penthouse player this late in his career is a testament to the will, determination and skill of the three-time world champion. It also helps to have a strong team around him in manager Sean Gibbons and trainers Santos Moreno and 79-year-old Victor Chino Barron, who has been with Salido since the champ was 12 years old. And while it is a testament to Top Rank's belief in Lomachenko's ability to even mention his name in the same breath as Rigondeaux this early in his career, he has a tough hurdle to clear in Salido to get to the Cuban star.
Orlando himself would like to cash a nice "Rigo"-sponsored cheque later in 2014 and he'll do anything he has to in order to get the opportunity. Considering where Salido came from and what he has gone through to stay on top, "Siri" can leave the ring anytime and call himself a champion regardless of the outcome of any remaining bouts in his career. But make no mistake; he isn't looking to rest on his laurels and past accomplishments. He's looking to keep his title. On March 1st, Salido plans leave the ring the same champion he when he entered it.
One could only surmise that Salido's fight night motto will be "You want some, Lomachenko?" No problem. My guess is Salido will be more than happy to bring it. Game on, Vasyl…
Please visit our Facebook fan page at
www.facebook.com/MaxBoxing
, where you can discuss our content with Maxboxing readers as well as chime in via our fully interactive article comments sections.