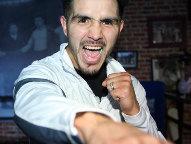 (Photo © Chris Farina / Top Rank)


Before

Brandon Rios

goes into battle with Mike Alvarado this Saturday night at the Home Depot Center in Carson, California (HBO 10 p.m., ET), there is still the not-so-small issue of his actually making weight. Usually, the weigh-in is a perfunctory ceremony for most boxers but not Rios, who failed to make the 135-pound weight limit in his last two fights against John Murray and Richie Abril. But this time around, Rios will be competing as a junior welterweight in a WBO elimination bout.
His trainer, Robert Garcia, says that that making the 140-pound weight limit will pose no problems.
"No problem at all," said the trainer on Wednesday afternoon from the Fortune Gym in Hollywood, where a media day was held for this card by Top Rank. "Before, trying to make 135 is where [Rios] was killing himself and even though he didn't do it in his last two fights, he killed himself to try to do it. 140 won't be an issue; right now, we're very close to the weight already and he's still training hard, still eating, still able to drink his liquids. Coming to 135, it was five extra pounds; this week, he wouldn't be able to eat or drink anything. It's just a big difference and he'll be a lot more healthier and coming down to 135 and still be able to perform like he did in New York [versus Murray], still being able to pull it off when he was basically dead trying to make weight. I think he's going to be so much stronger at this weight division."

The question is, given Rios' failure to make the lightweight limit in two consecutive fights (and with his body having an emaciated look to it), should they have made this move sooner?
"I think we should've moved him up before," admitted Garcia, who went on to explain that, "Actually, after the [Murray] fight in New York, we said, 'That's it; no more,' and they convinced us to do it because he was supposed to fight [Yuriorkis] Gamboa. So Brandon's like, 'F**k it; let's give it one more try,' but we knew it was going to be so hard; we just couldn't make it."
Eventually, the Cuban would defect from the fight (yeah, I know, bad pun. Sorry, couldn't resist) and Rios was paired with Abril for the vacant WBA lightweight belt, meaning he still had to make 135. "When they changed the fight against Abril, Brandon's like, 'OK, then, let's do it at 140 because I ain't fighting at 135.' We both made that agreement but, for whatever reason, they told us that if we didn't fight for the title, 'You cannot move up to 140 and challenge any of the big names,' and it's only worth so much money if it's not for the title," explained Garcia of that disastrous weekend in April when Rios struggled mightily against Abril over 12 dull rounds. "So they gave us all this bullsh*t and we tried. He was two pounds away but his body just gave up on him."
Garcia, a former world champion himself, says that unless you've been through the agonizing process of cutting weight (while already physically depleted), you couldn't possibly know what it's like. He says, "People don't understand and when you see it on TV and you hear that Brandon didn't make weight or Adrien Broner didn't make weight, they don't know what the fighters go through. If you're on the scale and you're two pounds away but you already killed yourself to lose those last three pounds, why would Broner even try? He knows it's going to be impossible. Brandon did the same thing in this last fight; he came in at 137 and we're like, 'Where can we lose the weight? He'd been at 137 two days ago and just couldn't lose the weight.' There was just no way, so we just gave him his drinks and couldn't push him to try to lose those two pounds.
"It would've hurt him; he was already hurt. It would've just been worse."
A few tidbits from the head of Top Rank, Bob Arum...
When asked about the status of Tim Bradley's December 15th bout, Arum told Maxboxing, "We don't know if Tim's going to fight in December. He may want to fight in February." And with that, Top Rank will still try and pursue a date on HBO that night. "We're going to talk to them about doing a 'Boxing After Dark' show, maybe with Guillermo Rigondeaux in one fight and Yuriorkis Gamboa in the other fight. Do it in Miami."
And it looks like Manny Pacquiao signed an extension with Top Rank.
"Yeah," confirmed Arum, "for another year, till the end of 2014."
Golden Boy formally announced that the November 17th HBO doubleheader featuring Adrien Broner against WBC lightweight champion Antonio DeMarco and the heavyweight clash between Seth Mitchell and Johnathon Banks will take place at the Boardwalk Hall in Atlantic City, New Jersey. Here's the ticket info (from a Golden Boy press release):
Tickets priced at, $200, $100, $50 and $25, plus applicable taxes and service charges, go on sale on Thursday, October 11 at 12:00 p.m. ET and will be available for purchase at the Boardwalk Hall box office, by calling Ticketmaster at (800) 736-1420 or online at ticketmaster.com.
Based on what I'm hearing, I think this card at the Home Depot Center could eclipse 7,000 in paid attendance...Don't forget; for the guys (or guy) who have WealthTV, they are airing the bout between Adonis Stevenson and Don George this Friday night...I thought the latest installment of the "30 for 30" series on ESPN, "9.79*," was excellent, one of their very best...Yeah, I'm going to give "Nashville" on ABC a shot. Hey, it has Connie Britton of "Friday Night Lights" fame...I can be reached at k9kim@yahoo.com and I tweet at www.twitter.com/stevemaxboxing. We also have a Facebook fan page at www.facebook.com/MaxBoxing, where you can discuss our content with Maxboxing readers as well as chime in via our fully interactive article comments sections.