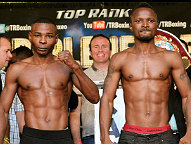 L-R: Rigondeaux 121 lbs, Agbeko 121.6 lbs (Photo © Chris Farina / Top Rank)


"
Just because you beat Tiger Woods, [it] doesn't make you Tiger Woods." - Larry Merchant
Guillermo "El Chacal" Rigondeaux is a singular artist in a sport compiled of singular artists. At age 33, "Rigo," as he is also known, has compiled an impressive fighting legacy, 376-12 in the amateurs to go with seven national Cuban titles and two gold medals. Rigondeaux defends his WBA and WBO super bantamweight belts tonight on HBO as the headliner against former 118-pound champ Joseph "King Kong" Agbeko. Fresh off the biggest win of his career, a dominant decision win over Nonito Donaire last April, Rigondeaux should be smiling more.
Before he was able to book tonight's main event in Atlantic City live on HBO, Bob Arum of Top Rank Promotions, Rigondeaux's promoter, went on record saying he thought booking his Cuban champion on their network made HBO execs want to vomit. The media has held on to Rigondeaux's decision victories over Ricardo Cordoba, Robert Marroquin and Donaire as evidence that Rigondeaux, who boasts eight stoppage victories in 12 wins against zero losses, is boring. In their double-down on the middle ways, they agree he is skilled but also seem to cluster around the idea he is boring despite having legit power in both hands and a deadly, counterpunching style to go with the most original and perplexing footwork in the game. Essentially, "Rigo" has been labeled "unwatchably good" by his promoter and detractors.

All this after winning two titles in a dozen fights and beating a "pound-for-pound" fighter in Donaire earlier this year. All this after leaving his wife and child behind in Cuba to pursue his dream of being a champion professional boxer. Twice.
Life often plays out in the direction you wish it but rarely arrives in the fashion you'd hoped. Dreams rarely ever end up being what you think they will. Getting to the highest of levels in the sport, Guillermo Rigondeaux has sacrificed his life and his family's for a chance to live as few ever do, bathed in the glory and riches that only the ring can provide.
While he is achieving part of that, one has to wonder if its all worth it. To succeed at a level few do much less with as little pro experience as he has had, fighting out of his natural 118-pound weight class in order to get money fights and still have the world think its not enough must be torturous dissatisfaction.
"
Risk averse" is a phrase that applies to many Cuban boxers. Rigondeaux often speaks of the fact that boxing is the art of hitting and not getting hit. It is also a game of risk versus reward. To this point, Rigondeaux has risked outside the ring greatly and has been rewarded with opportunities because of it. Within those chances, "Rigo" has opted to hit and not get hit as much as possible, no matter the boos, no matter the media cries of "He's Rigon-dull!"
Risk is about what you can afford to lose. As long as he wins, Rigondeaux can afford to be safe. What he can't afford is to lose because if he does, Bob Arum will throw him under the bus; the media will say "See? He was a sideshow," and he will be quickly dismissed. Even if he wins, Arum is already scheming to match Rigondeaux against Vasyl Lomenchenko, an aggressive featherweight version of himself, also with two gold medals and a storied amateur background. The difference is Lomachenko is younger, bigger and not as defensively sound as Rigondeaux.
"
The Jackal" can't win for winning.
In tonight's match-up, Rigondeaux faces in "King Kong" Agbeko a taller man with a potent right hand, a proven chin and championship-level experience. If he has a weakness, it's that at age 33, Agbeko has some miles on him as well as a back that has plagued him in the past. He's boxed 198 rounds to Rigondeaux's 71. A tough fighter out of Ghana, Agbeko has all the ingredients to trouble "Rigo." Guile, toughness, strength, size and a desire to remain at the top level. But it remains to be seen if his age will show versus the quicker, fresher but also 33-year-old Rigondeaux.
Guillermo Rigondeaux is a foreign and indie film theater. He's a great jazz club in a sh*tty part of town. He's that local Italian restaurant that does it like the old country with a Spaghetti Factory around the corner. Every fight, every punch, every moment counts because every moment someone is looking for a reason to discard "The Jackal." Versus Agbeko, Rigondeaux faces a threat greater than Donaire, a like-minded, hungry champion looking for redemption every bit as much as
Rigondeaux
is.
Should make for a great, perception-changing fight.
Please visit our Facebook fan page at
www.facebook.com/MaxBoxing
, where you can discuss our content with Maxboxing readers as well as chime in via our fully interactive article comments sections.