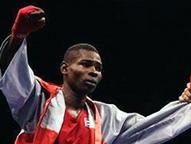 Guillermo


The state of undefeated world champion Guillermo "The Jackal" Rigondeaux, 13-0 (8), is an interesting one to say the least. "Rigo" turned pro in the spring of 2009 after an outstanding amateur career that included a résumé of seven Cuban national championships (2000-2006), two Olympic gold medals (2000 and 2004) and two amateur world championships (2001 and 2005) in his near-400-bout amateur career. Since turning professional, he has not lost a fight and some would say you'd have to review footage to handpick the rounds he has lost. In only his thirdpro fight, he picked up the North American Boxing Association (NABA) super bantamweight title and by his seventh fight, was fighting for the World Boxing Association (WBA) interim world super bantamweight title. After defending that title four times (becoming a "full" champion in the process), Rigondeaux added the World Boxing Organization (WBO) super bantamweight title when he schooled superstar Nonito Donaire over 12 rounds in April of 2013. He followed that big win eight months later by shutting out tough Joseph Agbeko over 12 frames.

Despite being undefeated and extremely talented, there is clearly a challenge in breaking "The Jackal" beyond cult status and getting him on the radar of the mainstream boxing crowd. Talented? Yes. Marketable? Not so much. I'll be the first to admit I liked watching Arturo Gatti and Micky Ward drop the hammer for all 90 minutes of their epic trilogy as much as anyone. But I also like watching a fighter like Rigondeaux at work. While he's employed in the same industry as Gatti, Ward, George Chuvalo and the like, he certainly brings a different skill set and approach to the game. If boxing is the "hit and not get hit" business, then Rigondeaux truly has it nailed.
Having said that, apparently selling boxing skills and selling boxing thrills are not the same. Even HBO, one of the flagship cable networks that sell the sport, seems to have soured on the Cuban after the few times they have featured him. While they might be in the boxing business, when it comes to deciding which fighter gets airtime, it appears they are only in the fight business. The art of boxing seems lost on a large portion of the fight crowd, therefore it's lost on the network advisors who sell the sport to its buying public. The network simply refuses to support showcasing a fighter like Rigondeaux, as talented as he is, if he isn't racking up the KO numbers (preferably after absorbing a fair bit of punishment himself).
This attitude supports fight fans' misgivings about both the fighter and his style. In fairness to the networks, they are in the sales business first and foremost. They really aren't looking for KO numbers; they are looking for sales numbers. In reality, if Guillermo's pay-per-view sales were high then Rigondeaux would be on HBO each and every time out. But the truth is, he isn't exciting in the "edge of your seat/blood and guts" sense. But he is a very talented athlete who can be appreciated on another level for his outstanding skills. Top Rank Promotions boss Bob Arum, who has tried to develop Rigondeaux into a favorite with the larger PPV audience, is frustrated with his dilemma of having an uber-talented, unbeaten but largely unrecognizable fighter. The Hall of Fame promoter stated in a recent interview that, "The problem is, I'm faced with a situation where I'm obligated to give him one more fight under the contract and HBO has let it be known to me that they are not interested under any circumstances."
The feeling on Guillermo is that if you watch round one, you can hit your DVR and fast-forward to round 12, filling in the blanks yourself as the rounds will all look very similar. That said, "Rigo" works off a piston-like, accurate jab and keeps his opponent at bay while he hunts and pecks until he finds the sweet spot to land his power shots. And if he doesn't get the opening to unload the heavy artillery, he isn't going to take the chance to create one and risk getting countered. He is more than happy to box for 12 frames and pick up the win. To a small fraternity of "Sweet Science" fanatics this is "Boxing 101."
To a large fraternity of fight fans, this is "Boring 101."
The larger population of fight fans want to see the round card girls, drink cold beer and see some bombs landed, likely in that very order. In short, "El Chacal's" style doesn't translate. Guillermo Rigondeaux is a very talented fighter and up to this point in his career, nobody has been able to beat him. His skill set is second to none as he mixes an amazing defence with pinpoint accurate power shots, when he chooses to use them.
Not all great food tastes the same. Not all great music sounds the same. And not all great fighters bring excitement the same way. Catch this guy while you can; talent like this doesn't come along every day.
"Rigo" wants big fights and is calling out anyone and everyone in and around the super bantamweight division. Maybe he needs to sit down with his management and understand that, to catch on with mainstream fight fans and secure the paydays that accompany the bigger bouts, he needs to shelve a little of his safety-first style and go for broke in upcoming assignments? Maybe then he will capture the attention of the larger audience.
Or maybe someone just needs to KO him and get rid of him that way…oh, yeah…they've been trying. But until then, Guillermo Rigondeaux just keeps beating everyone put in front of him.
Please visit our Facebook fan page at www.facebook.com/MaxBoxing, where you can discuss our content with Maxboxing readers as well as chime in via our fully interactive article comments sections.