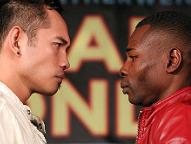 (Photo © Chris Farina / Top Rank)


"A pound for pound showdown" or "important" are something fight fans who care about such things would call Saturday's WBO/WBA super bantamweight (122 pound limit) battle between Nonito "Filipino Flash" Donaire, 31-1 (20) taking on undefeated WBA Super Bantamweight Champion and former two-time Cuban Olympic Gold Medalist Guillermo "El Chacal" Rigondeaux, 11-0, (8) at Radio City Music Hall in New York City, New York. But it's more than the belts that are on the line.

For Donaire, this is the gateway to bigger fights. A showdown perhaps with Abner Mares looms. If not, there is still the possibility that the void left by the departure of Floyd Mayweather and Golden Boy Promotions from HBO could be filled in part by the 2012 Fighter of the Year. This is a tough business move type of fight that is gateway to larger things.

For Rigondeaux, every sacrifice, from leaving his family behind to defect from Cuba in order to pursue his dream of being a world champion to the daily rigors of the gym, comes down to Saturday night. At age 32, his elite success must happen now. He's a Cuban southpaw counter puncher who speaks no English and has no fan base home to call his own. He has to win in order to move forward much less get a second chance at something like this.

Initially, boxing fans and Donaire wanted a showdown with Mares. But both Top Rank and Golden Boy, their respective promoters, aren't having it. They've instead chosen to act in separate leagues on Showtime and HBO. We'll see how that plays out over the long haul. Donaire initially balked at Rigondeaux, citing his lack of fights and big fight experience.

"In the beginning when I followed Rigondeaux, I wasn't impressed with the Ricardo Cordoba fight, but the more that I watched him fight I realized he is more worthy of it," Donaire told the media on a conference call pushing the fight. "But first things first, I wanted to go Abner Mares first then Rigondeaux but that fight didn't happen and now that I have been watching Rigondeaux the more formidable I see him. I am seeing that he is a really tough guy. Not only does he have speed and power but he does well mentally so I am really excited about the fight. When you do this for a while, like I have, you tend to be motivated by having a good fighter in front of you and that is why I disregarded Rigondeaux in the beginning because of the Cordoba fight, so when the fight with Mares didn't happen, Rigondeaux was the next guy in line. The more that I watched him fight, the more excited I got about the fight. He has a lot of talent and that's why I am training hard for this fight."

When Rigondeaux, who is now trained by his fourth pro trainer, Pedro Diaz, first turned pro, he worked with veteran trainer Freddie Roach at the Wild Card Boxing Club in Hollywood, CA. Early on, Roach tried to change Rigo's style, asking him to be more aggressive and offense-oriented. But that isn't his game. It's never been through 400 amateur fights and two gold medals in the Olympics. "El Chacal (the Jackal) is a counter-puncher with two-fisted power and he will be until he hangs them up. So is Donaire which means this could be a staring contest instead of a fight. Veteran trainer Ronnie Shields, who worked with Rigo after Roach, also spent time trying to explain to the Cuban that he needed to be exciting in order to build a following. For this fight, Rigo claims he will attempt to be just that but natures are hard to overcome.

"In this fight I will try to engage more than I have in the past," said Rigo in the same conference call. "I want to give the fans what they want to see. Nonito is an aggressive boxer and I will be coming for him. I expect the same from Nonito. He is a great boxer and a great technician. I think there are going to be a lot of fireworks."

"I think his ability to see punches and to be intelligent in there. He has speed and power like I do. It is going to be, who is the smartest guy in the ring and who has the biggest heart," said Donaire of his opponent.

Rigondeaux is a tricky fighter. At first glance, he is small and basic. He is listed at 5'4" ½ but seems shorter. His arms are long though and that power is sneaky. His intelligence and footwork appear to be elite but his experience at the top level is lacking. Donaire feels that experience will be the difference.

"When it comes down to speed-power and power and tactical ability then my experience will come in handy in terms of pushing through and going all-out and going more rounds I think that is going to be a big factor when it comes down to we are evenly matched. If it comes down to speed and power then my experience will be an ace for me but that is something we will need to find out – if he is stronger than me or faster than me," explained Donaire.

Cuban amateurs are different than American amateurs in that it's a state-sanctioned profession for them. It is their profession despite their amateur status. The stakes are always life and death. So while the lack of headgear as a pro is new, the pressure is not for Rigondeaux. Still, he is eager to distance himself from the past and be recognized as an elite professional.

"The amateur accomplishments that I have had I want to repeat on a professional level," said Rigondeaux. "Beating Nonito would be beating the best in the division. I have great respect for Nonito and I think he is a great fighter. Beating him would be a great accomplishment in itself. If we beat him, we can say we are true professionals. He can stop talking about me as an amateur. A win absolutely would be a bigger accomplishment than the gold medals."

Rigondeaux gives up reach, height and experience in the fight. But he brings skill and intelligence to the dance along with the best footwork I've had the pleasure of watching in person. While Donaire is a creative talent, choosing to use his own angles at unexpected times, Rigondeaux is a study in simple technical precision. It may not make for an exciting match but it will be an interesting one filled with adjustments and mind games.

"[Donaire] is a boxer that acts on reaction. Action/reaction – he takes it from there. In the moment of the fight he reacts. He really has no strategy with the length of his arms. He reacts in the ring," said Rigo. "Nonito is a great tactician and has enormous power so I think it's going to be an exciting fight. At this point it is the most important fight of my career. This fight will determine the best in the 122-pound weight class."

Experience may be a factor in the fight or it may not. As in all bouts, all things are fairly equal once that first bell rings. The unexpected is never far away. What is certain is that the time is now for Guillermo Rigondeaux. He has chased Donaire for over a year, asking for the fight, chiding Donaire, calling him out and even agreeing to be tested by the Voluntary Anti-Doping Association (VADA) throughout training camp in order to land it. With two gold medals under his belt and all the amateur accolades anyone can hope for, there is still much left to prove for the Cuban fighter.

"Obviously the public does not respect me because of the number of fights I have had. Nonito has three times the experience I have at the professional level so the public has chosen Nonito as the favorite," said Rigo. "I think this is the fight the world wants to see – the two top 122-pounders getting in the ring to fight each other."

--
You can email Gabriel at maxgmontoya@gmail.com, follow him on Twitter at www.twitter.com/gabriel_montoya