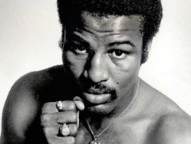 (Wilford Scypion)


Boxing fans got some sad news recently when it was learned that 1980s middleweight contender Wilford Scypion passed away on Thursday, February 27th due to complications from pneumonia at the all-too-young age of 55. While Scypion never won a world title, he was an excellent middleweight who fought some of the top contenders in his era including Mustafa Hamsho, Dwight Davison, Curtis Parker, James Green, Frank Fletcher, Murray Sutherland and Iran Barkley. The highlight of his career was a middleweight title shot against Hall of Famer and middleweight champion Marvelous Marvin Hagler.
Port Arthur, Texas native Scypion turned pro in the summer of 1978 after a very good amateur career that would see him win the 1978 Golden Gloves championship. He would go on to have a great career that included 32 wins in 41 bouts, 24 of the wins coming by way of knockout. Scypion would go undefeated in his first 16 bouts. His first loss came against future world title challenger Mustafa Hamsho in the summer of 1980. Through the rest of the year until the end of 1982, he would go 8-2. The two losses came against tough Dwight Davison and up-and-coming slugger James "Hard Rock" Green, also beating contender Curtis Parker during this run.

Hot off a four-fight winning streak, Scypion would open 1983 in February with a 12-round, unanimous decision win over Frank "The Animal" Fletcher in New Jersey to capture the United States Boxing Association (USBA) middleweight title. This win earned him a world title shot three months later at the Providence, Rhode Island, Civic Center. He squared off against middleweight king Marvelous Marvin Hagler with the International Boxing Federation (IBF), World Boxing Council (WBC) and World Boxing Association (WBA) middleweight titles all on the line (this bout was the first time ever an IBF title was on the line in a world championship bout). In a gutsy performance that saw an aggressive and always-pursuing Scypion trading shots with Hagler, he was finally dropped and counted out in the fourth round.
In the ring, immediately after the fight, Hagler stated he thought he would "have to go the whole 12 rounds" because he knew going in "how tough Scypion was." While Hagler finally chopped Wilford down in the fourth frame, it was clear Scypion had earned the champion's respect. Hagler entered his seventh title defense with a hard-as-nails reputation with tough guys Mustafa Hamsho, Vito Antuofermo and Tony Sibson among others all littering his wake as knockout victims. Despite this, the game, rugged Scypion never took a step backward. He didn't just show up to say he fought for the title; he entered the ring that night giving everything he had to win it.
After his title shot, from the fall of 1984 to January of 1991, Scypion would fight 11 more times, going 6-5. During this run he faced Murray Sutherland for the USBA middleweight title as well as rugged future world champion Iran Barkley. After losing to undefeated Billy Lewis in January of 1991 in Pensacola, Florida, Wilford retired from boxing.
Scypion thrilled Beaumont, Texas boxing fans in what "Lone Star State" fight fans refer to as the "Golden Age in Beaumont Boxing." He also made his home state very proud with the courageous effort he gave in his sole world title shot. While Wilford did suffer from health issues, his post-boxing life centered on his family and his church and in turn, was always proud of his home state. Scypion should be remembered as a very good fighter who beat other very good fighters in a very strong era in middleweight boxing.
Gone but never forgotten.
Please visit our Facebook fan page at www.facebook.com/MaxBoxing, where you can discuss our content with Maxboxing readers as well as chime in via our fully interactive article comments sections.