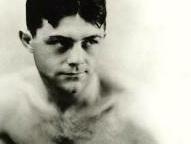 --


Fight fans who follow boxers from the 1930s were delighted when it was recently announced that Wesley Ramey would be inducted into the International Boxing Hall of Fame for 2013 (specifically the "Old-Timer" category). Although Ramey never won a world title, his résumé boasts an incredible 180 (recorded) bouts and records indicate he may have had as many as close to 260 bouts. Wes Ramey Jr., who briefly fought professionally, confirmed by phone (while driving home from his Top Level Gym in Indianapolis, Indiana) that his father, in fact, "had 49 amateur and 210 pro fights." Ramey never fought for a world title because as one Ramey historian recently told me, "He was too busy travelling the world fighting every great fighter from his era." Ramey was born in 1909 in Everett Township, Michigan and passed away on

March 10, 1997

in his hometown of Grand Rapids, Michigan at the age of 87.
Much of Ramey's career was documented in a self-penned journal that he logged throughout his time in the game, detailing specific facts about each bout. The journal is an actual, incredible, in-depth account of one of the game's truly remarkable careers and catalogues one of boxing's great, throwback fighters.

Ramey was ranked as one of the top 10 lightweights in the world for 10 years. He defeated six world champions including Benny Bass, Johnny Jadick, Leo Rodak, Lew Jenkins, Battling Shaw and the man Ramey Jr. said his father described as "the best fighter I ever fought," Tony Canzoneri. Despite a combined record of 10-2 against the division's best, he never received a shot at the title. However, the absence of a world title bout on Ramey's résumé doesn't in any way diminish one of boxing's incredible ring ledgers.


Ramey turned pro in an era of boxing that had little or no restrictions on fighters. So it was not uncommon for full-time, professional fighters to box three to four times per month. Ramey turned pro in the summer of 1929 and by the end of the year, four months later, was 9-1-2. In 1930-31, Ramey would fight 35 times in 24 months, logging an impressive

30-2-3 record

. Ramey would fight 18 times in 1932. In his sixth bout of the year, (his 53rd career fight), he outpointed 126-fight, multiple world champion Benny Bass. In 1933, he clocked into work 24 times. His first bout of the year saw him defeat Battling Shaw at the Arena Nacional in Mexico City. Shaw would go on to win the World Junior Welterweight Championship from Johnny Jadick just two fights later. After three more wins (and in his fifth bout of the year), Ramey defeated Jadick. Two fights later, Ramey beat former (and future) World Lightweight Champion Tony Canzoneri over 10 rounds in Michigan. Ramey would fight 17 more times that year, going

12-3-2

.


In 1934, Ramey had what would be deemed a slow year by his lofty standards; he only fought 10 times. However, he did put his passport through its paces, fighting in Australia three times, South Africa four times and the United Kingdom twice. Ramey recorded a 5-5 record that year. Ramey would get busy again in 1935, fighting 17 times, going

14-2-1

. He fought twice in the United Kingdom to kick off the year (a disqualification loss and a knockout win) and then fought the rest of the year in the United States. His only other loss of the year was a 10-round decision to Pennsylvania legend Maxie Strub. In his eighth fight of the year, Ramey travelled to Chicago, Illinois and defeated another future World Lightweight Champion, Leo Rodak. Ramey would fight 32 times over 1936-37, going an impressive

26-3-3

. Ramey would fight 37 times over the next two years posting a

30-6-1

mark. In the first of two December bouts in 1938, Ramey beat future World Lightweight Champion Lew Jenkins in Dallas, TX, wresting the Texas State lightweight title in the process.


Ramey would fight for two-and-a-half more years, going 5-4 in his last nine bouts. He closed out his career with a win over Maurice Arnault in June of 1941 in Grand Rapids, MI. Despite never winning a world title, he beat several world champions and has been recognized throughout history as one of boxing's true legends and one of the game's great lightweight fighters. In his (or any other) era, Wes Ramey could have squared off against any fighter from junior lightweight to welterweight. Ramey was the consummate pro - fighting anyone, anywhere, anytime. Asked if his father was ever bitter about having never received a shot at the coveted world title belt, Ramey Jr. replied, "He wasn't but my mom sure was. Dad never bad-mouthed boxing ever in his entire life. He loved it." It is a credit to boxing that, although long overdue, Ramey will receive perhaps the sport's highest, post-career honor when he is inducted this year into the International Boxing Hall of Fame.
In retirement, Ramey was involved in business interests in Michigan as well as staying involved in the fight game, training boxers. Wesley Ramey passed away on

March 10, 1997

. Gone but never forgotten.
Please visit our Facebook fan page at www.facebook.com/MaxBoxing, where you can discuss our content with Maxboxing readers as well as chime in via our fully interactive article comments sections.