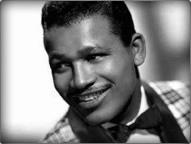 --


Born Walker Smith Jr., "Sugar" Ray Robinson was born May 3, 1921 in Ailey, Georgia. He is considered by many to be, pound-for-pound, the greatest boxer of all time. He retired with an incredible record of 173-19-6 with 108 of his wins coming via the KO route. Robinson faced a veritable "Who's Who" list of legends in the welterweight and middleweight divisions. In his amazing, 25-plus-year ring career, he battled the likes of Jake LaMotta, Carmen Basilio, Gene Fullmer, Randy Turpin, Carl "Bobo" Olson, Henry Armstrong, Rocky Graziano and Kid Gavilan.
At age 12, Robinson moved to New York City –Harlem, specifically - with his mother after his parents divorced. Robinson tried entering his first boxing tournament at age 14 but was told he had to obtain an AAU (Amateur Athletic Union) card, which he could get when he turned 16. He skirted this age rule by borrowing friend Ray Robinson's card. After adding the nickname "Sugar," he launched what would turn out to be one of boxing's most legendary ring careers.

Ray, already married and divorced, turned pro at age 19 after going undefeated (85-0 with 69 KOs) as an amateur. He began punching for pay in the fall of 1940 at New York's Madison Square Garden. He would rack up 40 straight wins in his first two-and-a-half years as a pro before losing his first fight to future world champion and legend Jake LaMotta, (incredibly, Robinson would remain unbeaten in his next 91 fights). Ray kept up a busy pace racking up 35 fights over the next three years. This brought his record to 73-1-1 and his first world title shot. Robinson won the World Welterweight Title with a 15-round unanimous decision over Tommy Bell in December of 1946. After four more wins, all non-title, Robinson made his inaugural defense against Jimmy Doyle in June of 1947. Sadly, Doyle passed away after the bout due to injuries. After four more consecutive non-title wins, Robinson closed out the year with a sixth round TKO title defence over Chuck Taylor in Detroit.
"Sugar" grabbed two quick wins to kick off 1948 before defending his welterweight title for the third time, beating Bernard Docusen over 15 rounds in Chicago. He closed out 1948 with 10-round decision wins over Bobby Lee and future world champion Kid Gavilan. After opening 1949 with six wins and a draw, in his eighth outing of the year, Robinson rematched Gavilan. This time, however, Robinson's title was on the line. Ray kept his title with a 15-round unanimous decision over his Cuban challenger and rounded out the year with four more KOs and one unanimous decision win in his final five bouts of the year.
Robinson kicked off 1950 with eight straight wins and in his ninth contest, he retained his World Welterweight Title with a 15-round points win over Charley Fusari in Jersey City, NJ. Ray would stack up 10 more wins, adding to the ledger to close out 1950. In his first fight of 1951, Ray would tangle with legend Jake LaMotta for the "Raging Bull's" World Middleweight Title. In a give-and-take war, Robinson won the title, stopping LaMotta in the 13th round. Ray was on his European tour for much of the year fighting in Germany, France and England, among other countries. He would win six straight bouts (before fighting to a no-decision against Gerhard Hecht and stopping Cyrille Delannoit) after winning the title but would lose his middleweight belt, dropping a decision to Randy Turpin in July in London. However, Robinson regained the title two months later in a return match in New York.
He would kick off 1952 with two title defences in as many months, beating "Bobo" Olson in March and Rocky Graziano in April. He moved up to the light heavyweight limit for his next bout in June but was stopped in 14 rounds by champion Joey Maxim, the only stoppage loss of his career, resulting from heat exhaustion. After this fight, Robinson retired in December and would be out of the ring for two-and-a-half years as he pursued a career in show business.
Upon his return to the ring in January of 1955, Robinson won five of his first six bouts. Included in this run was a split decision win over perennial contender Rocky Castellani. His seventh fight of the year saw him up against old foe "Bobo" Olson for the World Middleweight Title in Chicago. Robinson picked up the 160-pound title for the second time in his career with a second round KO win. He would again tangle with Olson five months later, successfully defending the title in Los Angeles via fourth round KO. Ray picked up one more win to close out 1956, a non-title unanimous decision over Bob Provizzi.
Robinson opened 1957 with two great tussles against legendary Gene Fullmer. "Sugar" lost his middleweight title to Fullmer over 15 rounds in January at Madison Square Garden. However, he turned the tide in May regaining the title, stopping Fullmer in two rounds in Chicago. Ray's last bout of 1957 was an epic battle with Carmen Basilio in which he would lose his belt via 15-round split decision at Yankee Stadium in New York but would regain the strap in the return engagement six months later in Chicago. This time "Sugar" Ray got the nod via 15-round split decision. Both of these mirror image wars were awarded The Ring magazine's "Fight of the Year" for 1957 and 1958. After only one fight in 1959, a second round knockout win over Bob Young, Robinson challenged Massachusetts native Paul Pender for the middleweight crown at Boston Garden, losing a 15-round split decision. In a rematch almost five months later, he would suffer the same result, losing over 15 rounds. Robinson would never again fight for a world title (the National Boxing Association's version notwithstanding).
For the remainder of his career, through the first half of the 1960s, Robinson would fight 44 more times (with the exception of two 15-round bouts against Gene Fullmer for Fullmer's aforementioned NBA middleweight title. Their bout in December of 1960 resulted in a draw; their second, three months later, ended in a unanimous decision win for Fullmer), in 10-round bouts, against many top-level fighters. He faced the likes of Denny and Phil Moyer, Terry Downes and Joey Giardello, to name a few. "Sugar" Ray Robinson retired at the age of 44 after his last fight on November 10, 1965, a unanimous decision loss to Joey Archer.
"Sugar" Ray Robinson, a larger-than-life character in and out of the ring, is considered by many boxing historians and experts to be one of - if not the - greatest boxers of all time. He was elected into the International Boxing Hall of Fame in 1967. Sadly, Robinson retired penniless, having spent or squandered the $4,000,000 he earned in ring purses. He passed away 24 years ago this month on April 12, 1989 in Culver City, California. Gone but never forgotten.
Please visit our Facebook fan page at www.facebook.com/MaxBoxing, where you can discuss our content with Maxboxing readers as well as chime in via our fully interactive article comments sections.