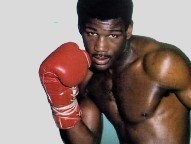 -


The boxing world received a severe blow with the news that Matthew Saad Muhammad passed away early Sunday morning at the Chestnut Hill Hospital in Philadelphia. Born Maxwell Antonio Loach (also known as Matthew Franklin), Muhammad, 49-16-3 (35), of Philadelphia, was a former World Boxing Council (WBC) light heavyweight champion from 1979-81. He made eight successful defenses of the title and was popular among fight fans for his almost unbelievable toughness in the ring. The title "warrior" gets copiously thrown around in boxing but Muhammad truly was the ultimate warrior.
Matthew was adopted at age five by nuns through Catholic Social Services after the police found him abandoned and sleeping on the streets of Philadelphia. He was found on Franklin Avenue, where the nuns devised his surname to accompany the first name of Matthew (after the apostle). He later changed his name to Matthew Saad Muhammad after he converted to Islam (although in later interviews, he said he was "neutral" on his religious beliefs). Muhammad turned pro in 1974 and went 13-3-2 in his first 18. Two of the losses were against future champs Marvin Camel and Eddie Mustafa Muhammad.

In 1979, Muhammad beat Marvin Johnson for the aforementioned world title he went on to successfully defend on eight separate occasions. His legendary ring wars saw him make comebacks time and again after being on the brink of defeat. The Ring magazine named the title-winning effort against Johnson its "35th Greatest Fight of All Time." In his second fight against Johnson in 1979, the eighth round was named "Round of the Year." His 1980 title defense against Yaqui Lopez was named "Fight of the Year" by The Ring magazine and also its 84th "Greatest Fight of all Time." The eighth round of that fight was also given "Round of the Year" distinction and eighth "Greatest Round of All Time."
In 1998, Matthew Saad Muhammad was inducted into the International Boxing Hall of Fame. Muhammad, a TV-friendly fighter if there ever was one, was known for his legendary wars with other light heavyweight legends like Eddie Mustafa Muhammad, Billy Douglas, Lopez, Murray Sutherland, Dwight Muhammad Qawi and Johnson.
While Muhammad had a legendary, Hall of Fame career, he should also be remembered as a champion out of the ring. From a very difficult start in life, he rose from being abandoned and living on the streets to becoming a world champion. He was the ultimate in-ring example of heart and toughness. Matthew Saad Muhammad, former 175-pound slugger and world champion, died at the all-too-young age of 59 from Amyotrophic Lateral Sclerosis, also known as Lou Gehrig's Disease. Gone but never forgotten.
Please visit our Facebook fan page at www.facebook.com/MaxBoxing, where you can discuss our content with Maxboxing readers as well as chime in via our fully interactive article comments sections.