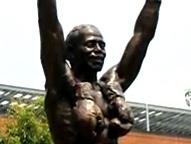 Leavander Johnson Statue


After a successful amateur career, Atlantic City-based lightweight prospect Leavander Johnson turned pro in February of 1989 in Atlantic City, NJ. The highly regarded 135-pounder remained unbeaten in his first 23 fights between 1989 and 1994, earning a shot at his first title. He beat Sharmba Mitchell in March of 1994 to capture the NABF lightweight belt. The win over the highly rated, then-undefeated Mitchell earned Johnson a crack at his first world title in his next fight. Johnson travelled to Chihuahua, Mexico to challenge undefeated, long-reigning WBC lightweight titlist Miguel Angel Gonzalez, who was defending the title for the sixth time. Gonzalez and Johnson waged war but the unbeaten champion held onto his title with an eighth round TKO over the game challenger. He would take almost a year off before mounting a four-fight win streak through 1995 and 1996. This earned him another world title try against WBA world lightweight champion Orzubek Nazarov. In a courageous effort, Johnson was TKO'd in round seven as the Kyrgyzstan-born champion defended the title for the sixth time.

After taking 1998 off and having just one fight in 1999, (ruled a four-round "no contest"), Johnson rattled off three wins in 2000. In March of 2001, he picked up the WBC Continental Americas lightweight title with an eighth round TKO over Ray Minus. His first defence came three months later against Michael Clark in Atlantic City. An accidental headbutt - and the resulting cut - led to a fourth round technical decision win for Clark. Johnson remained undefeated in 2002 in three fights including a draw with talented gatekeeper Emanuel Augustus and a win for the USBA lightweight title against contender Julian Wheeler. A year later, Johnson got his third try at a world title when he lined up to fight Javier Jauregui for the vacant IBF lightweight title at the famous Olympic Auditorium in Los Angeles. In a grueling battle, Johnson was stopped in the 11th round. He rebounded four months later with a win over 38-fight veteran Roque Cassiani. This led to a fourth world title attempt for Johnson, this time turning out to be the charm. Johnson travelled to Milan, Italy to face Stefano Zoff for a shot at the vacant IBF lightweight title. Johnson put in a great performance dropping and stopping Zoff in the seventh round. After all the tough battles, and four trips to the plate, Johnson finally knocked one out of the park and was a world champion.
His first title defence came three months later against former WBC world super featherweight champion Jesus Chavez. The two champions threw down at the MGM Grand in Las Vegas in a grueling battle. Chavez's non-stop attack eventually wore down the brave champion, forcing referee Tony Weeks to step in near the end of the 11th round and save Johnson from further punishment.
Sadly, Johnson, a 16-year pro, collapsed after the fight and was rushed to the hospital. Placed in a medically-induced coma after emergency brain surgery, he never awoke and passed away five days after the fight, on this day, September 22, 2005, at age 35. DiBella Entertainment, Johnson's promoter, issued a heartfelt statement that summed up the brave champion after his passing, "If there is any comfort to be taken at this time of great sorrow, it is that Leavander lived his dream and died a champion doing what he loved most." That is exactly how Johnson should be remembered: as a brave, talented, world champion. Gone too soon, but never forgotten.