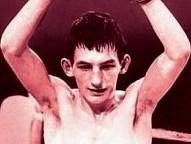 --


Born January 7, 1956, Welsh boxer Johnny Owen started boxing at age eight after his father introduced him to the sport. After a 200-bout amateur career, he turned pro in the fall of 1976. The Merthyr, Tydfil Wales boxer fought with toughness and strength that belied his razor-thin frame. His physique earned him nicknames like the "Merthyr Matchstick" and the "Bionic Bantam." However, despite his skinny frame, anyone who saw Owen fight soon realized he was a talented fighter with a Herculean work ethic both in and out of the ring.

After turning pro in September of 1976, Owen remained unbeaten in his first 17 bouts, half of them coming via the KO route. Already very popular in Wales, the pencil-thin fighter was starting to attract some attention all over the United Kingdom with his ferocious, aggressive, all-action style. In his sixth bout, Owen won a 10-round decision over George Sutton to claim the BBB of C Welsh bantamweight title. Four fights later, he travelled to London and stopped Paddy Maguire adding the BBB of C British title to collection. Seven fights later, in November of 1978, Owen won the British Empire Commonwealth bantamweight title, beating 70-fight veteran Paul Ferreri via 15-round unanimous decision. His next contest in March of 1979 would take him to Andalucia, Spain to battle Juan Francisco Rodriguez for the European bantamweight title.
Owen tasted defeat for the first time losing a very close majority decision to Rodriguez. However, he recouped his winning ways over the remainder of 1979, picking up six more victories. Owen kicked off 1980 with a January TKO win in five over Glynne Davies. A month later, he avenged his only defeat, beating former foe Rodriguez with a 12 round UD to claim the European bantamweight title. After another win in June of 1980, Owen got the call every fighter dreams of, a shot at the world title. Johnny would wage war with Mexican legend and WBC titleholder Lupe Pintor. In September of 1980, Owen travelled to Los Angeles, California and the famed Olympic Auditorium to battle Pintor. Not only was Owen facing a formidable challenge in Pintor, he was also fighting in the backyard of the champion amongst the rabid Mexican fight fans who regularly packed the east Los Angeles arena to support their national boxing heroes. While the press at ringside liked the dogged work ethic and likeable personality of Owen, few gave him much of a chance against the tough-as-nails Pintor. However, early in the contest, fans soon realized Owen possessed more than a little world-class caliber talent and toughness. He was trading body and head shots, going toe to toe and earning the respect of the champion and the raucous pro-Pintor crowd. Heading into the 12th round in a closer than expected, grueling battle, Pintor unloaded a huge shot that dropped Owen. The brave challenger rose but the follow-up punch leveled him. He remained on the canvas for several minutes before being taken from the ring on a stretcher. Owen was rushed to the hospital where he was operated on for a blood clot on his brain. In a coma for 46 days, Johnny Owen passed away on November 4, 1980 at the age of 24.
Johnny Owen has remained a respected and revered hero in his homeland of Wales. Twenty years after his passing, a memorial statue to Johnny Owen was unveiled in his hometown of Merthyr Tydfil. At the request of the late fighter's father, the unveiling ceremony included Lupe Pintor, who travelled from Mexico to attend. Owen's father himself traveled to Mexico to meet Pintor years after the tragedy to let him know that there was never, ever any blame or resentment toward the champion and that his family had been pleased that Pintor had been able to continue his boxing career after the tragic end to their bout. The unique relationship between the families and the events of the famous title fight are documented in a great film, "Johnny Owen: The Long Journey." Johnny Owen - an exciting and accomplished fighter. Gone but never forgotten.
Please visit our Facebook fan page at www.facebook.com/MaxBoxing, where you can discuss our content with Maxboxing readers as well as chime in via our fully interactive article comments sections.